I'd like to invite you to come along with me for a visit to the
Boone County Conservation District's heritage gardens.
My sister is a volunteer and part-time gardener in the gardens. It's a beautiful setting and there are two cabins on the property, a Scottish and a Norwegian cabin. Both cabins were hidden inside farmhouses. Yes, inside! the farmers would add on and build a large house around the original log structure. Our own great-great-great grandfather's log cabin is part of a farmhouse structure.
Yesterday a group from the Lake Geneva/Fontana, Wisconsin area came for a tour and my sister was one of the costumed interpreters.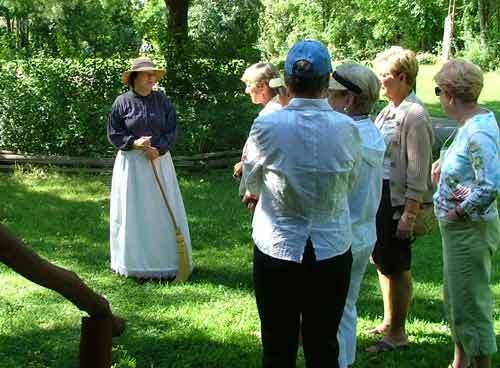 I've always wanted to stay in a log cabin. There's a bed and breakfast in Wisconsin that allows you to do just that. I swear I'm going to stay there. How about you? What do you think a sleeping under a quilt in a log cabin?
Cabin Bed & Breakfast - Mineral Point, Wisconsin
The gardens contain many heirloom varieties of plants and they collect the seeds to plant next years crop. Most of today's varieties of vegetables are hybrids. Heirloom plants are old varieties that are grown through open pollination. You can read more here:
HEIRLOOM PLANTS
Here's the Norwegian garden.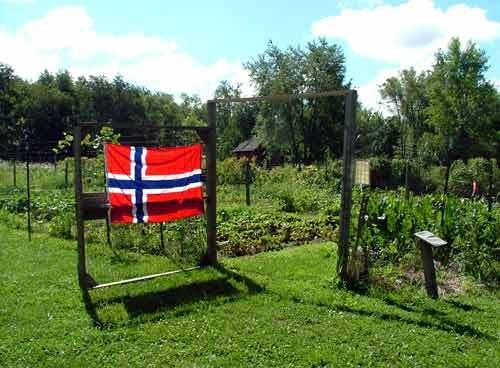 There are five gardens; the yankee garden, Norwegian garden, Potawatomi garden, German garden, and Scottish garden.
Still life in the Scottish cabin. Those are corn meal cookies that my sister made. They were delicious.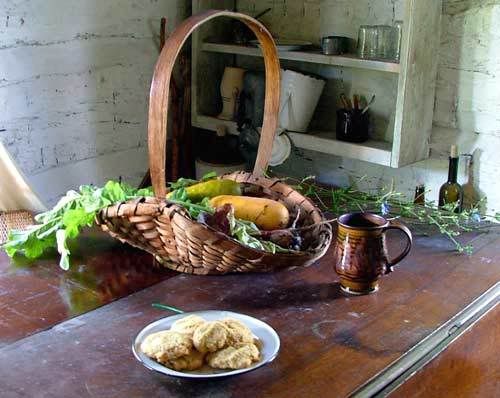 If you follow the above link to the Boone County Conservation site you can read about all the heirloom plants.
Kelli from Sugar Creek Farms
(one of our blogging friends) is featured in the latest issue of Country Gardens magazine. They've published a great piece about the heirloom melons that her family grows on their Iowa farm. Check it out at the newstands.
Thanks for coming along on the day trip. Do you grow any heirloom vegetables or fruits? I'm fascinated by the varieties available.