Are you ready to do something crafty today?
I've always been a fan of the garden gazing globes. Our neighbor had one when I was growing up and I was fascinated with it. I've purchased at least three of these gazing globes in the last few years and they do not survive the wind of the Illinois prairie. I got tired of buying them and so I decided to create something that was indestructible. I designed a garden ornament made from a bowling ball.
Did you find your bowling ball when you were out shopping? I gave you a heads up last week, but don't worry, you can always print this out and get the supplies when you're ready. This actually makes a great wintertime project. I worked on these in the evenings while I was watching television.
We're going to need clear silicone sealer or glue. I've used both and it doesn't matter. The silicone doesn't degrade in the weather and it's perfect for this task.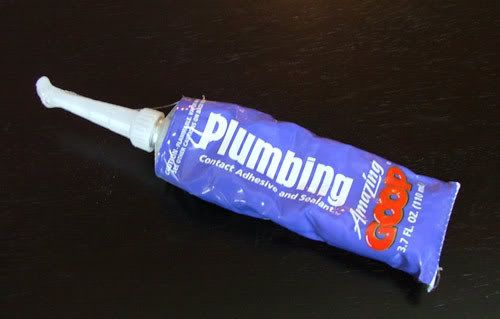 We're also going to need a bowling ball. This one is actually pretty enough to sit in the garden without altering it. But this belongs to the Farmer's Son and so I don't dare use this!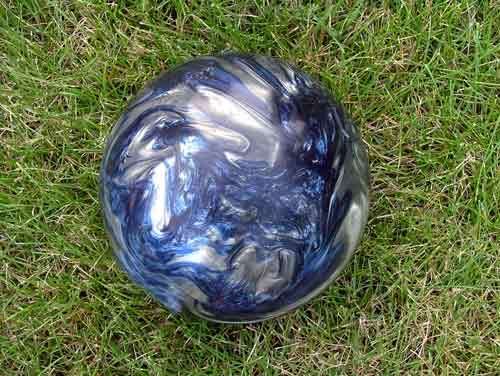 Break up some old plates or pottery. The pieces can't be very large. They need to be in small pieces to adjust to the curve of the ball. Just fit the pieces one by one. It's actually fun, like working a puzzle. Don't worry about covering the finger holes because you can just turn that area to the underside when you set it out into the garden.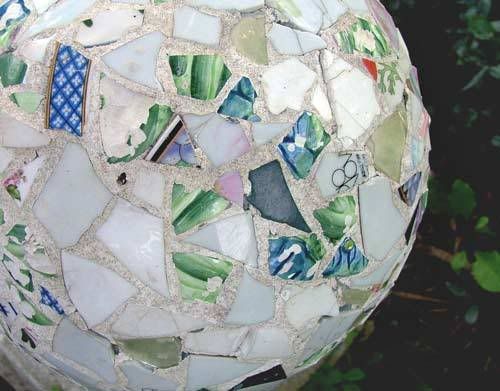 After you're through glueing all the pieces you can use grout to finish it off. Luckily I had some left over from another project.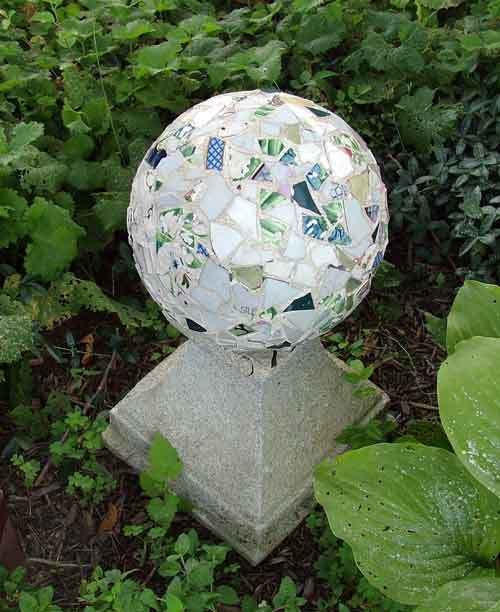 You can also use this method to cover flower pots.
Here's another one I just finished. This is called my "Abraham Lincoln Garden Ball". It's covered with pennies. This took longer to complete. You can shine it up with copper cleaner. Out in the weather it will develop a patina.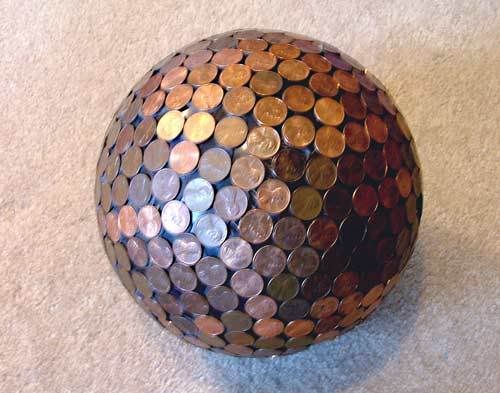 Here's another idea for the garden. I have several shoes and boots that I've filled with potting soil and planted with succulents. They're perfect because the excess water naturally drains out through the seam lines. I haven't touched this plant in about 4 years. It overwinters perfectly here in the midwest. Really big "disco" shoes are a terrific garden ornament.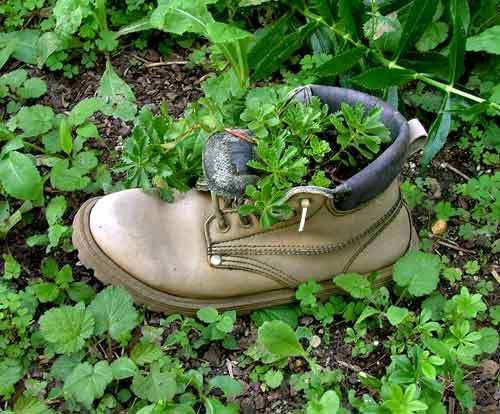 I hope you've gotten some ideas and inspiration today. Let me know if you try making these bowling ball garden ornaments.
Have a wonderful day everyone!