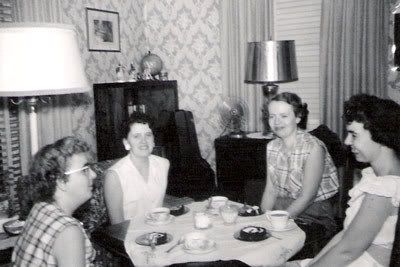 The time: 1950's
The place: Someone's living room
This is one of the many vintage photos that I have collected. I have no idea who these women are or anything about the location.
I love these old photos and you can literally use them as creative writing exercises, fabricating stories to go along with the image.
It's a very sad fact that many of these photos end up in flea markets and estate sales. I've always wondered about that. Do surviving family member simply not care or do they not know the identity of the people in the photos? Both sides of our families seem to really cherish their photos but will that be true of our children?
The identities of these women are lost in time but I can appreciate the gathering it depicts. My mom would clean the house and set a little card table with a "luncheon cloth" in preparation to having a few neighbor ladies over for coffee and cake. They all dressed up a bit and shared each other's company, hoping that the kids stayed in their beds!
I have the glass luncheon sets in my collection of serving pieces. The glass coffee cup sit into a slot on the glass tray. My mother had a beautiful hammered aluminum tray that she displayed on a bookcase and used as a serving piece. She also had a cool glass coffee carafe that was warmed by a candle. She wore an apron in the kitchen but when I came time to actually serve a special meal she changed into a hostess apron that was usually made from some type of sheer and fancy fabric.....for show only!
Do you remember how your mom entertained?