It occurred to me that anyone reading this blog on a regular basis would have absolutely no idea that I actually know how to read. You know, read for pleasure, not just Aunt Jemima pancake boxes.
I think I did drop a small hint once or twice when I feature pictures of our in-home library/office. You know, the room with the bookcases groaning under the weight of $1.79 treasures from the Goodwill store. When we first set up the bookcases I arranged everything according to genre - presidential biogaphies on the top shelf, self-help books were next to history. It was a loosely organized arrangement that was probably based on color scheme.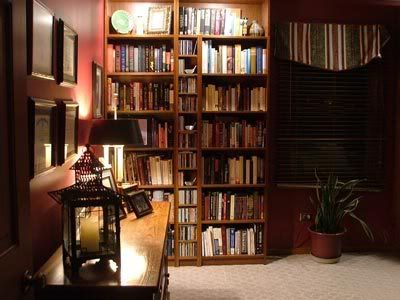 The tip of the bookcase iceberg.
The four full shelves of cookbooks are a never-ending source of amusement for family.
"If you have over 200 cookbooks, why are you always serving the same 5 meals over and over?" they ask.
"Good question. I'm plain out of answers today. Ask me again tomorrow when we're diving into the chipped beef on toast," I offer in defense.
The downstairs library is just the tip of the literary iceberg. There are books everywhere. We had a bookcase cabinet built in next to the fireplace. It filled up quickly but it all started looking like we were living in a public library so I moved those around and created a spot for all the barware I'd been collecting.
Regardless of the warnings of bad feng shui karma I got a Crate & Barrel leaning bookcase for the bedroom. Haven't had a peaceful night's sleep since then because that's where all the true life adventure books are stored, including every book ever written about Mount Everest. All those mountain climbing disasters are washing over me while I sleep. No wonder I'm worn out in the morning.
Right now I'm reading
Cindy LaFerle's,
"Writing Home" and it's such a wonderful read. I'll have a full review soon. I'm just finishing it up.
I just finished a book that Cindy suggested, "The Lost Continent" by Bill Bryson. I had to check the copyright on this book (1989)because it immediately became apparent that he'd have difficulty getting this published in this day and age of political correctness. The PC police would have a field day whipping on him. i don't care what they say, it was funny.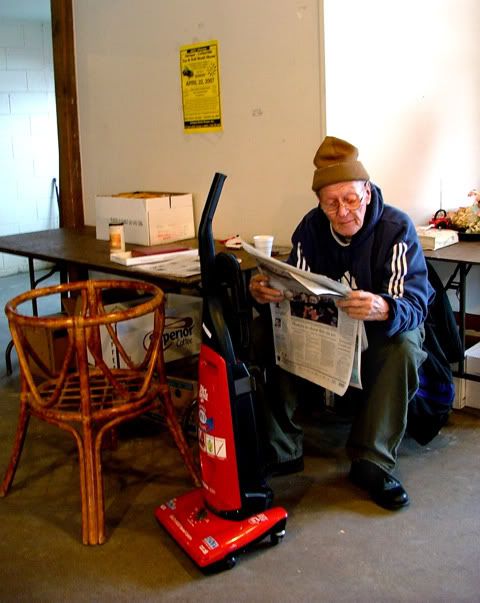 "Passing time reading at the estate sale"
I suppose it was my wicked 6th grade teacher Mrs. Hogan who scared me off of ever attempting to write in the margins of books, even in pencil. She'd twist your ear if she caught you dog-earing a page. Lately I've gotten over Mrs. Hogan's nasty voice in the back of my head. More than once I've been driven crazy trying to find a passage that I wanted to revisit, and as a result I've been writing in the margins and dog-earing like mad!
Bryson pretty much summed up many of my sentiments in this passage from "The Lost Continent".
"Then it would be home to bed and up early in the frosty dawn to go out hunting for deer with his best friends, Ed and Art and Wally, trudging across the fallow fields, savoring the clean air and companionship. I was seized with a huge envy for these people and their unassuming lives. It must be wonderful to live is a safe and timeless place, where you knew everyone and everyone knew you, and you can all count on each other. I envied them their sense of community, their football games, their bring-and-bake sales, their church socials. And I felt guilty for mocking them. They were good people."
My neighbors often comment that we all must have earned some awesome good karma points. Anthropologists are welcome to stop by anytime and study what makes our communities tick. I don't think it's any great mystery but I don't have time to ponder the question. I've got some books that need to be read.