I have a new obsession. I'm blaming it on a certain
pink clad person living in Pothole, Ohio.
How did this happen? She dared to publish on post on making
homemade blueberry sour cream ice cream.
Look at THOSE PICTURES!! It triggered something deep inside my brain. I logged off the computer, grabbed the car keys and told my son's girlfriend that I was going out to buy an ice cream machine. She looked somewhat surprised but was impressed by my apparent determination to have blueberry ice cream before the sun went down.
My shopping trip proved less than successful. The cost of said machine set my teeth on edge. I just couldn't justify spending that amount of money on an ice cream machine. What if I didn't like making ice cream or perhaps the blueberry sour cream recipe resulted in a gelatinous, inedible mass. Then I'd be stuck with a half gallon of $85 ice cream.
I came home defeated and served tiny plastic cups of Jello tapioca pudding to my family for dessert. They were pretty sure that it wasn't the blueberry ice cream I'd promised earlier that morning but they shoveled it down without nary a complaint.
I was a determined wannabe ice cream maker and to that end I started trolling Ebay and Amazon.
The 2-qt. Cuisinart machines
seemed to be selling for more than the local store was asking. Drats, foiled again.
In the past year I've been working hard on practicing patience and so I started meditating using a mental image of a 2-qt. Cuisinart Ice Cream machine as my focus. Mantras soon followed.....
Blooooooooo berry sour cream...... blooooooooooo berry........ blooooooooo berry.
What can I say? This meditation thing is awesome. Within a week my Cuisinart machine appeared on a visit to J.C. Penney outlet store. The price tag? $34. I swore I could hear a choir of angels singing as I wheeled the cart to the checkout lane.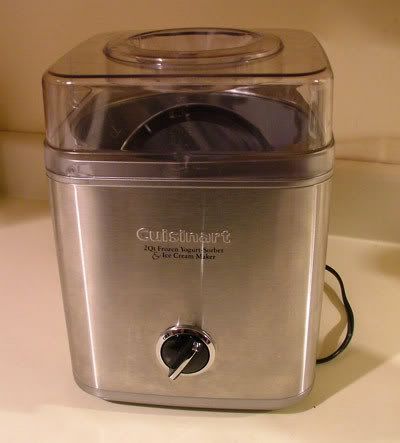 Halleluiah!!
The moment I arrived home I tossed the bowl into the freezer and set about making a batch of strawberry ice cream. It was superb. Creamy beyond belief and a half gallon made for less than the cost of store bought. Batches came fast and furious. My family anxiously waits to see what the next day might bring in the way of frozen desserts. The electric meter is flying out of control.
The Farmer brought home basil and mint so that I could whip up a batch of
Emeril's Basil and Lemon Sorbet.
OK, I'm crazy for this sorbet. WOW.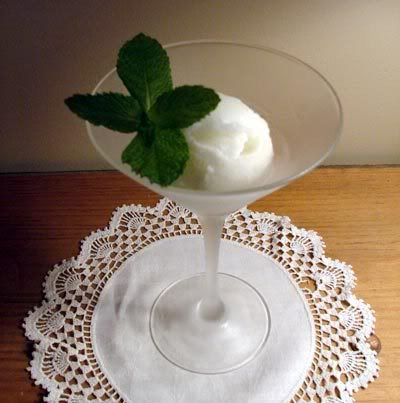 Yesterday was Creamy Gelato day here at the farmhouse. This is equal to the others on the delicious scale but it's very rich. A little gelato goes a long way.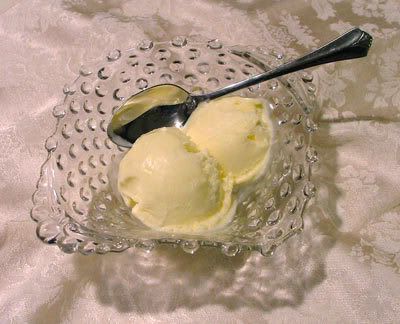 But still no Blueberry Ice Cream. Regardless of the global market my local store had no fresh blueberries. There's always another day. Look at this
list of ice cream recipes.
I'd love to be able to say that the ice cream making obsession replaces my previous obsession for pricey cake pans but that's just not true. Just today while doing errands my car drove itself past Williams-Sonoma. I was somehow able to prevent the car from parking otherwise I'd have gone inside and bought those cute pumpkin pans and the leaf shaped crust cutters for pumpkin pies. A quick trip to their website has resulted in a definite twitching brought on by the sight of the totally adorable
Acorn Cakelet Pan
, the
Great Pumpkin cake pan
and the mother of them all......the
TURKEY PAN!
Do you think there's a 12-step program for this type of thing?