EDIT: Need more info? Check out
Josie's Antiques, Maple Park, Illinois
Enough with the food already. I'm sure I saw someone around here literally rolling across the floor. Oh, that was me!
I thought you might like to go daydreaming at Josie's Antiques. She lives on a farm about 10 miles from here and if her flag is out by the road that means she's open for business.
We simply can't get away from food though, because she bakes chocolate cookies every morning to share with her customers. She has a huge barn and several outbuildings filled with antiques and all manner of stuff. What I like about wandering through a large antique barn is the opportunity to daydream. I think about the people who originally used these items.
For example, who owned this metal lined bathtub?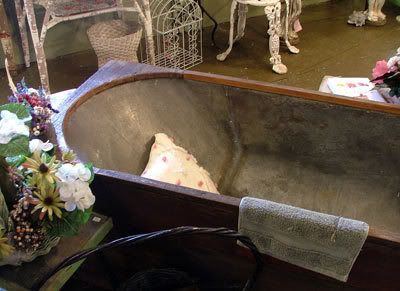 It looks like one from the movie Butch Cassidy & the Sundance Kid. Taking a bath in the old days was a lot of work. All the water had to be hauled in from the pump and heated over a woodburning stove. Certainly no one who is looking to buy this tub would use it for bathing purposes, but wouldn't it be cool to take an outdoor bath in a secluded setting? Hmmmmm, I don't know if I could actually do that, but on paper it sounds good. What in the heck would you do with this tub? Plant petunias in it?
Here's an interesting double set of laundry tubs. My imagination conjures up an alternative use for them. I envision a back yard barbecue and these tubs are filled with ice and bottles of beer and pop.
Mirrors, especially antique mirrors, are a weakness of mine. I'm sure that the feng shui in my house is borderline psychotic with all the mirrors shooting energy wildly in every direction.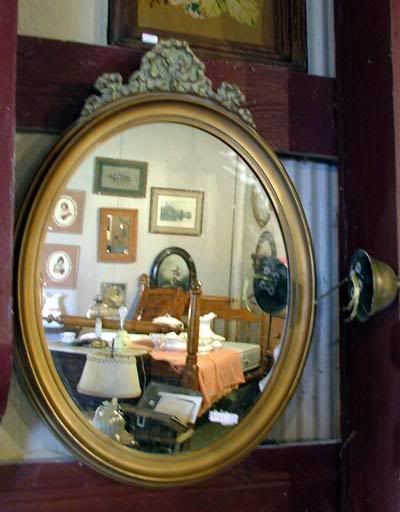 Can't you just imagine a large group of your friends sitting around this big farmhouse table?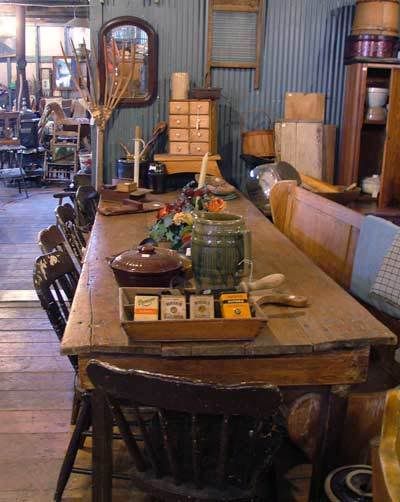 My aunt had one just like it and she served the noon meal to all the field hands helping out on their farm. The table literally groaned under the weight of all the hot, steaming food.
Speaking of food, since there was such a curiousity about milk gravy I think we're going to be making some tomorrow. So be here with a large fry pan, a wire whisk, butter, flour, salt and pepper and MILK!!!
Heidi, this should not be a problem for you.