One thing about growing up in my household, you didn't get out of that childhood without knowing how to make gravy. In our family gravy is considered a beverage.
My dad had been a cook in the Navy, serving on aircraft carriers where thousands of men were fed at each meal. He was a gravy expert and we were good students learning how to make gravies from different meats. Chicken, turkey and beef gravies were thickened with corn starch and milk gravy is thickened with flour.
I had a friend who used to get freaked out at the thought of gravy made from milk. I explained to her that it's basically a watered down bechamel sauce. Somehow that made it palatable to her and she tried it and was hooked. I swear she ate biscuits and gravy every morning for two weeks!
Let's get started. There's a basic formula for this gravy that will allow you to any amount you wish. Because I've been doing this for so many years I don't measure anything. It's what I call flying by the seat of your pants.
Here's the basic formula:
1 TBSP. butter or fat
1 TBSP. flour
2/3 cup of milk
Salt and pepper to taste
That's it!!
Here are the ingredients for 2-1/2 cups of gravy:
4 TBSP. butter
4 TBSP. flour
2-1/2 cups milk
Salt and pepper to taste
You can use any type of butter or fat. For example, this evening I fried up some boneless pork cutlets.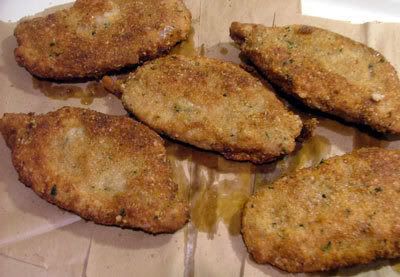 I pour off the oil (leaving the brown scrapings in the pan) and returned 4 TBSP. to the fry pan. Heat the oil and add the flour a little at a time, mixing well.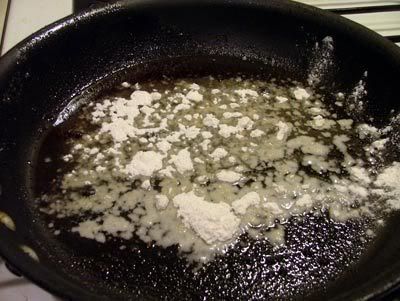 Keep adding the flour till it's all incorporated. The mixture will be slightly thick.
Here's the secret to not having pasty tasting gravy, you must allow the flour to cook a bit. Keep stirring for 2-3 minutes.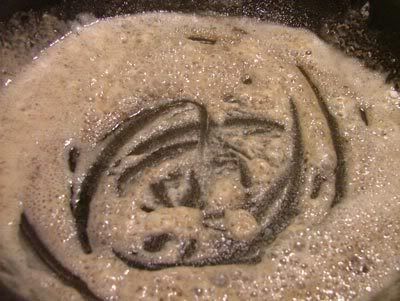 WOW....you just made a roux and didn't even know it. Add a small amount of the milk and stir well. The mixture will be thick. Keep adding the milk a little at a time until it's all incorporated. Adding the milk all at once will result in lumpy gravy.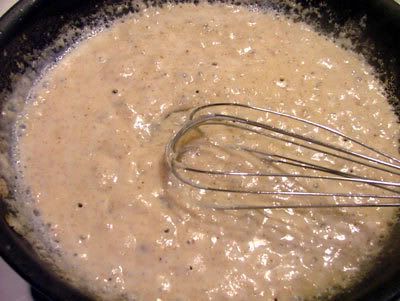 At this point the gravy will be a bit thin so you need to simmer it down a bit until it's the consistency you like. If it gets too thick just a little more milk.
Salt and pepper to taste. Personally I love this gravy with lots of freshly grated black pepper. You can see the brown bits from the cutlets and the pepper.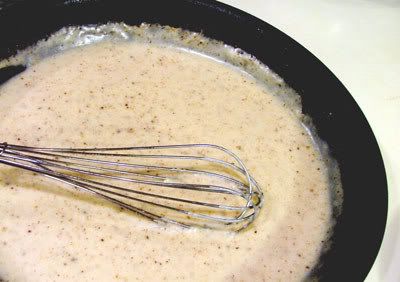 To make sausage gravy: Fry your sausage patties and reserve one or two, depending up on how meaty you want the gravy. Pour off the fat, reserving enough for your recipe. Crumble up the sausage into the pan and continue as above.
No meat?? Use butter as the basis.
Now, if I could just make a great biscuit.