Unbeknownst to me yesterday was
Blog Action Day.
I didn't get the memo, or if I did the Chihuahua's ate it! No matter, it's never to late to get involved.
I subscribe to the "teach them to fish" method of battling poverty. My favorite charity is something called
Trickle Up
. A New York schoolteacher developed this idea at her kitchen table. It's simple, the organization provides training and seed capital to women in third world and other impoverished areas. They are tutored on how to write and develop a business plan and sign a contract agreeing to pay back the $50 from their profits. That, in turn, funds another small business.
Loans are given to women exclusively. Women are fully invested in caring for and creating a better life for their children. A $50 loan doesn't sound like much to us, but it can buy a scale and other supplies to open a fresh fruit and vegetable stand in a local market or it can purchase materials for weaving fabrics.
Here are two Guatemalan women we met on the beach in Belize. They were walking up and down the beach selling their colorful wall hangings and blankets. Some of the women had babies cradled on their backs.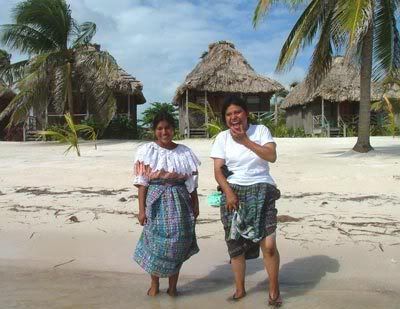 Here's your chance to help and it won't cost you a dime. For everyone of my readers who leaves a comment I will donate $1 to Trickle Up. That means if I get 50 comments we will finance one woman in her goal to make her family self-sufficient.
And as Martha always says, that's a good thing!!
OK Lurkers - - This is your chance. You can quickly jump in from the shadows. I know you're there. Help me and a less fortunate woman!!