I've received a wonderful award from Vee. It's Kari and Kijsa's Designing for Life Award.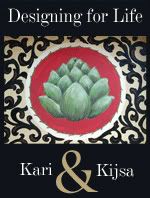 Kari & Kijsa describe the award as follows:
And that is our goal and purpose behind this blog...to inspire others to join us on the exciting, thrilling journey ahead. We want to succeed in sparking creativity in the lives of others for that is how we measure our success. In short...we try to each and every minute of every wonderful day be "Designing for Life."
I want to thank Vee so much for her kind words. Sometimes I feel like there's not much "designing" going on around here, it's more like a 385 day construction zone. But I do understand her sentiment that we design our existences and that doesn't always include dupoini silk drapes on the windows.
Kari and Kijsa continue:
And so...in the spirit of design uniqueness and creativity...we wanted to honor some truly special and wonderful blogs that we felt represented this philosophy to the fullest extent...feel free to share your award with two other blogs who you feel are truly "Designing for Life.
"
Two? I've got to pick only TWO? That is an almost impossible task. There are so many wonderful bloggers who epitomize this award. But I must follow the rules.
Rue over at Rue's Peanut Butter and Jelly Life.
Rue is one of the sweetest, gentlest souls on the web. She understands commitment to those she loves and she works hard each and every day to honor her husband and her family. Together her and Rich have created a life of their designing. She also understands the underlying love that is conveyed in providing a beautiful and warm home for her family.
Heidi, the Milk Man's Wife.
No matter what Vee says, Heidi makes me look like a slacker. This woman makes her own stinking sauerkraut, digs potatoes, washes tons of laundry caked in cow pies AND nurses the baby Milk Dud. She does this and tells us about it with a smile on her face and a great deal of humor. Are there dupoini silk drapes on her windows? I bet not, but I do know that she's designed an authentic farm life filled with fun and love. Right now she's operating under the white flag of surrender but I"m sure she'll be up to speed real soon.
I will also take this opportunity to publicly apologize to those of you who granted me some award at the end of last summer. It's no excuse, but the awards and life got away from me. I did appreciate the fact that you deemed me worthy. I've made a vow that if someone is kind enough to take the time to grant an award, I need to take the time to acknowledge it and pass it along.
I've used up my limit of giving out two awards but I must include someone who has earned my greatest respect and that Yoani Sanchez who blogs
Generation Y
from Cuba. To say her life is fraught with tremendous difficulties is a gross understatement. She refuses to be crushed under the pressure of censorship and austerity. It is my belief that we must support women like Joani in whatever way we can. Currently you can follow the link and
vote for her site to win an award
......and that's how I get around the rules of presenting only two K & K awards. Yoani can have her own, well deserved award.