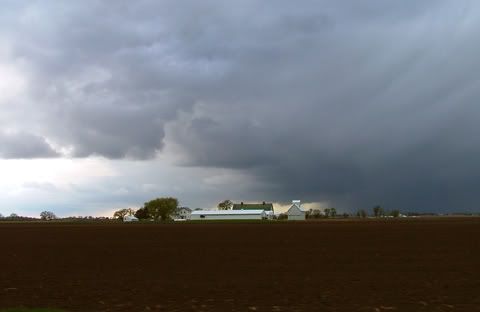 Nope, I'm not in Oklahoma and I haven't been there for years, but yesterday's weather had me singing the lyrics from "Oklahoma". You know the part where they let loose with....."where the wind comes whippin' cross the plains." That was exactly the situation yesterday afternoon.
I've found that if I set myself goals and make lists I am better able to get things accomplished. I've promised myself to make a list of all the major tasks that need to be accomplished around here and to tackle one everyday. The item on my list yesterday was to paint the trim around the garage doors and the front door. The paint had started to peel and so I scraped and prepared the wood and around noon I got started with the task.
It was a bit chilly and quite windy, even by Illinois standards. I finished the trim around the first door and by the time I was halfway around the second door the temperature had dropped at least twenty degrees and the wind had escalated to tropical storm speeds. I'm not kidding! It was becoming quite scary.
I finished my work quickly and went inside to check the weather.
Possible snow showers late in the evening.
And so it begins.