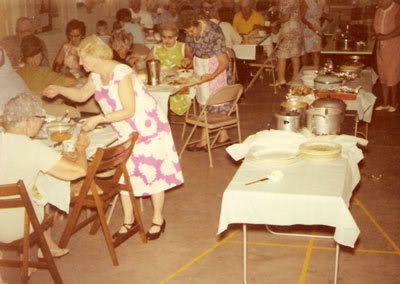 The time: Early 1960's
The place: Rural Northern Wisconsin
The woman leaning over the table in the bright pink and white floral dress is my step-grandma Blanche. What a little firecracker she was! I'm sure this was some kind of community dinner at the Grange Hall or the high school.
Blanche was the perfect match for my grandfather and having been raised in a Norwegian/American household with lots of brothers she was always up for anything. My grandfather would say, "Let's go fishing" and Blanche would reply, "Whatever you say Louie."
She was barely five foot tall with graying light blonde hair and skin so pale it seemed translucent. In my minds eye she smiling, always! When I think about it I can't ever recall seeing her angry or even slightly annoyed. She was just happy.
There was one incident though that upset her terribly. I'd never seen her so shaken and in turn it drove me to tears. My siblings and I had nagged my grandfather all day to take us into Rice Lake to go swimming but grandpa had chores to do and it wasn't possible. Finally in late afternoon they couldn't stand the nagging any longer. Blanche suggested that the neighbor might allow us to swim in his pond.
With the neighbor's approval we drove the short distance to the nearby farm and proceeded to wade into the water. This was not the beach however, it was a watering pond for the dairy cows and the bottom was covered with a thick layer of mud. Lurking in that mud were thousands and thousands of leeches. You guessed it! Soon after entering the water we decided it wasn't very conducive for swimming and one by one we emerged........covered in leeches!!! Poor Blanche. She was screaming, but for some odd reason the leeches did not have the same effect on me. I was calm at first but soon burst into tears at the sight of my lovely, happy grandma jumping around and screaming at the top of her lungs.
Someone appeared from the farmhouse with matches and salt. The leeches were dispatched to a firey and salty end and Grandma Blanche never again suggested swimming anywhere other than Rice Lake.