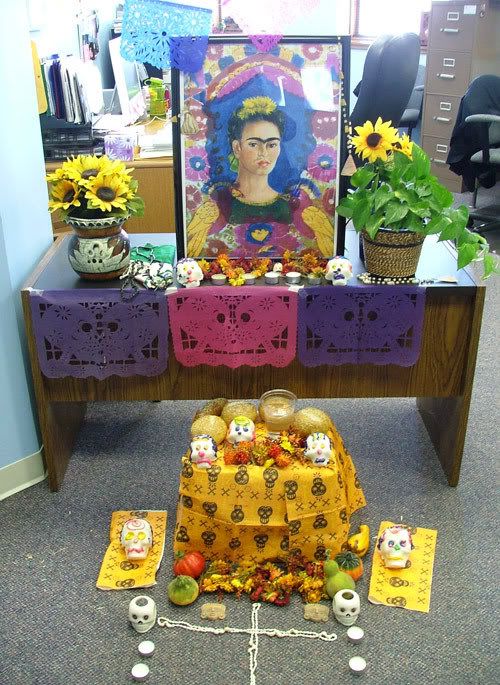 Today is the first day of the Mexican tradition of the Day of the Dead. This day is set aside for the remembrance of children and infants who have passed away and tomorrow is the day remembering the adults.
It is not at all a morbid thing but a respectful and joyous celebration and remembrance of the persons life. You can read more about it here:
Dia de los Muertos
Be sure to check out the photos of the colorful Catrinas.
Shown above is the Dia de los Muertos display put together by Beatriz, my former co-worker and editor of the local Spanish language newspaper. It is in memory of
Frida Kahlo.
There are certain elements in a Day of the Dead display including marigolds (thought to attract the spirit), intricate cut paper shapes and sugar skulls.
You can buy the sugar skull molds online and make your own using white sugar and egg whites. Beatriz's sister hand cut the intricate paper banners and these were just a few of the many that adorned her office. If you look closely you will notice that the design features two skulls facing each other.
I love to see and learn about traditions and celebrations of other cultures.
Have you ever heard of the Day of the Dead?