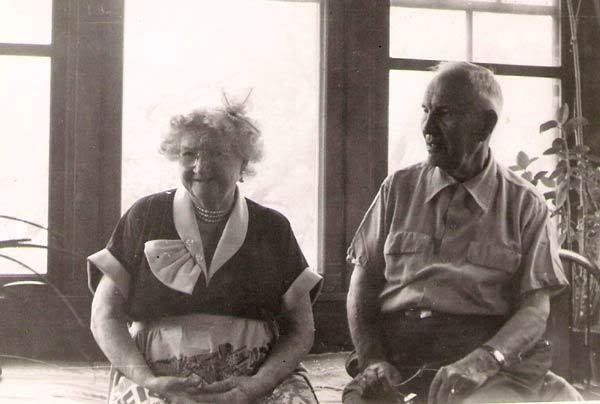 The time: Circa 1953
The place: Wisconsin
This is great-grandpa and great- grandma Gussie. We're going to concentrate on Gussie simply because great-grandpa was a stinker! He was a miser and my mom often tells the story of arriving at the cottage to find Gussie burdened in layers of clothing because great-grandpa would turn the heat up.
His large Chesterfield chair was positioned next to the large heating grate. On the other side of the chair was his silver and onyx smoking stand. He'd smoke his cigars while slowly passing his hand over the grate. My mom would sneak into the other room and turn the thermostat up in an attempt to save Gussie from freezing to death.
In a few moments the heat began to rise and he bellowed, "Who turned the damn heat up?"
My mom answered back, "I did. Gussie is freezing."
Gussie was the sweetest soul, a very gentle and loving woman. This is photo reveals some things that are very indicative of the 1950's. Let's be cultural and fashion anthropologists and dissect the image.
Look at her apron. It's a classic piece of 1950's domestic culture. Gussie would have gotten dressed and attended church. On her return she prepared the Sunday meal, protecting her Sunday best with an apron. This one appears to have some type of image printed on the fabric. Her hands are folded in her lap.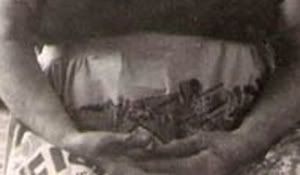 My mom owned many aprons back then. There would be a utility apron that would protect her clothing and provide a place to wipe her hands. Just before dinner was served she'd change into a hostess apron which was a frilly, flimsy confection intended to impress the guests.
Gussie's dress has a nice laid down collar which was probably made of satin. I'm amused by the small wing of fabric that takes flight from under her collar. She's wearing what appears to be two scatter pins. I'm guessing that they're crystal or aurora borealis which was very popular at the time.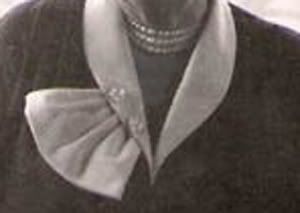 Of course she wore pearls and in this case it's a nice triple strand.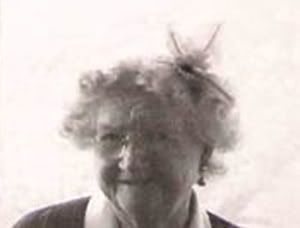 She's wearing rimless glasses which have come back in and out of style several times. Her earrings are simple single drop pearls.
But look in her hair! What is that? It's some type of flower with airy leaves reaching skyward. It's such a fanciful thing for an elderly lady to be wearing but it reveals a playful streak, don't you think?
Perhaps this is where I get my love of vintage jewelry. My large collection includes many sets of pearls, aurora borealis and the later genre of Trifari and Coro. Every time I wear a piece of vintage jewelry I get compliments. People of a certain age relate memories sparked by the jewelry. I remember in the 1960's everyone had to have a circle pin. Many rumors floated around as to it's symbolism.
How about you? Do you remember an iconic piece of jewelry from your past?