This week we're going to be making gingerbread houses. I invite you to join in the fun. My son and I have been entering a gingerbread house contest for the past two years. Last year we won third place with this entry: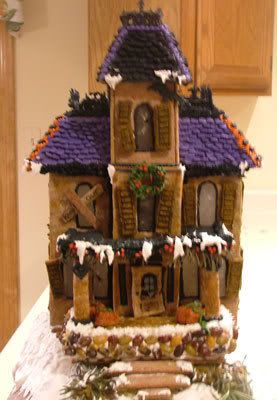 Although this was a complicated design, the principles of construction are the same for a smaller house.
I want to share a few of the techniques I've developed over the years. We're going to break the tutorial up into manageable bits. Today we'll get our pattern ready. Tomorrow we'll discuss the gingerbread recipe and go on to contruction and decorating. Are you ready?
You will need a house pattern.
Gingerbread by Design
has some wonerful free patterns. For the purpose of instruction I'm going to be using the
Elf House Pattern.
Download and print it out.
Trace the pattern pieces onto a sheet of poster board. Cut out the pattern pieces, mark each one (front, back, roof, chimney, etc.) and put them aside.
Once you've mastered the basic skills you'll be able to design and create almost anything in gingerbread, including a gingerbread skyscraper.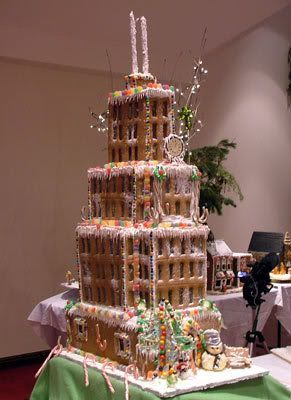 See you tomorrow! Get out your aprons because we'll be mixing up some gingerbread plywood.