Shortly after decorating the gingerbread house my son walked in the house with this: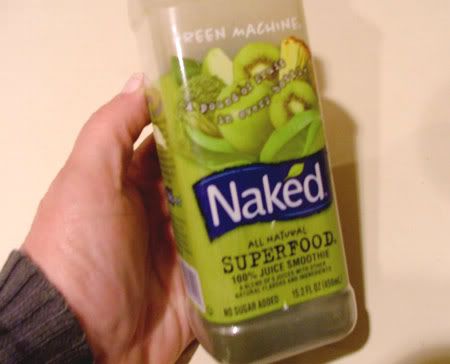 It's called Green Machine Naked, All Natural Superfood - 100% Juice Smoothie. The ingredients include: apple juice, mango puree, pineapple juice, banana puree, kiwi puree, spirulina (?), chlorella, broccoli, spinach, barley grass, wheat grass, parsley, ginger root, blue green algae & odorless garlic. Whew.
Here's what that means colorwise: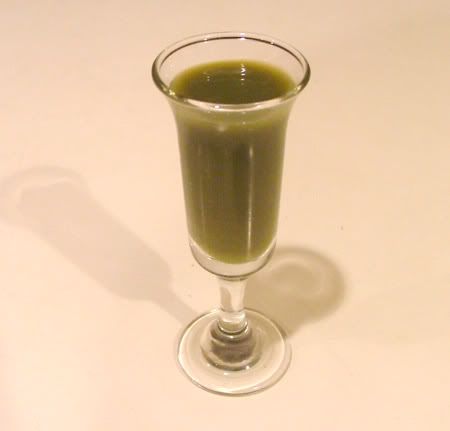 Yes, it's that green. I figured the only way I could quaff this down would be to mix it with some gin and call it a martini.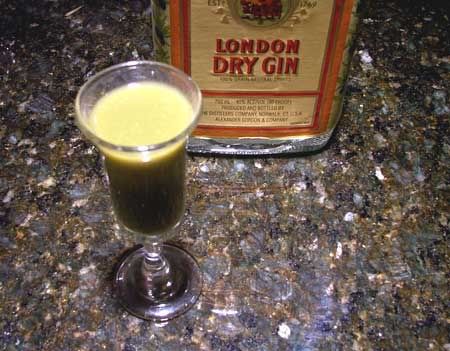 And so, the Pond Scum Martini was born.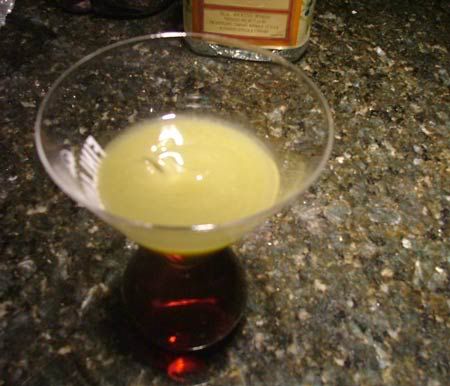 It tasted pretty good but perhaps it was simply because I was in dire need of an adult beverage.
- - - - - - - - - - - - - - - - - - - - - - - - - - - - - - - - - - - - - - - - - - - - - - - - - - - - - - - - - - - - - -
I'd like to thank everyone who joined me for the tutorial this week, and especially to Vee from
A Haven for Vee
who baked and decorated along with me.
Yesterday in a blog comment she said, " Thanks so much for all the fun this week. I'm seriously telling you that when I think of this Christmas, my first Christmas with John, a lot of the fun memories are going to be around this little gingerbread house."
And that was the intention of Chef Alain Roby and his wife Esther when they put together the First Annual Gingerbread House Contest in Geneva, Illinois in 2006. I was inspired to give it a try and was hooked on the process of creating gingerbread structures. The second year of the contest had terrific response with a huge number of entries. Many families joined together in the design, planning and execution of the houses. My son and I worked together and took third place.
We were all disappointed this year when the Roby's had to take a pass due to professional commitments. What I didn't know until last night was that the traditional weekend of the contest he was in Hong Kong creating this 22 foot structure out of chocolate, thus winning a third world's record.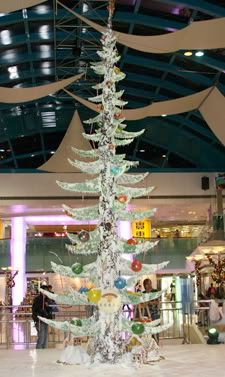 His other records include a sugar creation at the Mall of America in conjunction with the Food Network, and a 20 ft. structure that was deemed by the Guinness Book of World Records to be the world's tallest chocolate structure.
To everyone who participated this week, the Roby's would be very proud to know that their intentions have been fulfilled.
Thanks everyone!