Years ago when the Farmer and I were relatively young, we would make grand plans on New Year's Eve. It usually involved reservations at a hotel or country club and lots of money for the privilege of eating lukewarm and mediocre steak and standing six deep at the bar to get a drink.
The last time we engaged in this folly we were in the company of two other couples who were involved in raging arguments for the entire evening. Both the women spent the entire night in the bathroom crying and swearing. The food was abysmal and the only thing accomplished that evening was the lightening of our wallets.
It was freezing cold and snow was piled in great frozen heaps in the parking lot. We scurried to the car, which as I remember produced very little heat. We scrape the
inside
of the car windows and swore we would never attend another packaged New Year's Eve celebration. And we haven't.
A few years later we spent New Year's Eve in a small family owned tavern, surrounded by a small group of friends. We were in love and just embarking on our lives as adults. I remember a very sweet and loving kiss at midnight!
When our son was not quite two years old the Farmer was in the hospital on New Year's Eve, recovering from surgery. Our plans to visit him were thwarted by a sudden snowstorm. My son and I sat alone in our little house, staring out the window as huge snowflakes fell at an alarming rate. The Farmer was treated to a small celebration by the nursing staff.
I'd love to hear your stories of New Year's past, or plans for this very evening.
Why don't you come along with us the evening? Bundle up and engage in our rural Illinois tradition of watching the corn drop. What's a corn drop you ask? New York may have it's high tech ball but we have a five foot illuminated ear of corn that drops at midnight. This is last years preparation.,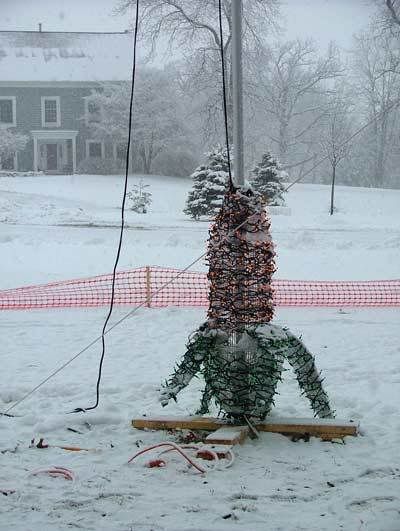 Children danced in the snow.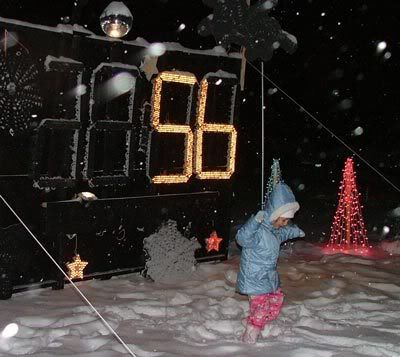 Newlyweds, who had recently moved here from California experienced their first snowfall. They danced too!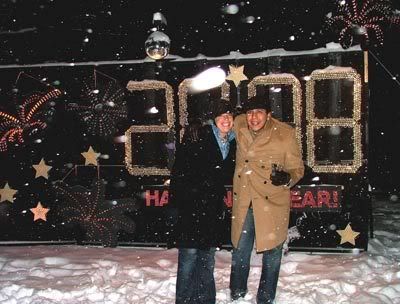 You're invited. Bundle up really, really well because I promise you it's going to be cold tonight. Wear a hat, gloves and wrap a scarf tightly around your neck. They'll be hot chocolate or champagne at midnight.
Because here in the midwest we know how to celebrate.
Check back tomorrow morning for photos. You never know who might be dancing in the snow. It just might be you!