My mind has been overcome by the stuff in this house and I'm finding increasingly difficult to fall asleep. It's as if the sheer weight of the possessions hiding in every possible hook and cranny are pulling me down.
I am not kidding when I say every closet, cupboard, cabinet, desk, bookshelf, vanity and a three-car garage is packed to the rafters. Seriously, I can't stand it anymore.
Night before last, as I tossed and turned I made a promise to myself to change matters starting first thing in the morning. I'd already taken a load of clothing and books to Goodwill earlier in the week and I was on a mission to load up the car again.
What better place to start than in my bedroom... and the jam packed closet that I face every night when I attempt to fall asleep. I yanked a bunch of stuff out and weeded heavily.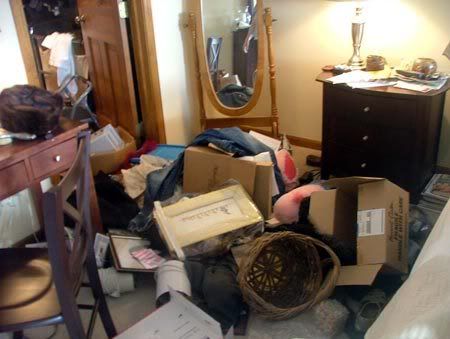 Can you believe I had a large shopping bag FULL of recipes I've cut out of magazines and newspapers and a bunch of handwritten ones also. I'm not quite sure how I'm going to deal with this but I'm not going to live long enough to actually cook them all.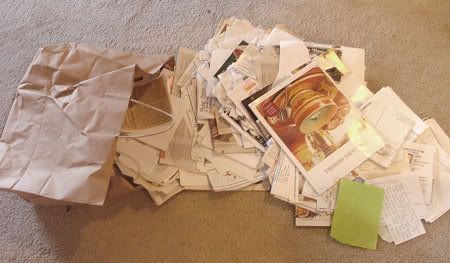 Included was this article about Ruby Ann Boxcar's, "Ruby Ann's Down Home Trailer Park Cookbook." Included are two recipes. One is for Dr. Pepper Salad and the other is for Taco Roni Salad. What am I saving this for? I hate Dr. Pepper (tastes like a childhood medicine) and the Taco Roni Salad sound gross.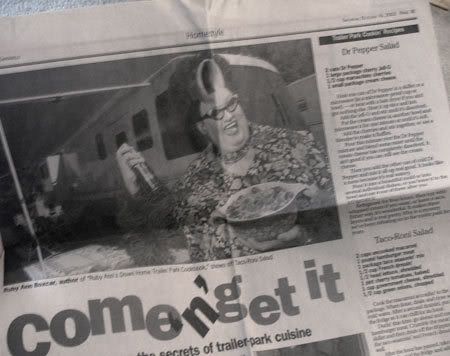 Maybe this weeding will be easier than I first thought. Here's the recycle pile.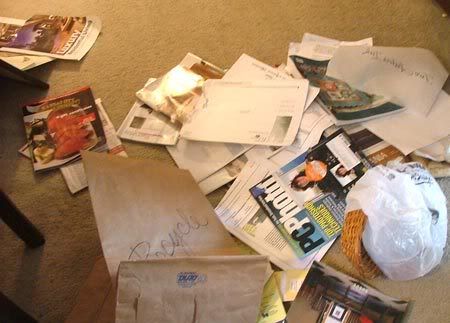 I will keep things like my manila envelope full of travel brochures, both places we've visited and others we'd like to see.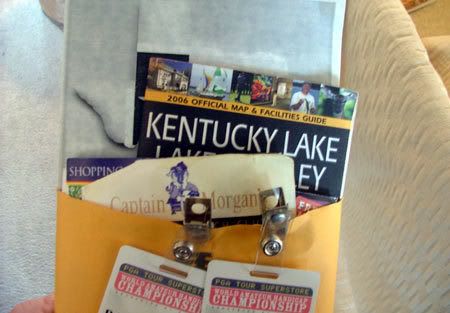 Please pardon my temporary insanity. I just feel like I can't be creative until I divest myself of a ton of excess baggage.
I'm off to figure out what to do with a real mink Russian hat from Moscow. Don't ask.