You're probably conjuring up images of a Rhode Island Red stretched out on a medieval torture device. I'm not talking about that kind of stretch but how many meals you can get out of one single chicken.
My family loves those slow roasted chickens from the grocery store and I'm a fan also. Not only do I not have to cook the bird, for some reason it's actually cheaper than buying a raw bird. The slow rotisserie roasting makes for a very moist and flavorful meat.
I'm sorry that I didn't get a photo of the chicken whole but my family dove in as soon as I unpacked the grocery bag. This was a very, very large chicken which made it possible to stretch it to create more than one meal. We all ate our portion served with green beans and sweet potatoes. It was delicious.
The next afternoon I made a salad with mixed greens, yellow peppers, carrots and sliced almonds topped with some cubed white meat. The salad dressing is compliments of Chocolatechic. This is a terrific dressing and after I served it at Christmas the Farmer declared that it's the only salad dressing he'll eat. Here's the link to
Chocolatechic's sa;ad dressing.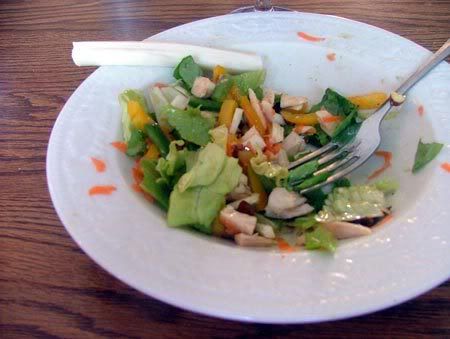 What's left is the carcass with a small amount of meat left on it.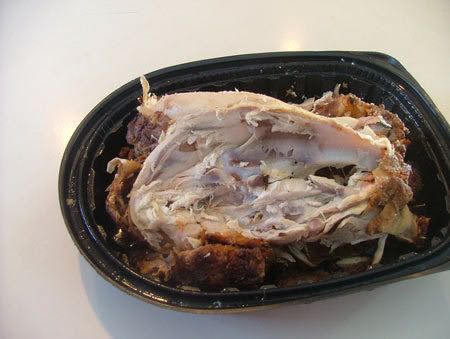 Tomorrow I'll strip the bird of the meat and boil the rest to make some chicken soup, adding celery, carrots, onions and parsley. The meat will be added and some homemade egg noodles. They are so easy to make.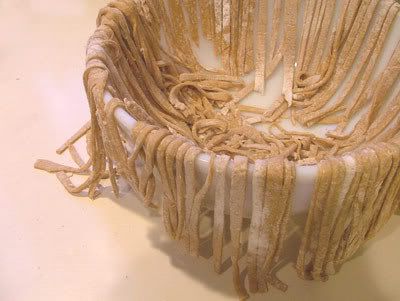 This batch is made with whole wheat flour which results in a very dense and filling noodle.
EGG NOODLES
2-1/2 cups all purpose flour
1 pinch salt
2 eggs, beaten
1/2 cup milk
In a large bowl, mix flour and salt together. Add beaten egg and milk. Knead dough till smooth, about 5 minutes. Let rest in covered bowl for 10 minutes. On a floured surface roll out dough to a 1/8 to 1/4 inch thickness. Cut into strips of desired length and width. (you can use a pizza cutter). Air dry before boiling. Boil as you would pasta.
At that point I will have reached the end of stretching this chicken.
How about you? Do you stretch chickens or beef roasts?