I have to sit back and say, "What a week". It's only Wednesday and I feel like I've been in a whirlwind.
This came in the mail.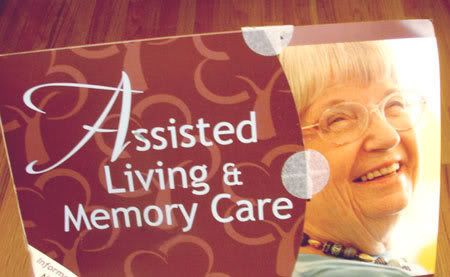 I'm not quite sure if it is targeted to me personally, or to me as the daughter (and daughter-in-law) of elderly women. When I was young I believed that life would get easier and less complicated. That's not the case at all. We are the sandwich generation, attempting to launch our children and caring for our elderly parents. The problems get further complicated by the fact that siblings must agree on decisions made on behalf of the parents. We haven't had to make any of those decisions yet but I can imagine trouble brewing. Good gravy, it's complicated!!!
- - - - - - - - - - - - - - - - - - - - - - - - - - - - - - - - - - - - - - - - - - - - - - - - - - - - - - - - - - -
I'd like to talk about an incident that I briefly mentioned in our Monday Morning Staff Meeting. I've been a bad blogger, a very bad blogger. I broke one of my cardinal rules invoving comments. Very early in my blogging experience it became apparent to me that I needed to read a blog for awhile, to get the lay of the land and a sense of the personality of the writer before I started leaving comments.
It's not a problem with some people because they're authentic.
Heidi, the Milk Man's Wife
is one such person. She's funny, open and friendly. It didn't take long before I knew it would be OK to joke around and she wouldn't be offended. I also knew that I could drive up to Wisconsin and camp in her yard! And that's just what I plan to do next spring. We're going to the Norski Nook to eat pie, She's the kind of person who would help a friend find her
grandfather's old one room schoolhouse.
While leap blogging this week I decided to hop off my normal lily pads and jump over to some more serious blogs in the land-o-academia. I left a comment in response to the characterization of a group of people, suggesting that we don't fall neatly into categories. WHOA! Response was a terrible swift sword in which I (and one other woman) were deemed to be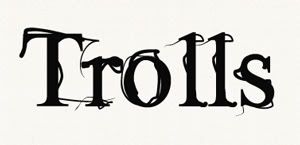 I'm a TROLL. Who knew? It's news to me because I was raised to be MIDWESTERN NICE. My transformation was painless. Someone must have put a pod in my bedroom one night! I've been blogging, reading blogs and commenting on blogs for over 4-1/2 years and this is my first foray into Trollhood.
- - - - - - - - - - - - - - - - - - - - - - - - - - - - - - - - - - - - - - - - - - - - - - - - - - - - - - - - -
I believe that the universe compensates for negartive experiences. Sure enough, yesterday something really nice happened to me.
Occasionally during the day I check Sitemeter to see who's reading and where they're from. I'm always stunned when I discover someone reading from Russia, Tokyo or Indonesia. It's just amazing that we can be sharing on a global scale.
Then I check the referring sites. Most people are clicking through a blogroll to my site. I'm always mindful of those who generously list me on their site Thank you!!! People can also click through on your comment.
Yesterday I noticed there were several visitors who had followed a link from
Pioneer Woman's blog
I was curious because she doesn't have a blogroll that I know of, and I haven't commented on her site recently. So I jumped over there to see what was going on.
She had a wonderful post thanking her readers for nominating her for the 2009 Bloggies. She invited everyone to vote in all categories and asked people to provide a link to their favorites sites....you know, personal favorites who are little known in the blogosphere. Now, here's the thing, when you have 5,000,000 -
that's FIVE MILLION
- page views per month, you're going to get
6,000 comments.
11,011 comments!!!
That's 28 pages of comments, posted by regular people like you and me, providing a link to all kinds of really cool blogs. It would probably take a year to visit them all but I might give it a try.
Some are known to me, such as
Post Secret
and
Deep Fried Kudzu.
Others are cool finds, like
Cake Wrecks.
Lo and behold, in comment #5976, Johanna mentions my name. Thanks so much
Johanna,
I really appreciate the positive feedback. Your one act of kindness nixed any negativity that I experienced earlier.
In my book this one good experience far eclipses my new negative status. Anyway, if I'm going to be a troll, I'm not going to be just ANY STINKING TROLL. I'm going to be the
Queen of the Trolls.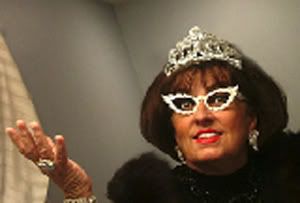 Mazaltov, y'all.