Falling asleep on cruise ship is no different than a hotel or a new home. The first few nights are spent getting accustomed to the different noises and also the additional feeling of constant gentle motion. We slept with the sliding door open so that we could hear the sound of the water splashing against the side of the ship as we sped through the water. It was such a relaxing background noise. Our minds quickly adjusted.
The trip Cabo to Mazatlan was an overnight voyage and we arrived very early in the morning. I was awoken suddenly by a new sound- quiet. The ship felt as if it had stopped and it was totally silent. I walked out on the balcony to discover we were in fact, creeping along at a snail's pace through a sound deadening early morning fog.
The scene was exotic and magical.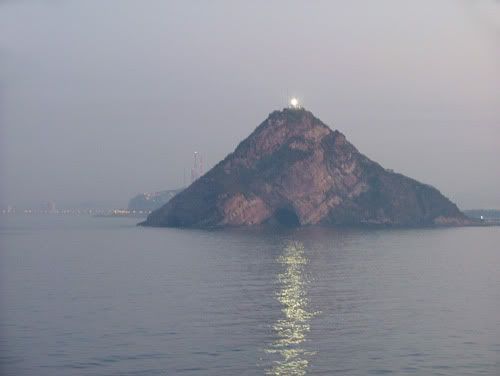 We were lucky enough to be on the side of the ship that faced the lighthouse. It was so peaceful, everything bathed in the pink and blue light of early morning. There was a cave at water level just below the light. Can you see it?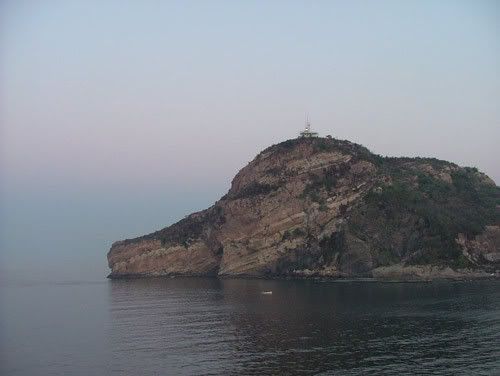 The lighthouse was perched on top of an amazing rock formation, so different that anything in Cabo. When viewed from the side it looked like a sleeping crocodile. The banded rock was painted in shade of tan, gold and salmon pink. If you look closely at the picture above you can barely make out the small fishing boats that were navigating around the rock.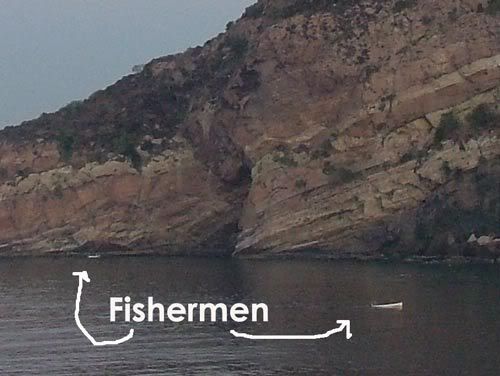 The boats seemed incredibly small against the scale of the cliffs. Behind this large formation were several large rocks that were totally different and almost white in color.
The fog was dissipating ever so slowly as we approached the breakwater.
From a distance there appeared to be hundreds of white crosses. Certainly this couldn't be a cemetery.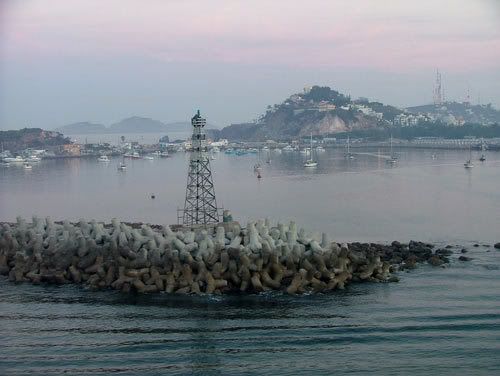 As we got closer we could see that the breakwater was made up of large concrete pieces that were shaped like children's jacks.
Still, everything was silent.
There were a few sailboats anchored but no luxury craft as in Cabo.
More fishermen headed out past the breakwater.
Mazatlan is not a major tourist area. It's a working city and a working port.
Large ships bring cars from Japan and Korea. They're stored on the docks and shipped from here to other areas in Mexico.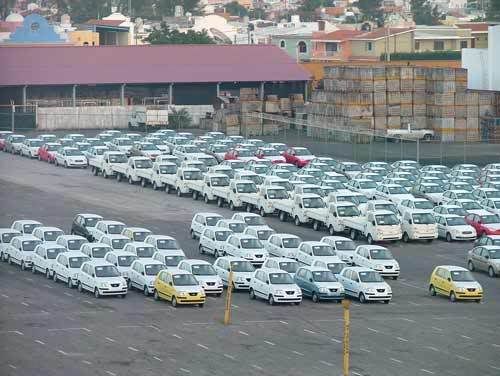 I spotted this shrine at the end of the pier. Perhaps it's dedicated to the fishermen. If you look closely you'll see a small box on the side with candles burning.
Mazatlan is an old Spanish Colonial city with the Cathedrals rising above the other buildings.
We opted to take a day-long city tour filled with all kinds of experiences. Stay tuned tomorrow for the cliff divers and more. On Saturday I'm going to take you inside that cathedral. It's simply breathtaking.