There were 12 of us traveling together and almost all of us chose to take the whale watching cruise. Some opted for the more strenuous trip on a Zodiac but the Farmer claimed he was too old to be bouncing and slamming around in an inflatable raft. Some of you are old enough to remember Jacques Cousteau and his ship the Calypso. For excursions off the large vessel, he and his crew would ride in inflatable boats called Zodiacs. Sorry, I didn't remember to get a picture of one. They held about a dozen people who were required to wear those big orange life vests throughout the entire trip.
We boarded the boat and got a good look at one of the shopping areas as we pulled out into the bay.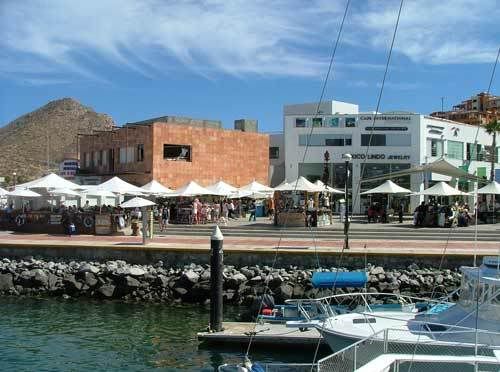 The Farmer claimed he wanted a boat that served drinks and food. Here's the Farmer and I reflected in the window of the boat. Sure enough, the Farmer has a Marguerita in his hand and he's channeling Captain Ahab.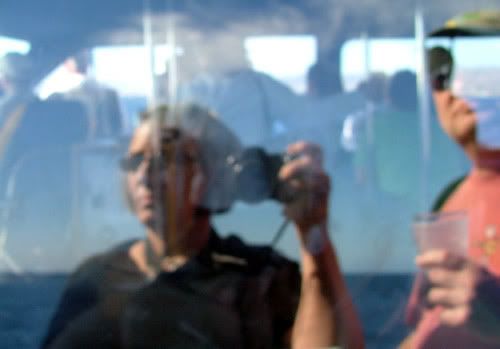 We saw some shrimp boats heading out to sea.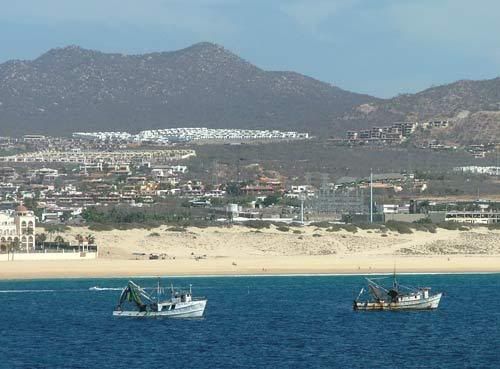 We went quite far from shore. Heidi, I can assure you it was more than 50 feet. We had to go up and down the coast for about 30 minutes before we saw our first whales. You can see how far we were from the coastline.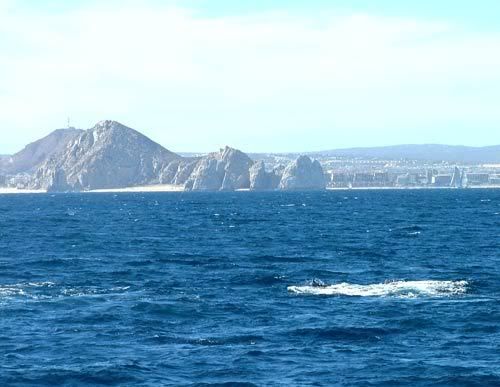 These are humpback whales and they comes to the waters off the Baja Peninsula to breed and give birth. A second whale helps the mother give birth and they actually have to train the baby to swim, pushing it back up to the surface when it begins to sink. It takes about 30 minutes for the baby to learn to go to the surface to breathe.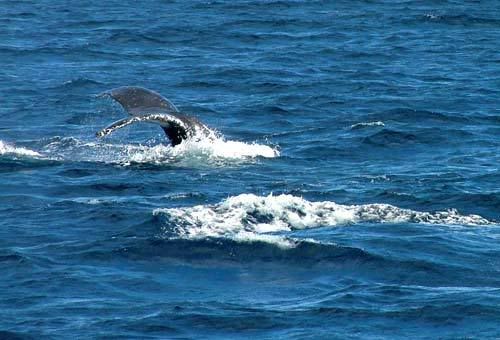 It's a beautiful sight to see the tail but that means that the whale is diving and you won't see him again for over 20 minutes. They don't breach (jump out of the water and belly flop) like they do in Alaska. Why? The babies are swimming with them and the breaching might injure them.
Here's another one diving.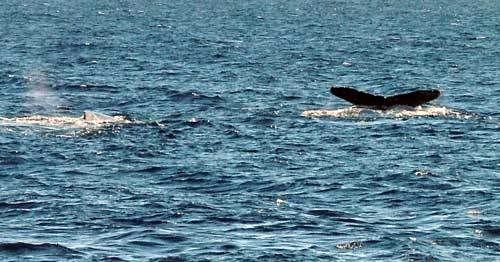 It was an interesting afternoon. We we all impressed with the size of these mammals. On our way back in we passed those stunning rock formations again. The amount of water traffic in this area is ridiculous. I wonder if there are alot of boating accident's. It's crazy! Look closely and you'll see some boats in this photo. See how small they are? That will give you an idea of the scale of the place.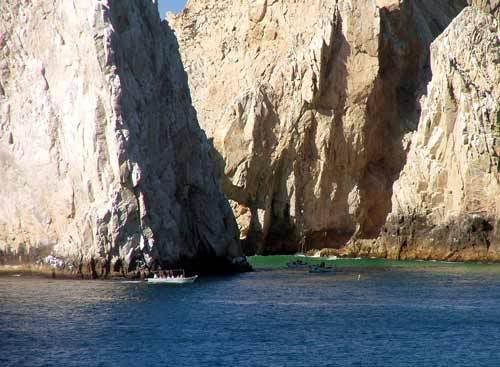 And the sea lions. They stink! Literally.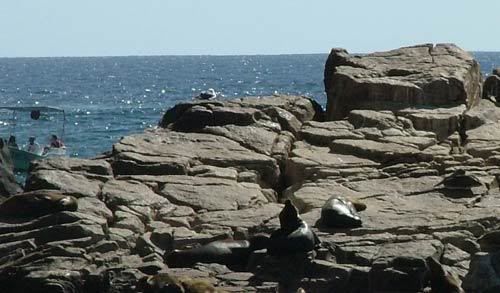 Then it's back on the ship and off to our next adventure.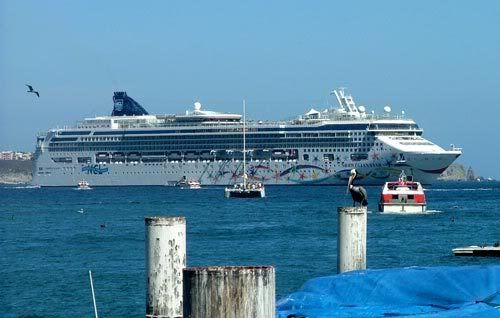 NEXT: We're headed to Mazatlan, which the Farmer insisted on calling "Mazaltov" all week long. It was pretty funny the first 30 times he said it, but after that it was just annoying.