The great grasslands of the American midwest were often referred to in nautical terms, the grass extending from horizon to horizon resembling a vast, undulating ocean. The covered wagons themselves were called prairie schooners. For the past several days I've certainly felt like a seasick sailor on dry land. I thank you for all the assurances that in a few days time things will settle down and my world will cease to rock to and fro.
When our children were small money was tight. The Farmer and I both loved to travel but we were limited to spending our vacations visiting family in Tennessee. We saved for quite awhile to afford one trip to Disney World. But when I stood in the international section of Epcot I knew that someday I wanted to experience the real thing and not Disney's version.
The Farmer and I are perfectly suited as traveling companions. We seldom, if ever, have disagreements while traveling. He exhibits lots of nervous energy at the beginning of any day that includes planned activities. If we're doing something onshore during a cruise, he's chomping at the bit to get ashore which sometimes means we've got to fill time before the tour begins. But other than that we agree about what constitutes a successful trip.
What I like about cruises is the fact that in a week you can be exposed to many different locations, sometimes wildly diverse. It also gives you an idea of where you'd like to spend more time. There were several places in the Caribbean that were just not our cup of tea. I'd have been very upset if we'd booked a solid week in a spot that held no interest for us.
This time we cruised with the Norwegians on the Norwegian Star.
As you can see the ships are painted in large graphics. Very effective.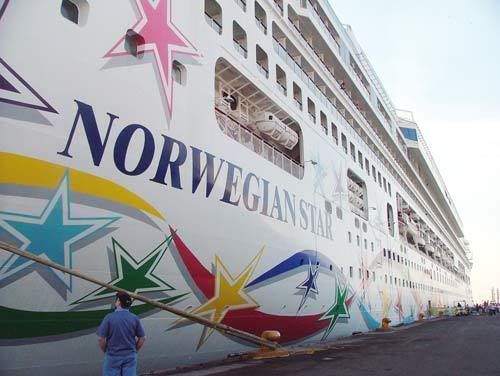 Here's the Farmer literally chomping at the bit to get going for the day.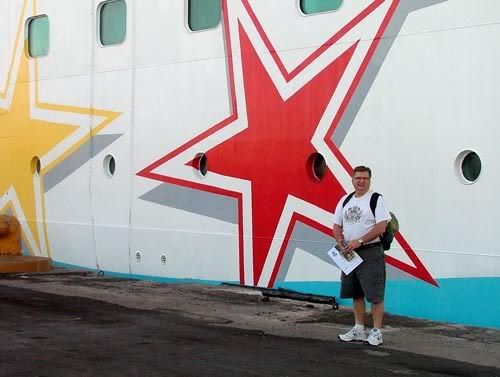 These ships are floating cities with both permanent and temporary residents. The staff was young and friendly. I loved them. The majority were from the Philippines.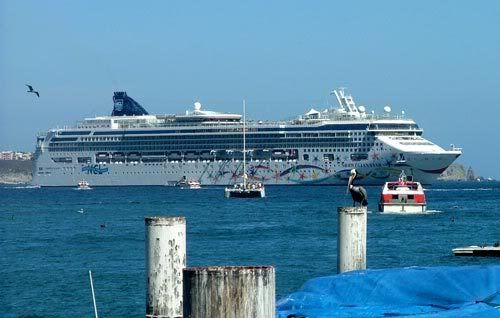 The ship was very clean and well maintained. It's apparent that they take pride in the vessel. When we docked in Mazatlan they lowered this small raft from a high deck near the bow. The maintenance crew proceeded to scrub the hull with a cleaning liquid and this long handled brush. As we watched the faint discolored areas were bright once again.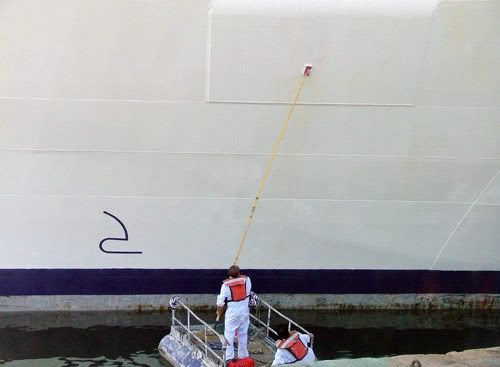 We'd booked a regular cabin with a porthole but shortly before the cruise date Norwegian contacted us and offered an upgrade for a small fee. We snapped at the chance and the Farmer was so in love with the balcony he's declared we'll never go back to to steerage!
We slept with the sliding door open in order to fall asleep with the sound of waves pushing outward and away from the ship. It was heaven.
Here's our balcony. Let's sit out there for awhile. Tomorrow we'll arrive at an interesting port.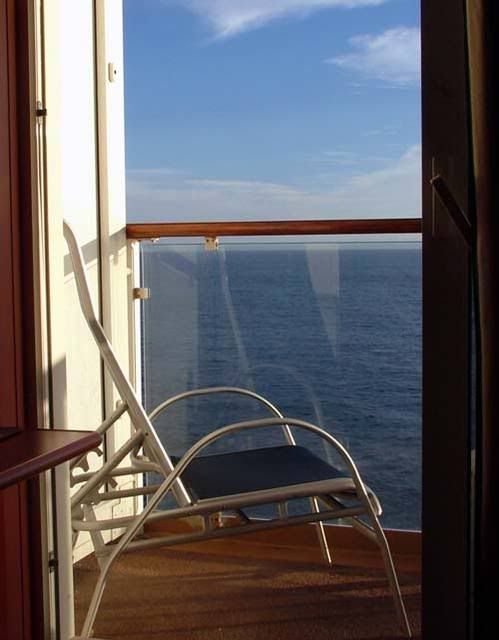 Let's go to Cabo!!