Today I ran a few errands, stopping at the grocery store to pick up the bar of soap that I needed to make laundry soap. Yes, I promised a tutorial on how to make your own laundry soap.
But first the GREEN BEANS!!!
What? It was not my intention to deal with green beans today, but on my way to the soap aisle I passed the produce department with it's famous bargain section. They box up large quantities of produce that is not quite as fresh. The siren song of the green beans called to me.......
buy me, buy me.
But here's the thing, if you buy these not so fresh green beans they must be dealt with immediately or you've got nothing but compost material on your hands. I thought this would be a good time to show you how to process the beans that will soon be coming either out of your own garden or from the local farmer's markets. If you take advantage of what's reasonable and in season you can save money on your food bill.
So today I'm going to show you how to blanch and freeze beans. It's very simple.
Here's the big box 'o beans that were calling to me.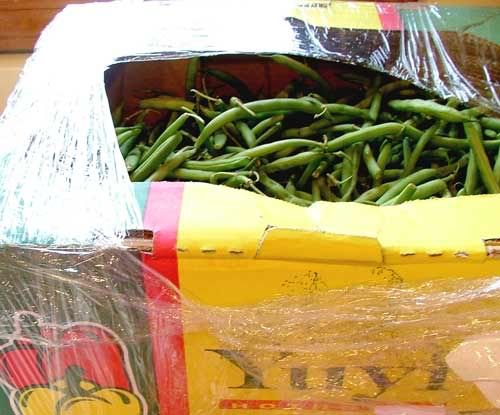 The box weighed about 5 or 6 pounds and it was $1.99.
Inside - the good, the bad and the ugly!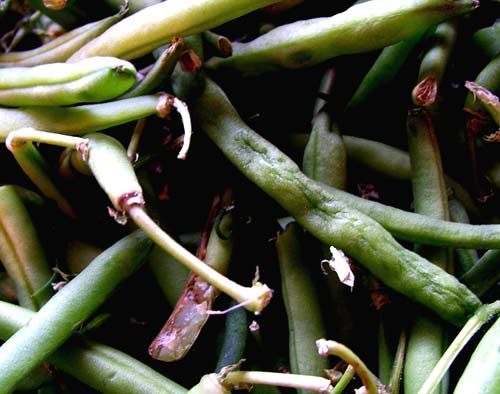 Get a large pot ready with boiling salted water. This pot is one of the best purchases I've ever made. It's large and the insert allows me to drain the food while keeping the water boiling for another batch. I found it at one of the home goods discount stores.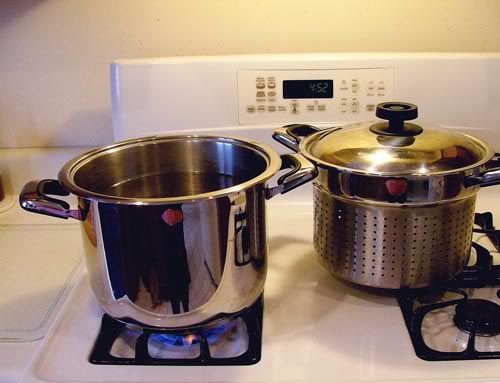 I set up a little work station to process the beans. At the top is a garbage bowl. There was actually alot of waste so I resorted to a brown paper bag on the floor into which I tossed the bad beans and the tips.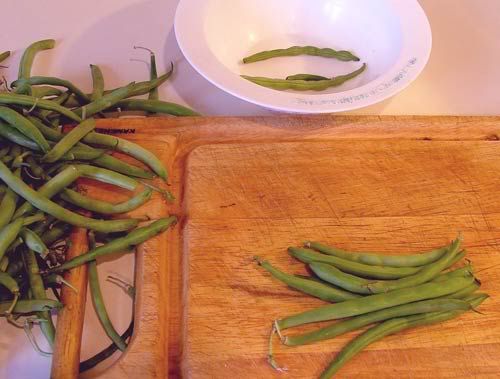 I cut the ends off the beans. In days past, women would have sat on the porch, gossiping and snapping beans.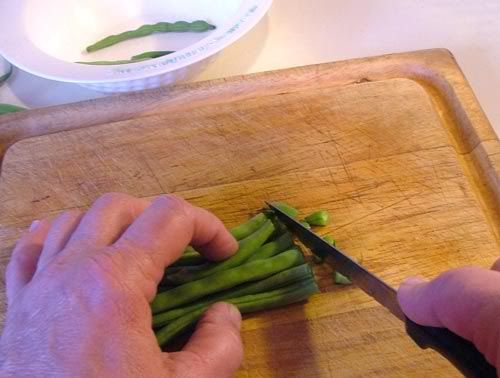 So as not to overfill the pot, I'm going to blanch them in two batches.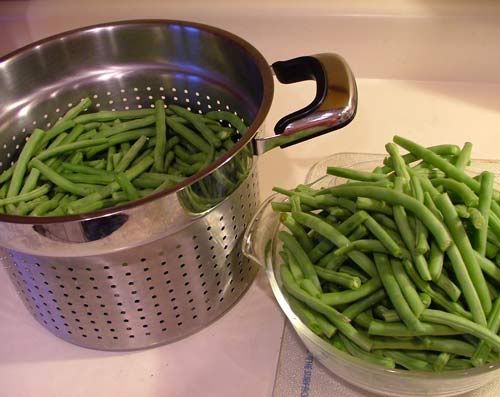 Immerse them into the boiling water. Boil for 6-8 minutes until they're tender crisp and bright green.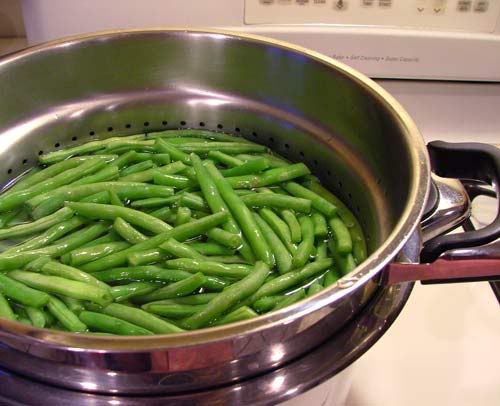 See how easy it is to just pick up the liner and drain the beans?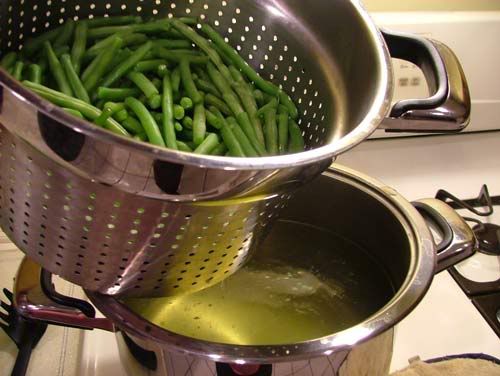 While the beans were boiling I filled my sink with cold water and ice.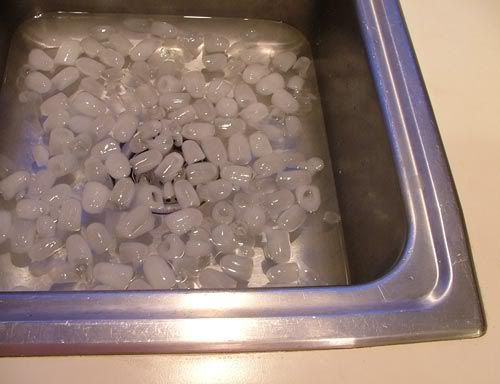 The hot beans are plunged into the ice bath, which stops the cooking process.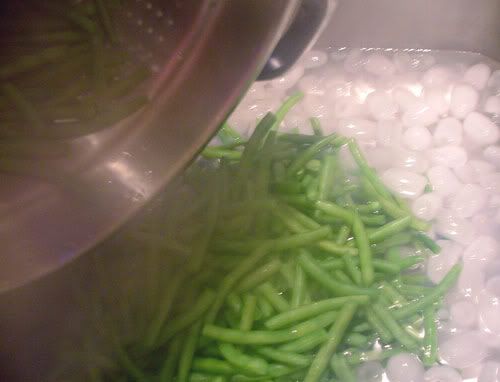 I wait a few minutes and drain them on a dish towel.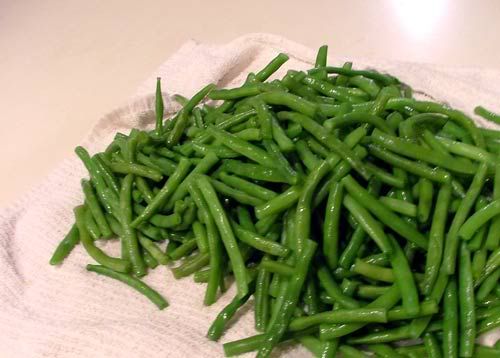 We don't own one of those vacuum food sealers. I've found it's easy to fill these freezer bags with a pleated bottom, squeeze out the air and zip them shut.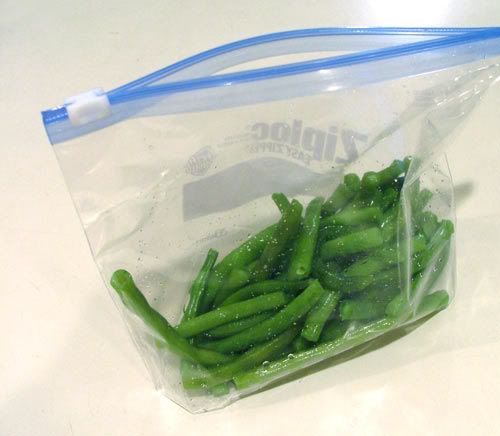 It took about an hour of my time but I have a whole mess of bean in my freezer. They're just waiting for the perfect beef roast.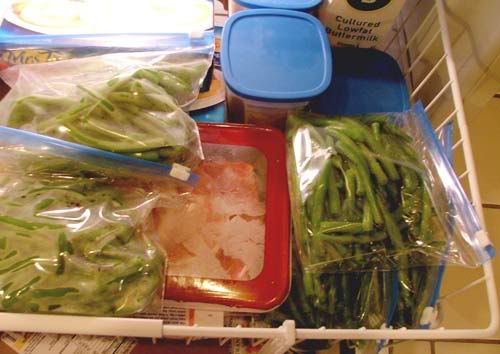 I mentioned the old days when women would sit on the porch and snap large buckets of beans. Here's the porch that I remember. My aunt and her friends or her sister-in-laws would sit in those rockers and snap away, catching up on their lives. It was a ritual.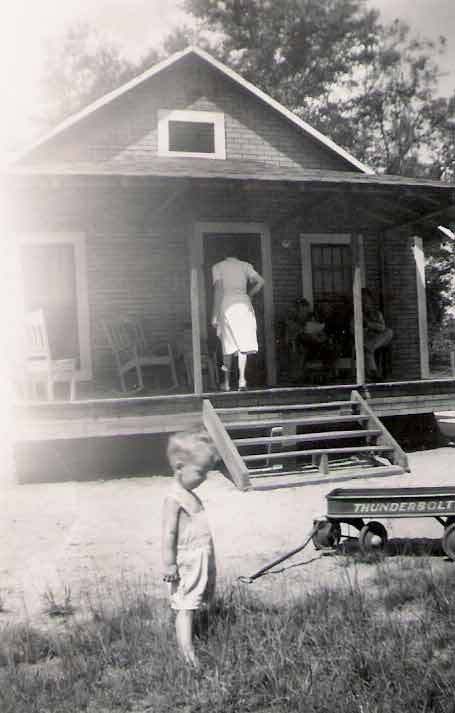 This was in the rural piney woods of the Florida panhandle. This location has an interesting connection with this week's field trip adventure, which will be on Friday.
Thanks for joining me in the kitchen. Tomorrow we're going to make homemade laundry soap. Please join me.
EDIT NOTE: We were forced into frugality early in our marriage. It soon became a game of sorts, to find the best bargain or ways to stretch the resources. The older generation was so happy to have the time saving conveniences and now we find ourselves backtracking in order to have more control over what we're consuming, both literally and figuratively. Just because they invent something doesn't mean we have to use it.

I forgot to mention there are "frenchers" for sale if French style green beans are your style. It involves cranking each bean through a little device that cuts it into three strips. Do you see the size of the box I had there? Frenching each green bean would be crazy and I gotta draw the line somewhere!

You might ask your local grocery store produce manager if he'd be willing to sell you some of the produce they pull off the displays. The larger chain stores will probably not be willing to do this. My bean came from a family owned Italian market. Since the Farmer works in the fresh herb business I could go on an on about government regulations concerning food. Don't get me wrong, it's a good thing but my old Aunt Lydia ate every stinking old leftover that was hiding in our fridge and she never got sick.....EVER!!! That doesn't mean we shouldn't be careful but our society has reached a level where there's a zero tolerance for risk. Unfortunately, we take a risk just getting out of bed in the morning folks!! OK, I'm starting to sound like Heidi here. Pretty soon we'll be known as the Crazy Ranting Farm Sisters. HA! I'm off to produce a tutorial. That's cool, I'm going to be wearing my producer's hat for today.