We have tons of laundry in this house. I swear that when the Farmer walks there's a cloud of dirty laundry following behind. Really, it's like an old car pumping out pollution, but in his case it's dirty socks!!
I started making my own laundry soap about six months ago and I've never looked back. I was sick of buying the stuff and was glad to find a group of online recipes. I liked the one that Suzanne from Chickens in the Road published. I've changed it just a bit and found a way to emulsify the mixture. So, let's get started!
Here's what you're going to need:
Small bar of soap
3/4 cup Borax
1/2 cup washing soda
1/2 baking soda
Large pot
Water
3 empty milk jugs
1 empty juice container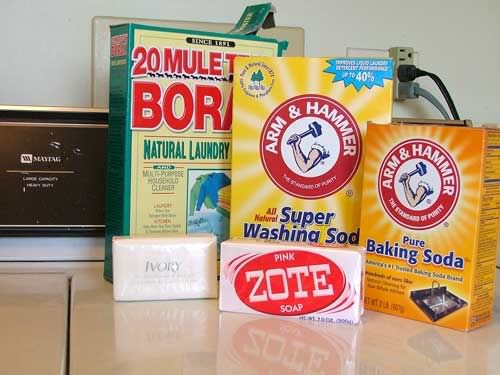 I found all the ingredients at my local grocery store. In the past I've made the laundry soap using one 4.5 oz. bar of Ivory soap but this time I found a bar of Zote which is a specific laundry bar soap. Zote is almost 8 oz. so I'm only using half a bar. I'm using my cheese grater to grate the soap.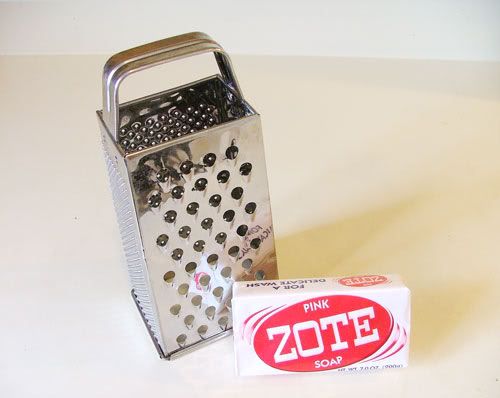 Ivory soap grates into perfect little curls but Zote becomes granular in texture.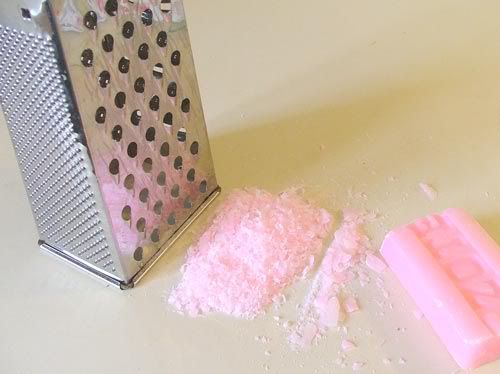 It's easy to know when you've got half a bar grated. Z-O-T-E has four letters, grate off two of the letters!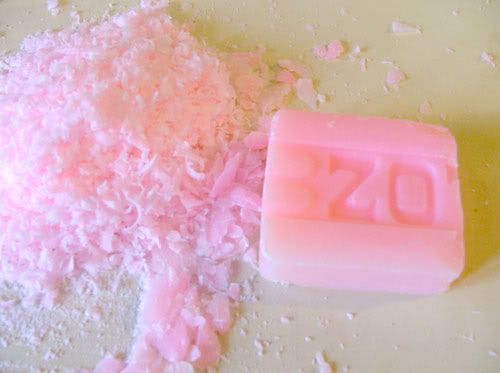 I use a large pot that I purchased at a garage sale for 50 cents. This is quite large and was probably used as a canning bath. You'll need something large enough to hold 3 gallons. Don't worry if you don't have something that large. Just use your stock pot and cut the recipe in half.
Start by boiling 6 cups of water.
I don't want to be measuring all the water out every time I'm making this recipe so I measure it out once and mark the side of an empty milk jug with a permanent marker.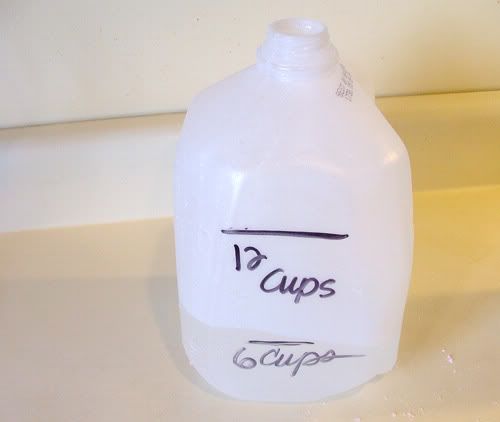 Put the soap into the boiling water.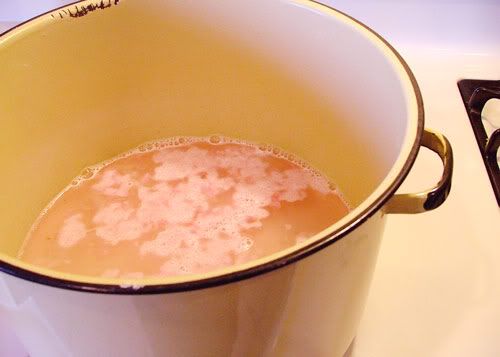 Stir until the soap melts. I'm exciting about using Zote because it appears that I'm going to have a pale pink laundry soap.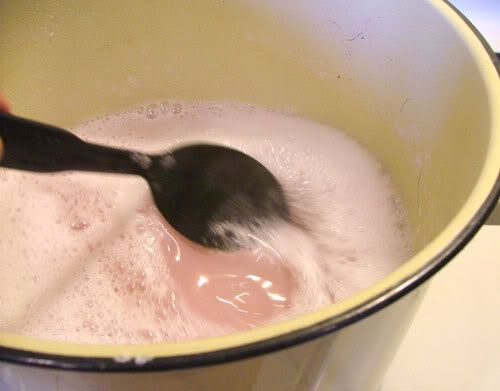 When the soap has melted completely, add the borax, washing soda and baking soda.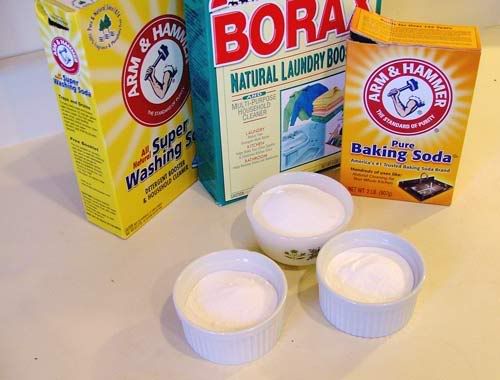 Keep stirring and simmering until dissolved. Add 4 cups of very hot water. Stir again and remove from the heat.
Add 24 cups of cold water.
Stir till well combined. Let the mixture stand for several hours. What happens is that the mixture will gel. I don't know why but it does. Heck, I failed Chemistry.
Here's a little video (very short) which will show you the consistency of the gelled mixture. Hey - I know you were having withdrawals from hearing that midwestern accent.
You can keep this mixture in a large bucket in your laundry room and simply mix it around before you use it. I don't have room to store a large bucket and it's hard to transfer this "snot soup" into plastic jugs so I've developed a way to emulsify it and make it into a smoother liquid. This process involves my Smoothie Machine!!
Not alot of smoothies or margaritas being blended around here so I've found another gig for the machine.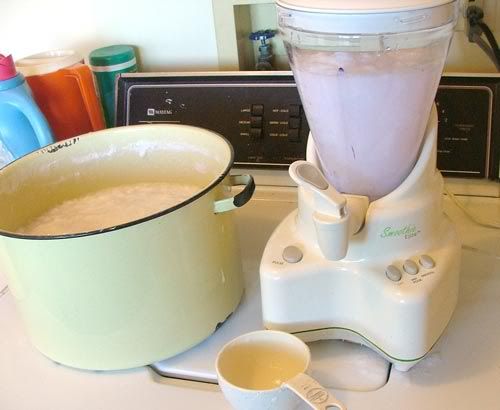 I fill it up and give a whirl for 10 seconds. It works great because I can just put the jug under the spiggot and fill it up. So easy.
This makes three gallons. You only use 1/2 cup of this soap for each load of laundry. Really! The borax and washing soda do their work, you don't need more. After it's been emulsified it's kind of white. I'd be sure to mark it so that it's not mistaken for milk.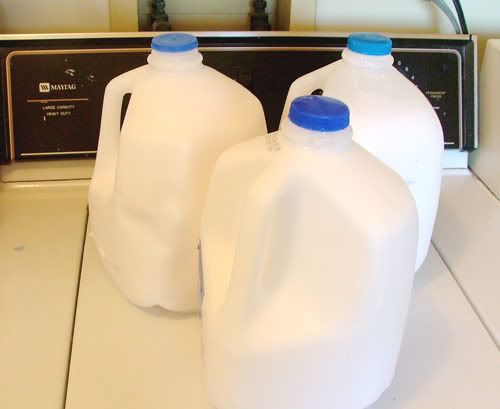 You'll wash 40 loads from each gallon - times 3 gallons is 120 loads!
I bought these supplies months ago but if I remember correctly I bought everything for less than $10.
I don't want to be lifting gallon jugs so I use an empty juice container to keep a smaller amount for daily use. If you look at this photo you'll see the juice container on the right. After it sits for awhile it separates a bit so just shake it up before you measure it out.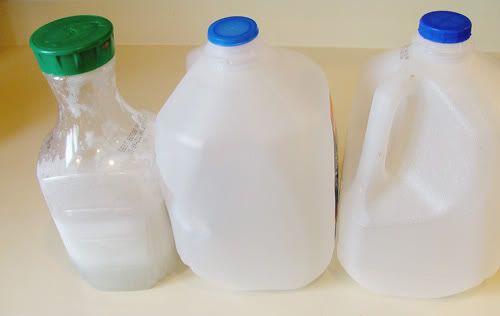 Please try this and let me know what you think.
Tomorrow is our weekly field trip. Be sure to be here or the bus will leave without you!