The distance: 6.4 miles
The place: Rural Kane County
The destination: An Ingalls family cemetery plot
Fans of Laura Ingalls Wilder, including my sisters, hit the trail in search of the locations made famous in her collections of books. This can be quite a task that can rack up the miles on your vehicle because the Ingalls family moved quite a bit.
There are other, lesser known Ingalls-Wilder locations including one just down the road from our home. James and Worthen Ingalls purchased to adjacent sections of land in nearby Plato Township. Somewhere around 1848 Landsford Ingalls moved with his family to a spot near Otter Creek in Kane County, near his two brothers.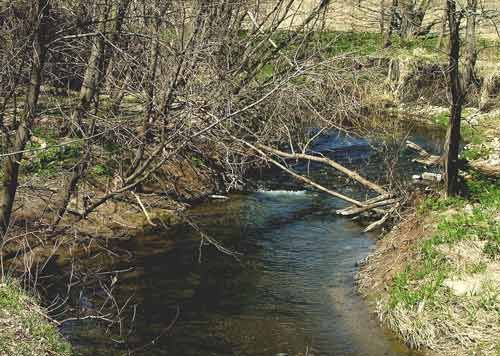 Otter Creek
Landsford's son Charles "Pa" Ingalls was 14 years old at the time and lived in this location for ten years until the family moved to Concord, Wisconsin where he met and married Caroline Quiner (Ma).
Nothing is left of the homes of these families but an Ingalls family cemetery remains on a small hill overlooking Corron Road.
Several years ago a very nice home was built on the hillside.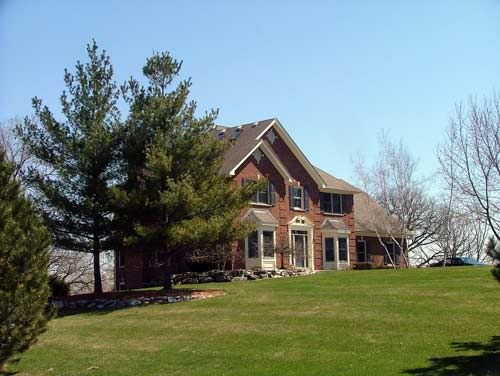 There are gates to the drive up the small hill to the house.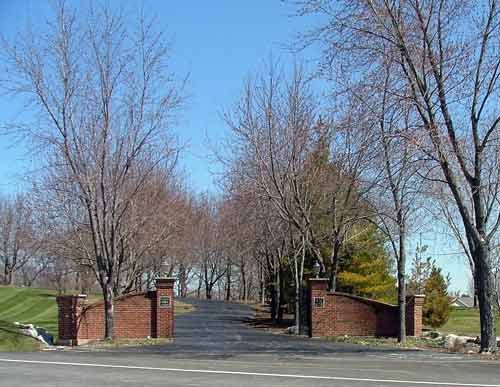 I noticed a small area in front of the house near the road was fenced in with white picket fencing. At first I thought that it was a cottage garden type feature but it was curious that it was located directly in front of the house and not in the back where normal gardens are placed. The landscaping did not fit with a cottage theme and there were never any flowers growing inside the fenced space.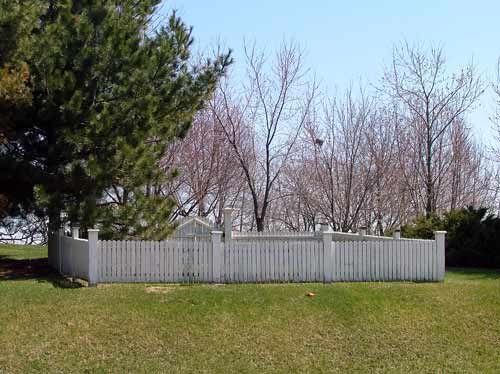 One day a neighbor mentioned to me that "Pa" Ingalls was buried there. That seemed highly unlikely because at the time I wasn't aware that the Ingalls had ever lived in Illinois. An online search revealed that Charles Ingalls was buried in DeSmet, South Dakota.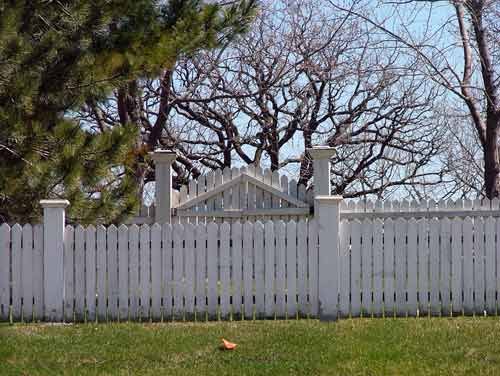 The little graveyard, literally in someone's yard turned out to be a small Ingalls plot where lies the remains of Eliza Ingalls, the daughter of Charles's great-uncle.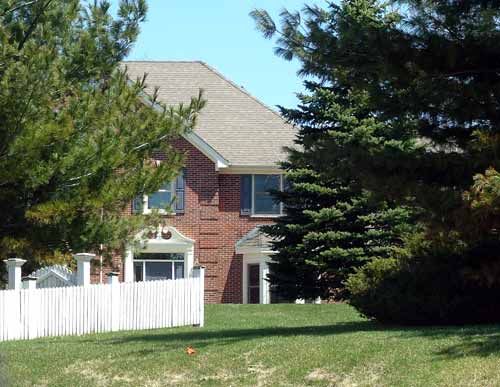 Also buried in the plot are Malvina and Nancy Geutcheus, daughters of Morris and Betsy Ingalls Geutscheus, age 9 and 11 when they died in the early 1850's after being struck by lightning.
Since this is private property I did not walk up to take photos inside the fence.
This is interesting local history but the story doesn't end there. In their research my sisters found an amazing Ingalls connection with our own family.
After losing an infant son and suffering setbacks due to crop failures, diptheria and a fire that destroyed their home, Almanzo and Laura moved to live with Laura's cousin Peter in Westville, Florida. They spent a year in Florida (1891-1892) in the hopes that the southern climate would be beneficial to Almanzo's health. His health did improve a bit but Laura couldn't take the heat and had found herself a social outcast among the women of the community, having been branded a "yankee".
My father was born and raised in Westville, Florida and our family had lived there for many generations. Let me explain that this was a very, very rural and tiny community. I can't imagine what could have brought Laura's cousin Peter to live there. There have never been more than a hundred people or so living there and even today there are only 250 residents. So how does a farmer from Wisconsin land in the most rural part of the Florida panhandle?
To say we were shocked is an understatement. My sister was thrilled to know that our family's stomping grounds for the last 200 years was part of the Laura Ingalls Wilder Trail – which meant she'd done that leg many, many times as a kid.
Our great-grandmother Newton (shown here) would have known Laura.
Great-grandma Newton stripping sugar cane with a machete!
There's no way she couldn't have know her because like I said it was a very tiny and tight knit community. I can well imagine that she might have been one of the women who branded Laura a "yankee".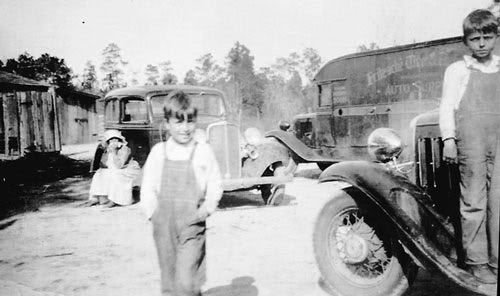 Great-grandma Newton sitting on the running boards in her big bonnet. This is around 1930. My best guess is that she was born around 1869.
Last night I found a book while searching online, written about the Wilder's years in Westville and I'm anxiously awaiting it's arrival to see if it sheds any further light on the connection between our families. Stay tuned, I'll let you know what I discover.
You just never know what interesting stories might be lurking just 6.4 miles away from your home. Get out there and find them!