I'm not sure if they teach cooking in the public schools anymore. Back in the dark ages when I went to high school there were home ec classes in both sewing and cooking. I know the local community college is pumping out chefs as fast as they possibly can, but what about plain old home cooking? Who's teaching those skills to our young people? Are moms passing along basic skills like how to make a simple roux or what herbs go with what dishes?
I can attest that my mom didn't teach us anything about cooking which meant that I found myself as a very hungry newlywed. At first there were lots of meals out of a can and believe me there weren't alot of prepared meals available beyond horrible little pot pies.
I learned to cook out of raw necessity, and burning hunger. It was a slow process and I learned a most important skill which is called "seat of the pants", the ability to put things together. There are certain dishes that do not require a recipe but rely on a sense of proportions, taste and textures.
Deviled eggs do not require a formal recipe. I brought a large tray of deviled eggs to the Easter celebration at my brother's house. My niece and her children loved them and she begged for the recipe. NO recipe!! I promised I'd posted the directions here "At Home...." so that she could make good use of the all the eggs they'd dyed.
So let's get started flying by the seat of our pants!!
First decide how many deviled you want. I boiled 20 eggs which will result in 40 deviled eggs.
HEY - I remember telling my math teacher that I'd never, ever use math in my real life!
PIace the eggs in a large pot and cover with cold water. Sprinkle some salt into the water. Turn over the salt shaker, shake and count to five. That's enough.
Turn the heat on medium high and wait until the water starts to simmer. Don't boil, just simmer. Set the timer for 20 minutes.
At this point I'm going to admit that I tried a new method yesterday which involved bringing the eggs to a boil, removing from the heat, covering and allowing to sit for 20 minutes. It DID NOT WORK. What a mess. The eggs wouldn't peel and when I finally did get one peeled it was mushy.
This is a good lesson about learning to think your feet in the kitchen. If the cake flops, make it into a trifle. If the eggs are mushy, put them back on the heat and continue to cook them, which is exactly what I did. I also learned a lesson about staying with the tried and true method.
After the second cooking the eggs peeled like magic.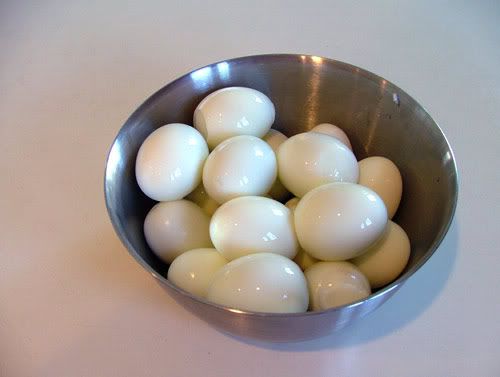 Now I gather together my other ingredients; salt and pepper, mayonnaise, stone ground brown mustard and my secret ingredient, horseradish sauce. This is a Polish variety but you can find others at the grocery store.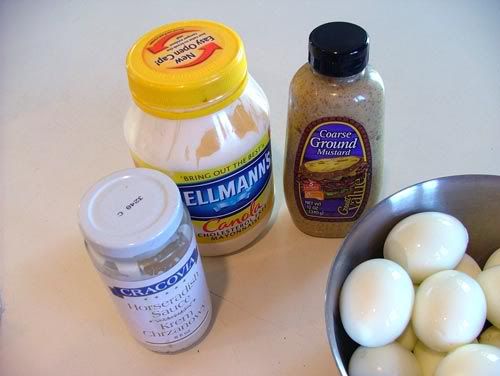 Cut the eggs in half. Put the whites aside and the yolks in a mixing bowl.
Mash the eggs yolks using a potato masher. Add some salt and fresh ground pepper. Start with a small amount, you can adjust later.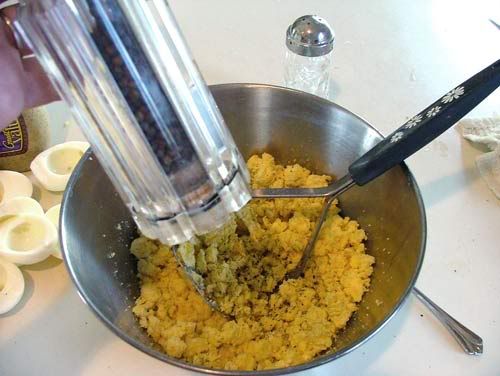 Next I add the mayonnaise, starting with a couple large spoonfuls. Remember, I have 20 egg yolks which means it will require more mayonnaise. Mix it up until you have a creamy smooth mixture. Add more mayonnaise if needed.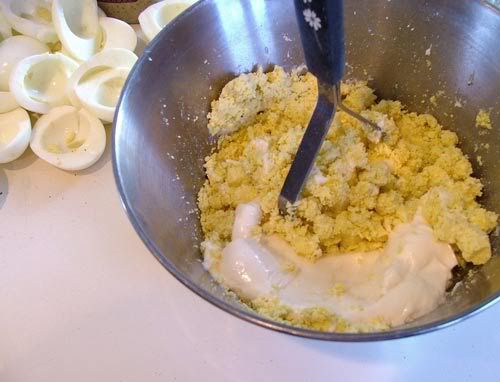 Now I'm going to add a small amount of brown mustard and the horseradish cream. Again, small amounts to start. After you do this for awhile, you'll get a feel for how much to add.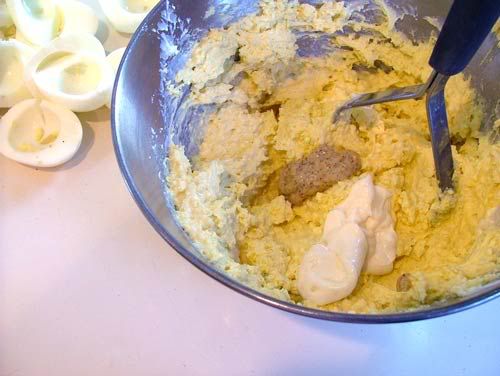 Mix it in well and taste. TASTE! You must taste your cooking as you go along. How else are you going to know if there's enough mustard? That's the beauty of cooking by the seat of your pants, you can taste! In this case I added more horseradish cream for a little more bite.
Find you pastry bag and tips. You have some, don't you? If you want some seriously beautiful deviled eggs, you're going to need a pastry bag and a large star tip. This is easy stuff.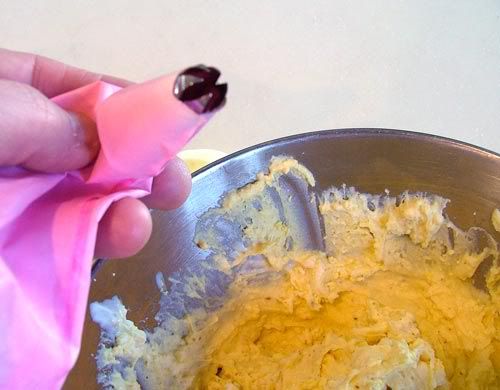 Do you like my hot pink pastry bag? So festive for Easter. It's a result of many, many tubes of red frosting for gingerbread houses.
Fill the pastry bag. It's a messy job but someone's got to do it.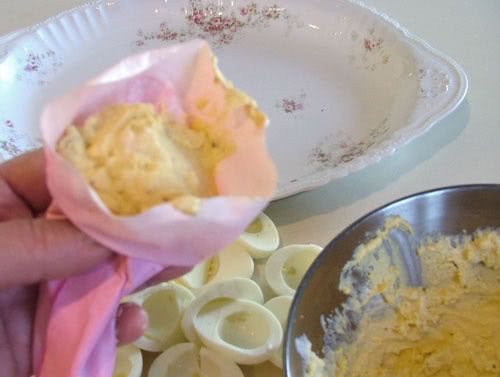 Squirt the egg mixture into the waiting egg white half and place on a decorative platter. This goes real fast and you can have the kids help you with this.
In no time at all you've got a platter of beautiful eggs.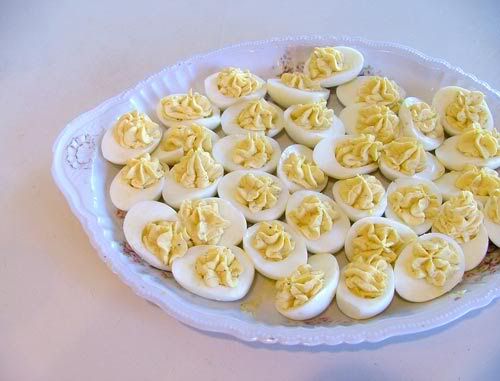 But they're naked!!!! We need to dress them. The Farmer brought home some lovely Italian parsley which I tucked around the edges and in between the eggs.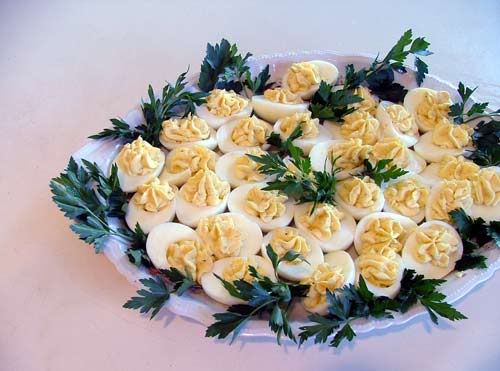 That's better. But wait! What's a lovely frock without accessories? We've forgotten something. Paprika!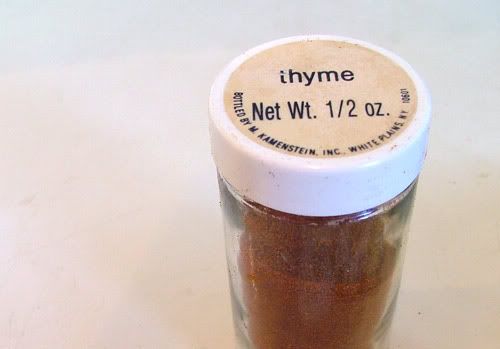 I know, the bottle say "Thyme", but trust me, it's paprika.
Shake, shake, shake. Give those eggs some color.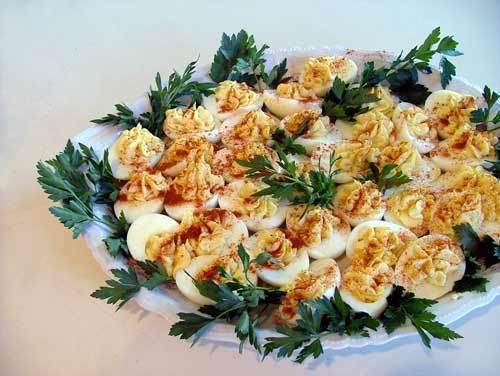 OK, that's better.
Now that wasn't hard, was it? This allows you to make deviled eggs for a group or a crowd. Just decide how many eggs you need, plop, mix, taste, adjust and you're done.
Here they are, up close and personal.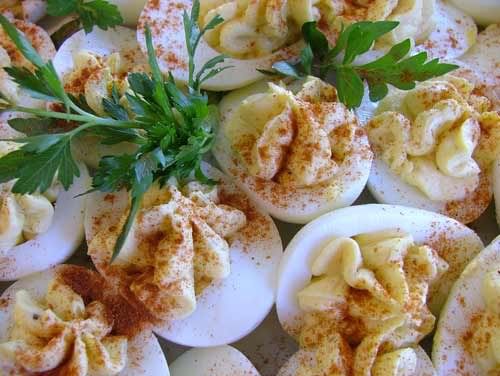 Thanks for cooking with me today. I enjoyed your company in the kitchen. Everyone one of these eggs were gone at the end of the dinner. There was much raving and many requests for the recipe and the secret ingredient that makes them so yummy. And you have it......horseradish cream!!