This week we're going to have breakfast with Mary Lincoln. Of course it's not the real Mary, it's local storyteller Lynn Rymarz who has done a good amount of research in order to portray Mrs. Lincoln.
A wonderful local shop called The Little Traveler hosted the event which began with a light breakfast inside the antique room and restaurant area of the shop. We walked across the street to a church hall where Lynn would make her presentation.
It was quite dramatic when she was introduced and walked out dressed in full mourning. Lynn portrays Mary Lincoln at age 62 which is at the end of her life. She died at age 63.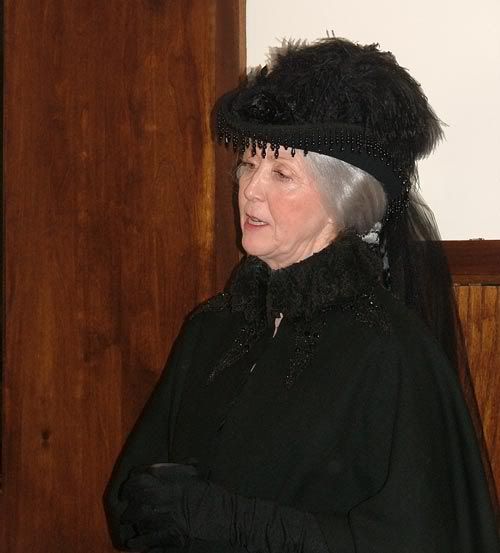 The presentation was very interesting and the script was written to present the facts seen from Mary's point of view.
Lincoln was considered by all to be a very bad match since Mary was formally educated and from a wealthy and distinguished Kentucky family. He was deemed to be crude and beneath her status. But still, they were attracted and against all advice to the contrary they married in her sister's parlor.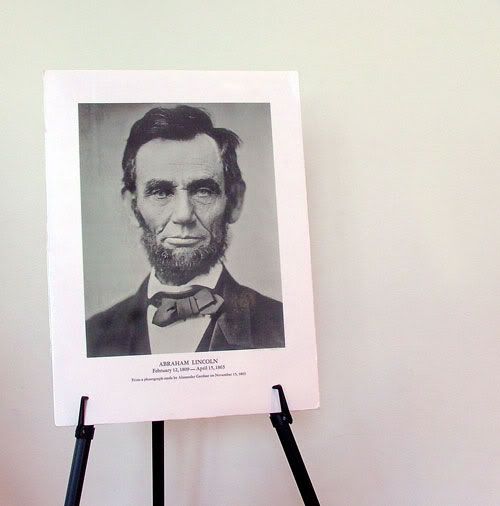 Here's a vignette of Lincoln family photographs. The Little Traveler provided the table and chair which were perfect backdrops.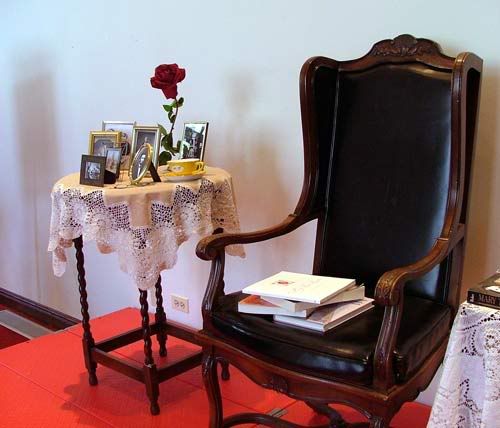 Mary and Abraham spent most of their adult lives as Illinois residents and there are many local connections.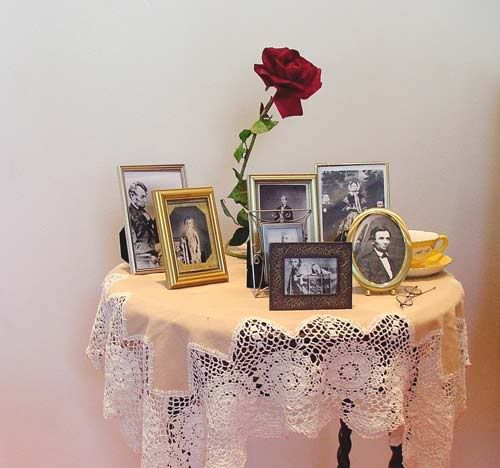 At one point, after Lincoln's death, her son Robert and her friends petitioned to have her declared insane. They were successful and Mary was confined at a sanitarium in nearby Batavia, Illinois. Several years later she petitioned was released.
Her relationship with her son never recovered. All the books I have read indicate that she was quite a handful and created alot of drama for those in her inner circle. She suffered so many losses, how could she not have been affected?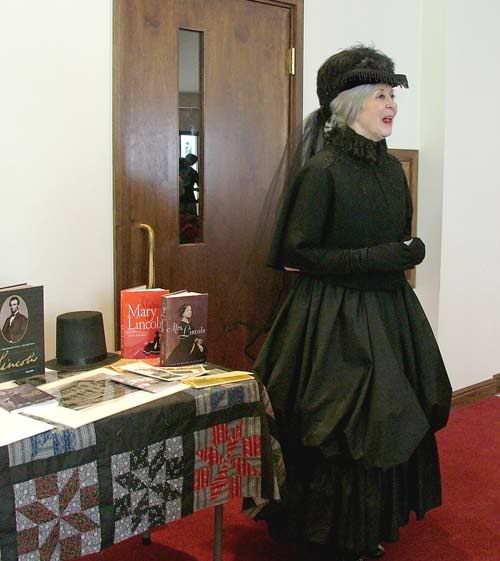 If you read any first person histories of the era you will know that many, many children failed to survive into adulthood.
As a gift for his wife, Lincoln purchased a pearl necklace and matching bracelets and earrings from Tiffany's in New York.
Lynn brought a variety of books on the Lincoln's. There are some I haven't read and will be ordering from Amazon.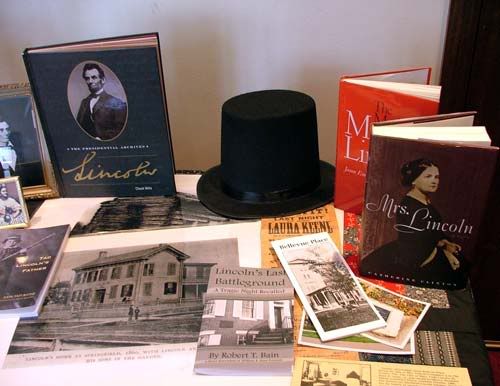 One of those books is a cookbook entitled "A. Lincoln Cookbook". Mary Lincoln was famous for her White Almond Cake, a recipe that had been handed down in her family.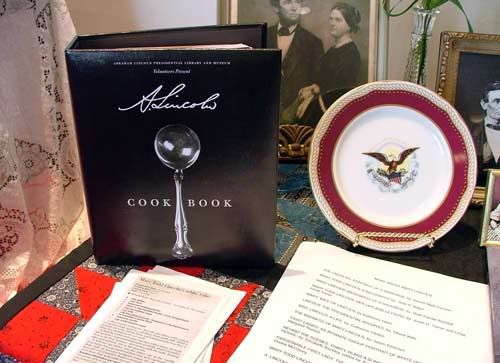 MARY TODD LINCOLN'S ALMOND WHITE CAKE

Adapted from "Lincoln's Table", by Donna D. McCreary
6 egg whites
3 cups flour
3 tsp. baking powder
2 sticks (1 cup) unsalted butter, at room temperature
2 cups granulated sugar
1 cup milk
1 cup blanched almonds, chopped finely in a food processor to resemble a coarse flour
1 tsp. vanilla
1/2 cup confectioner's sugar
1. Heat oven to 350 degrees. Beat the egg whites with a mixer on a medium-high speed in a medium bowl until stiff, about 4 minutes; set aside. Sift the flour and the baking powder together 3 times in a medium bowl; set aside.
2. Beat the butter and sugar together with a mixer on medium speed in a large bowl until light and fluffy; about 2 minutes. Beat in the flour mixture, alternating with the milk, beating after each addition. Stir in the almonds.
3. Fold the egg whites into the batter; stir in the vanilla. Pour batter into a greased and floured 10 to 12 cup bundt pan. Bake until an inserted toothpick comes out clean, about 1 hour. Let cool 15 minutes. Remove from pan to a wire rack; let cool 1 hour. Dust with confectioner's sugar.
- - - - - - - - - - - - - - - - - - - - - - - - - - - - - - - - - - - - - - - - - - - - - - - - - - - - - - - - - -
My question for Lynn after the presentation was, "What happened to the pearl jewelry?"
Well, you know I'm all about the jewelry!!!
She didn't know but after a quick search I discovered they are a part of a Library of Congress collection of Lincoln items.
I was envisioning a traditional pearl necklace but it is a seed pearl creation and quite lovely.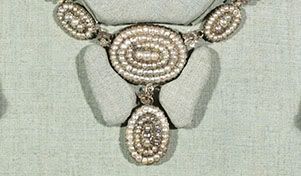 Photo - Library of Congress
Do not miss the Lincoln Museum and Library in Springfield, Illinois. If you're interested in history or the Lincoln's, it's a must see. They have managed to bring history alive. You realize that these were real people with real problems. When we were there I caught an image of a young teenager contemplating the wax figures of the Lincoln's and I could just imagine her saying, "Wow, they were a family just like us".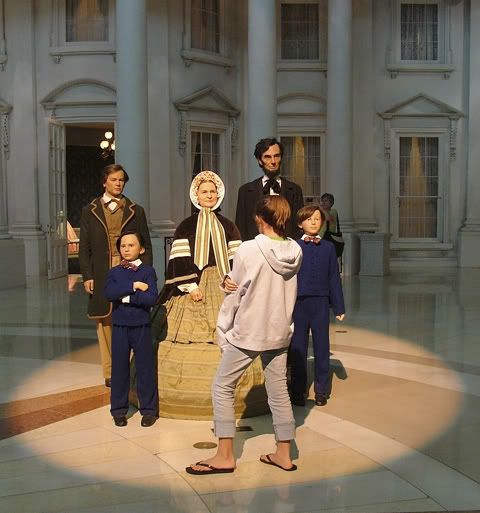 Thanks for coming along to meet Mrs. Lincoln. Ms. Rymarz also portrays other historical figures including Nellie Bly, Martha Washington and Susan B. Anthony. Here's her website.
Storyteller Lynn Rymarz