We've got an exciting field trip today. We're going to tour a farm house that is going to smash all preconceptions of what you think a midwestern farmhouse might look like. This unusual place is only 7 miles from here as the crow flies. It's hidden from sight behind a railroad grade and you must pass under a very narrow and treacherous looking bridge made of timbers.
But let's start at the beginning. In the 1940's the Muirhead family was living in this farmhouse which had been in the family since the 1860's.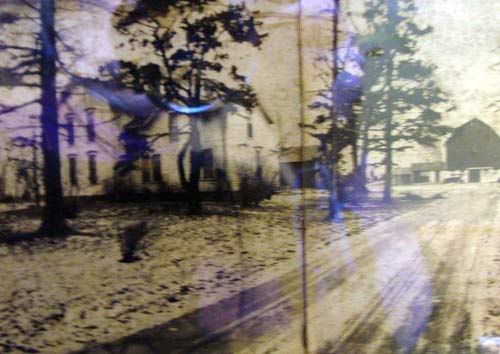 The old farmhouse was showing it's age and was not adequate for a farm family with five children. In addition to the children Mrs. Muirhead cooked a midday meal for the farm hands. Mr. Muirhead had contacted local architects in search of someone who would create a plan for a new home. No one responded. I could imagine them saying to themselves, "A midwestern farmhouse? What's the deal? It's a square white clapboard box, no architectural plans needed."
Robert Muirhead had studied engineering at the University of Wisconsin and he decided to go searching for an architect who would accept the commission. One weekend he loaded his wife Elizabeth and the five kids into the car and drove to Taleisin, Frank Lloyd Wright's home and workshop in Wisconsin. Upon arrival he met the manager of the property and explained his dilemma. The manager asked if he would like to speak with Wright in person, to which Muirhead enquired, "What will that involve?"
"Ten minutes...." was the answer and ten minutes later Robert Muirhead was speaking with architectural legend Frank Lloyd Wright. He agreed to accept the commission and sent the Muirheads home to put their requirements down on paper. Family members have all the correspondence between Wright and the family and it reveals some amazing details.
It took two years to finalize the plans and building began in 1951 and was completed in 1953.
When you drive up the narrow lane this is your first view of the house.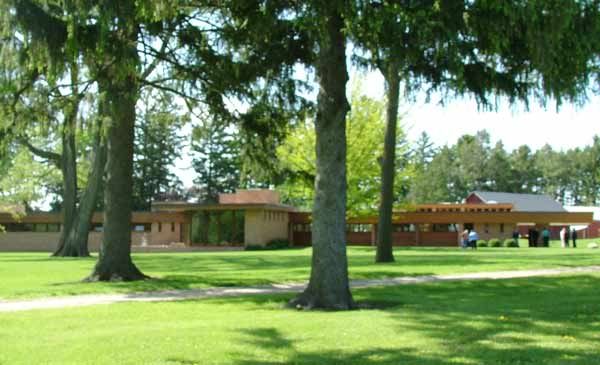 It's almost impossible to capture the entire home in the frame of the camera, you really need a ultra wide angle lens because the house is 172 feet wide!!!! It's not in any way a typical farmhouse. Moving from left to right is the bedroom and living room wing, the long hallway and the kitchen/dining room wing with the carport on the far right.
Here's a better look at the living room/bedroom wing.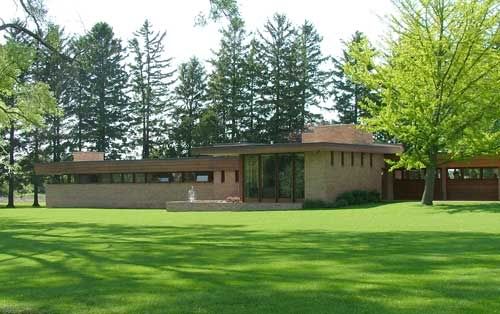 The carport.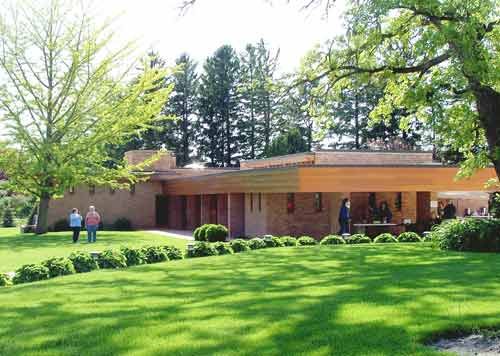 A newspaper photographer stands under the carport and you can see the barns and outbuildings in the background. It all seems so incongruous.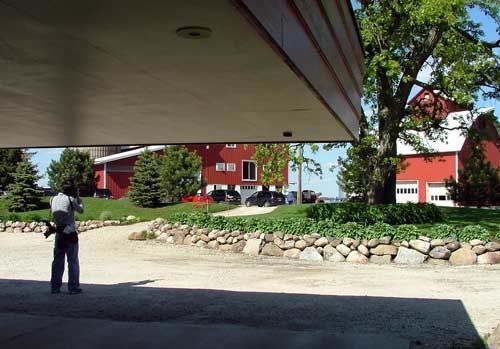 Here's the back of the home. It's an amazing outdoor space.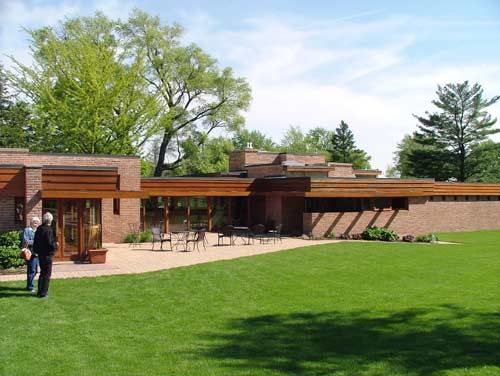 When you step inside the small door near the carport you find yourself at the end of this 55 foot hallway. Those are lots of cabinets lining the space.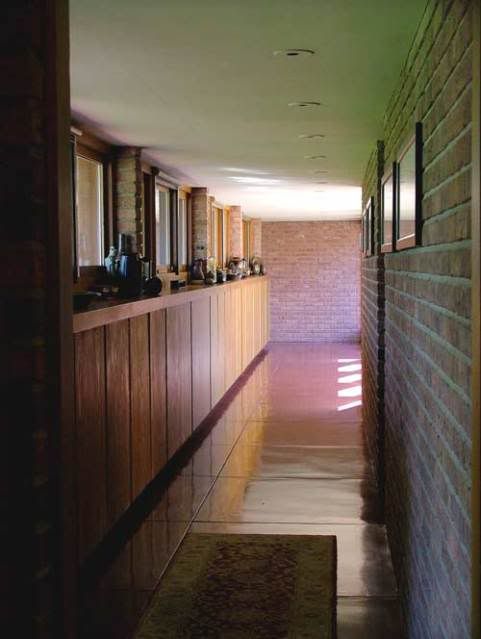 Wright was unquestionably a genius but as the June issue of Smithsonian magazine states, "Wright said that his architecture always aimed to serve the client's needs. But he relied on his own assessment of those needs."
Wright has been quoted as saying, "It's their (the homeowners) duty to understand, to appreciate and conform insofar as possible to the idea of the house." Which brings us to a funny story about that long hallway.
He had originally designed the hallway to be 110 feet long .......
unenclosed
...... between the bedroom wing and kitchen wing. A 110 foot long open air space in the climate of northern Illinois. Mrs. Muirhead expressed her grave reservations about this plan, to which Wright responded, "Well, you just bundle the kids up in their coats and go to the other portion of the house."
Mrs. Muirhead responded that she would certainly not do any such thing. You gotta love the thought of an Illinois farm wife taking on the lion of the architectural world. Mr. Muirhead purchased a large commercial Amana freezer in nearby Rockford but was told by Wright that it wouldn't fit in the kitchen. Muirhead told Wright, "Oh yes you can......here's how" and sent an accompanying sketch as to how space could be carved out from the large pantry.
Here's the kitchen, another spot where Elizabeth Muirhead stood her ground. Since she was cooking for a family of seven and farmhands, she insisted on a large kitchen. Wright didn't much believe in large kitchens, claiming that if they could cook meals for 200 people in a Pullman car, you didn't need more space than that. Elizabeth prevailed. I'm told this is large for a Wright designed kitchen.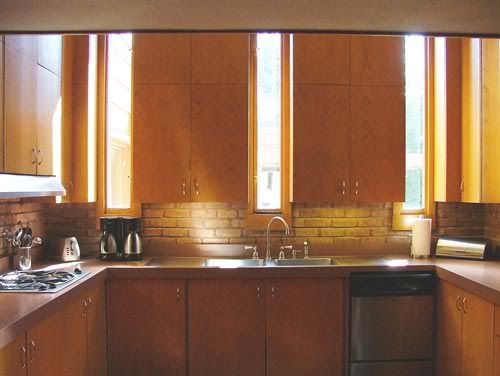 Through the kitchen is the dining room. A wall of windows looks out onto the patio area.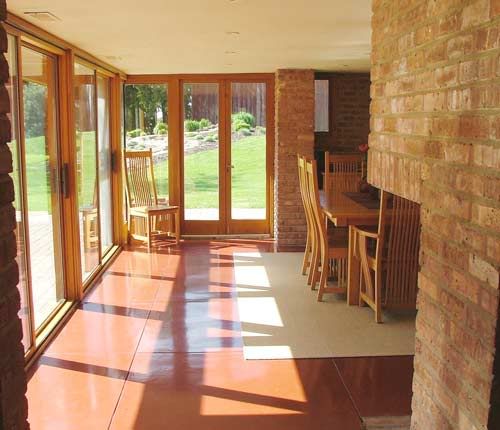 One of four fireplaces. Only two work. They don't create an adequate draw to pull smoke and fumes upward.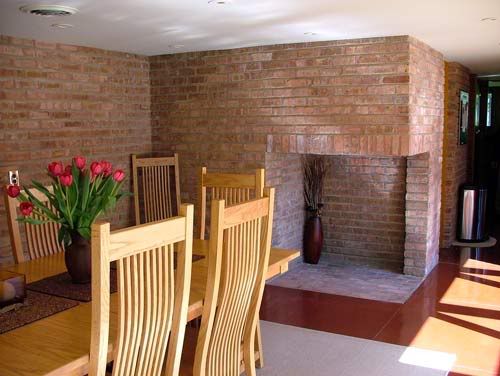 A walk down that long hallway takes you to the master bedroom. Notice the built in cabinets again.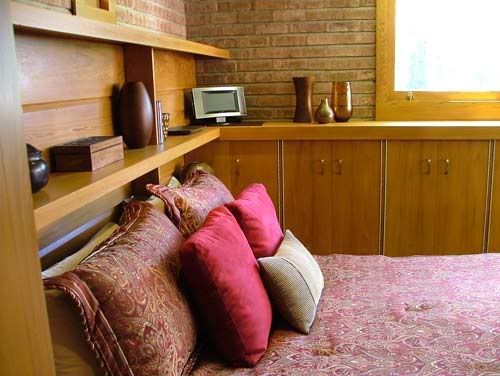 Very unusual for it's day, the master bedroom was a suite with it's own bathroom. These are the original fixtures. Notice the walls are brick. Every surface is brick or cedar. No traditional walls, no paint, no wallpaper.
Look the other direction in the bedroom are more built-ins. These serve as wardrobes. There are no closets in the home. What would I do?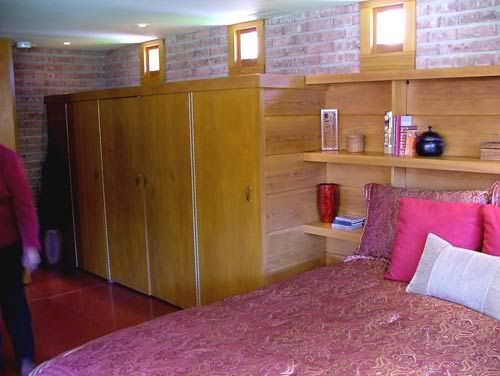 Windows prop open with a stick. Wright felt that screens were obtrusive but he did allow for a rolling shade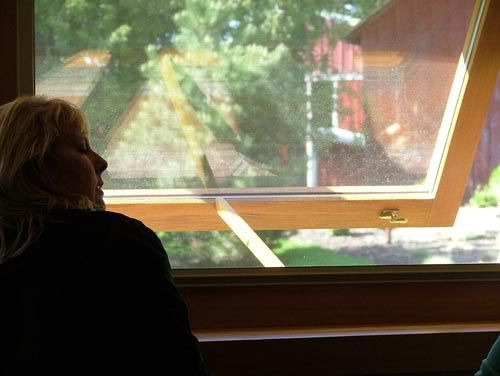 The floors are all colored concrete with radiant hot water heat. I thought my water treatment plant in the basement was something. Look at this.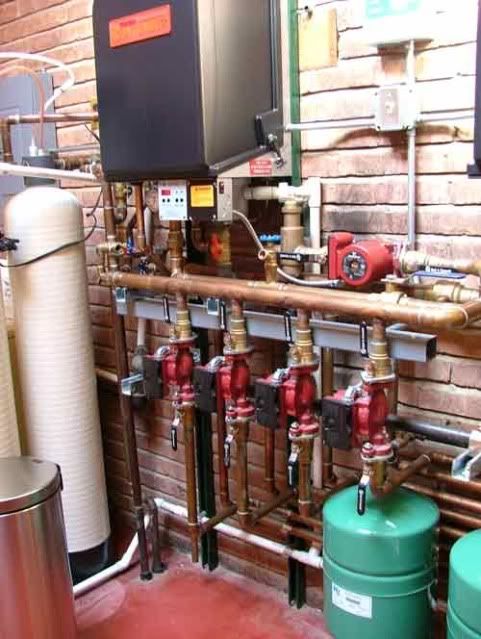 I'd hate to be in charge of that equipment.
The living room.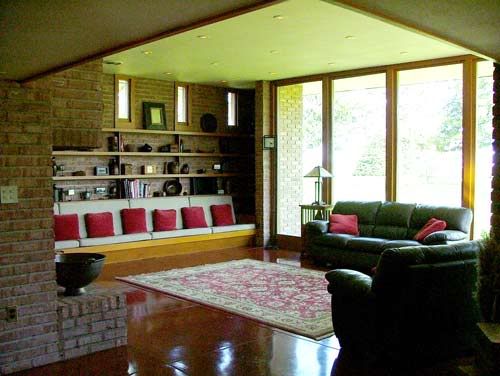 The long bench along the one wall was designed and built by Mr. Muirhead. All the seat benches and the seat backs open for storage.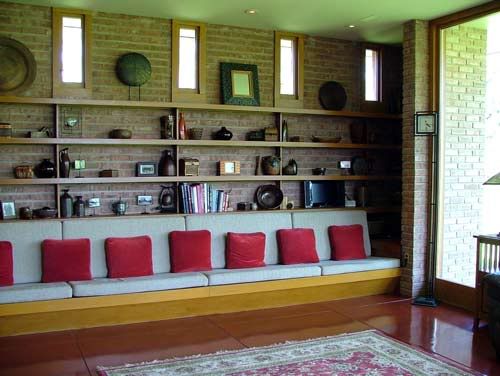 Two walls are glass, creating a stunning view of the beautiful setting.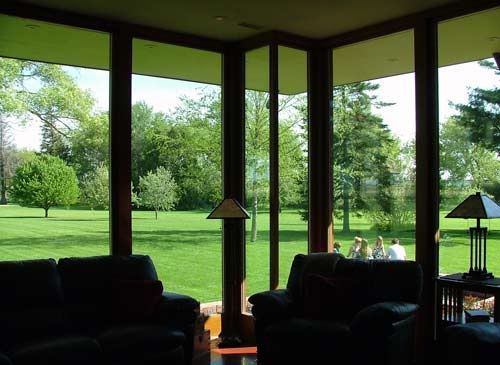 Another long hallway down to the other bedrooms. Love those windows up high.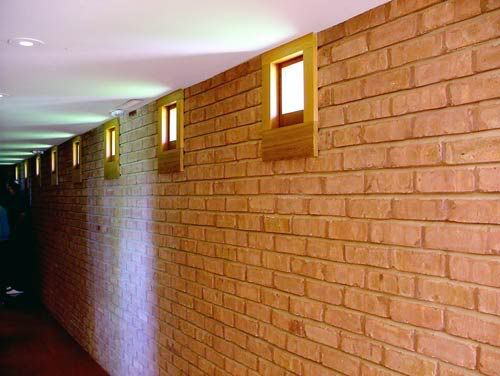 The Muirhead family were one of the first settlers in Kane County. They've lived on this spot since the 1860's and this Wright home has been continually occupied by members of the family. It's currently home to Robert and Elizabeth's granddaughter and her family. They've lovingly done an extensive restoration in the last five years.
Have you ever wanted to stay in a Wright home? It's possible because Mike and Sarah Muirhead Petersdorf operate it as a bed and breakfast. Word has it that Mike cooks a mean breakfast. They also offer tours of the home, just contact them to make arrangements.
MUIRHEAD HOUSE BED & BREAKFAST
I hope you enjoyed today's field trip. Did you learn something? I hope so.
For more information about Frank Lloyd Wright, check out the June edition of Smithsonian magazine.
I can't think of any better way to end the tour than to frame myself in a doorway of the most unusual farmhouse I've ever seen.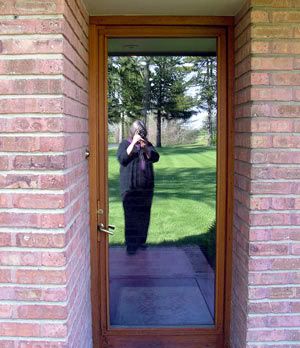 Fellow blogger and author
Cindy LaFerle
and her architect husband own a Frank Lloyd Wright home. It's very similar in many ways to this house. They were known as "Usonian" homes that he introduced in the late 1930's. They were meant to bring affordable homes to middle class Americans.
Thanks for coming along with me. I enjoyed your company.
Questions? Just ask. I think I covered everything but I might have missed something.