On a recent trip to the Italian market I snagged a real bargain......or so I thought.
Several factors contribute to my family's love of cheese. First and foremost is our proximity to Wisconsin. On a clear day we could see it, if only we weren't living on a landscape that's flat as a pancake.
Wisconsin is all about the cheese..... and the milk.... and the cream. Well, you get the idea. You know those commercials about the California cows? Forget it, in a grudge match the Wisconsin cows would do a smackdown.
Secondly, I was raised in an Italian neighborhood, which means lots of family recipes that include all the fabulous varieties of cheese. If I have the time I drive a little further north to shop at Woodman's, which is a Wisconsin based, employee owned store. When they opened their first store in Illinois I shopped out of curiosity. Omigosh, the refrigerated cheese case is at least 40 feet long and contained every cheese known to man.
On this particular day I didn't have time to drive the extra miles to Woodman's, so I was off to the nearby Italian market. The eggplants were calling my name and I made sure to pick up the additionaly ingredients I'd need to make Eggplant Parmesan. I was surprised to find two pounds of shredded mozzarella cheese at a reasonable price.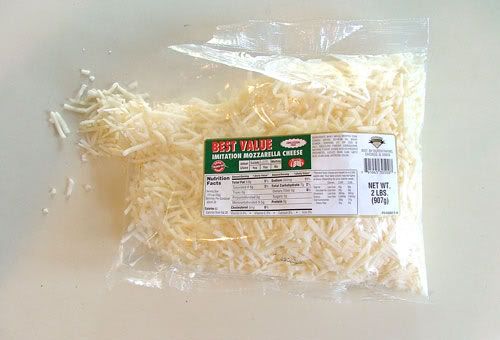 I layered my ingredients in a baking dish and when it was hot and bubbly I sprinkled the mozzarella on top and returned it to the oven. A little later when I pulled it from the oven I noticed the cheese hadn't melted. That was odd. My family dug in and as we took the first bite we all looked at each other.
"Yuck, what's this?"
The "cheese" had the consistency of soft rubber bands. Luckily I hadn't layered it with the eggplant and so we scraped the mess off the top and continued with our dinner.
Later I pulled the bag out of the fridge and read the label.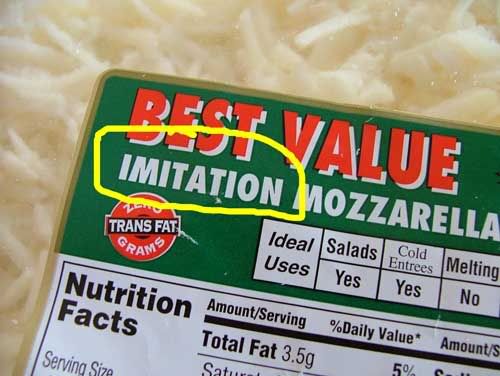 Notice the operative word? IMITATION. Imitation cheese. I'm sorry, there's no way to imitate cheese.
This stuff is nasty and I'm sure it's only one molecule away from being plastic. One thing's for sure, this will teach me to read labels. The price should have been a clue.
Anyway, I'm hoping my friend Heidi, The Milk Man's Wife is too busy to read my blog today because if not.......