Do you like to camp?
Even if you said no I'll bet you'll find this road trip interesting.
My sister and I like to camp but our husbands are not so convinced. We realize that we wouldn't want to wrangle a large trailer by ourselves and while searching online we discovered the world of teardrop trailers. These are small units that could be described as sleeping pods. They were popular back in the 1950's and there were patterns published in magazines such as Popular Mechanics.
We were convinced that between the two of us we might possess enough skills to build one. Until we decide whether to take the plunge we've immersed ourselves in teardrop information. There are several manufacturers producing these trailers and I'd determined that Camp-Inn trailers were the Rolls Royce equivalent. They simply looked so well designed.
The Camp Inn website
states that you are always welcome to visit their shop, and that's just what we did! On our Mother's Day trip to Wisconsin we jumped off the main road and headed over to Necedah. A friendly clerk at the mini-mart directed us to the small industrial park. They're set up in a really nice facility. My sister heads inside.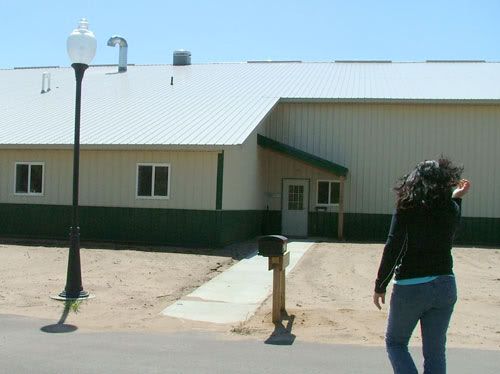 There are two models in the showroom. In this photo you see the front of the smaller unit on the right, and the back of the larger Raindrop on the left. The back end opens up to reveal a kitchen, complete with sink and propane stove.
Here's the stove. The cool thing is that it slides out of the way when not in use, making room to store the ice chest.
I'd like you to meet Craig Edevold. He started Camp Inn with his friend Cary Winch. The reason these teardrops are so well designed is because he's an engineer. The first teardrop they built was for a camping trip they were taking out west. They were traditionally tent campers but were getting tired of the time involved in setting up and breaking down a tent site. They stumbled upon a pattern for a teardrop, made some adjustments and built one.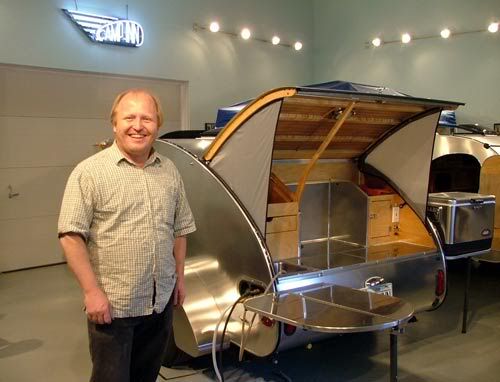 At this point the Farmer would get all excited because here's where the entrepreneurialism comes in (that was his Master's degree and he gets stoked on this stuff). Their teardrop got reactions wherever they traveled. Someone approached them to build one for them and was willing to pay for upgrades. Just about this time it became apparent to both men that their jobs were going to be eliminated. They asked themselves if there might be the possibility of making a business out of their love of the teardrop. The answer was yes and they used the remaining time before they were let go to do the necessary ground work.
And......Camp Inn was born. Gosh, I love a good entrepreneurial success story.
Anyway, back to the beautiful teardrops. Here's my mom peeking inside one.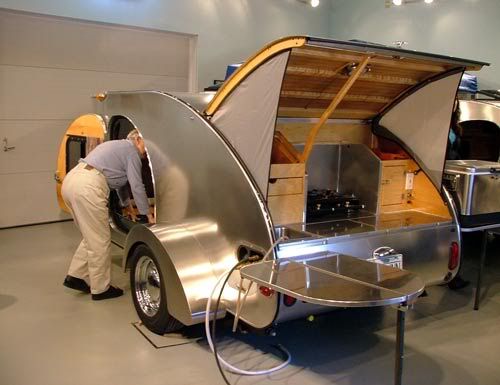 Here's the larger unit with it's wrap-around windows. It's got a queen size bed inside.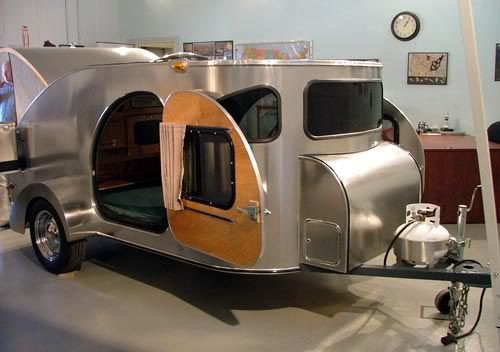 Under those windows is a couch. YES!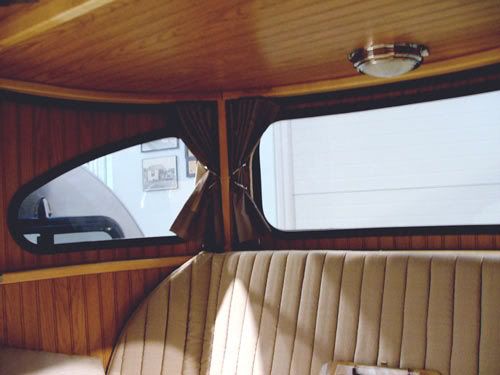 Where you can sit and eat your popcorn while you're watching TV!
Again, terrific design because that TV screen flips down to reveal storage behind. There are storage pods beneath the mattress also. The couch (and a separate piece) convert into a bunk bed for small children.
The shop was busy making new trailers.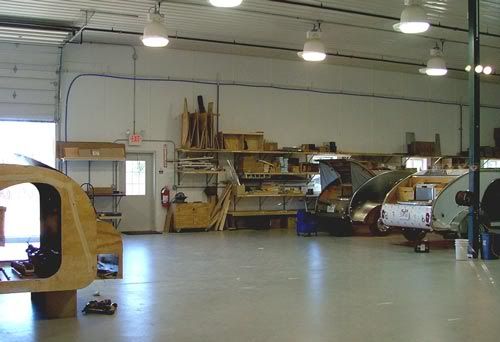 They sell about 60 per year. A map shows their customers locations. I mentioned to Craig that I would be posting this and that I have a large number of readers from the Netherlands, of all places. Imagine my surprise when he said they'd sold one of these trailers to someone in...... the Netherlands!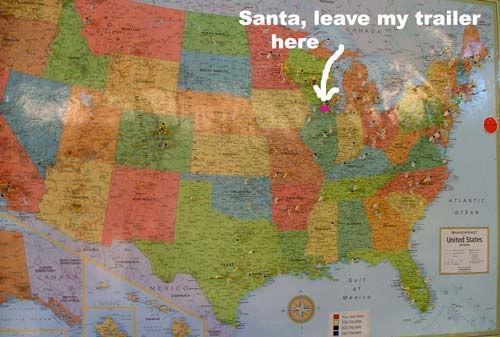 Thanks for coming along on our road trip to the Camp Inn shop in Necedah, Wisconsin.
If you're in the area visit the shop and say hi to Craig and Cary. Stop at the mini-mart first and pick up some cheese curds!