I've often said that if producers brought TV cameras in here, they'd had a reality show hit. What's more "real" than putting an 88-year old, two aging Baby Boomers, a nursing student, two Chihuahua's and cat in a house to watch what happens?
Stuff happens. That's what.
There are lots of funny things and not-so-funny things, as is the case with most families I suppose. I hesitate to share some of the stories because at times it seems too much like the "Truman Show".
But the Farmer has said that he loves when I tell these funny little stories about him. We laugh a lot, the Farmer and I, because we've found that if you take life too seriously you're gonna make yourself sick and miserable.
He's so funny and cute, I call it "fanute".
We were sitting on our little patio with the dogs, simply enjoying the fresh air the quiet evening. We were discussing our day and suddenly, out of the blue, he says, "What's that bottle you have upstairs with the sticks poking out of it?"
Hmmmmmmm. OK, my brain doesn't exactly work the way it used to and I'm having a difficult time translating his question into an image. The only thing I can come up with that relates to a bottle with sticks is a reed diffuser. The only problem is, I don't have one!
My feet hurt and I seriously don't want to walk upstairs but his question has gotten the best of me.
I look around and start laughing so hard he can hear me outside.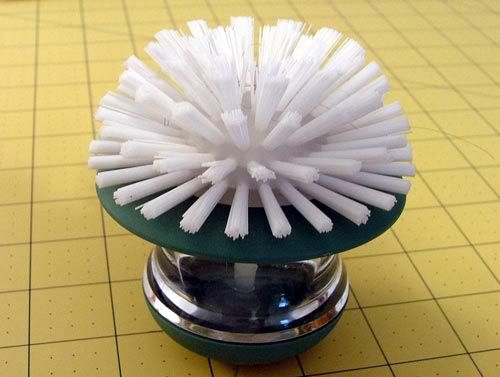 I bring the item to the patio and he says, "What IS that thing?"
Can you guess?
I bet you can.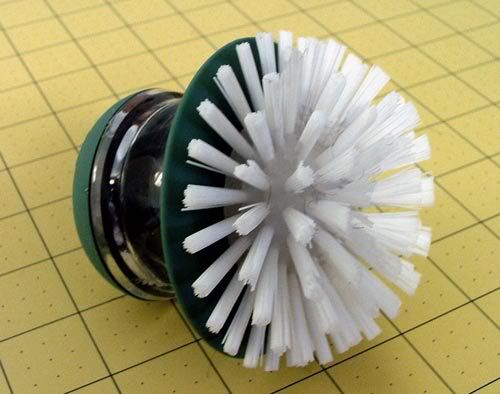 "Honey, it's a scrub brush!"
At this point I'll cut him a little slack because this isn't a traditional scrub brush. Heaven knows that his mother scrubs everything that doesn't move, but he was raised with the traditional old-fashioned natural fiber brush.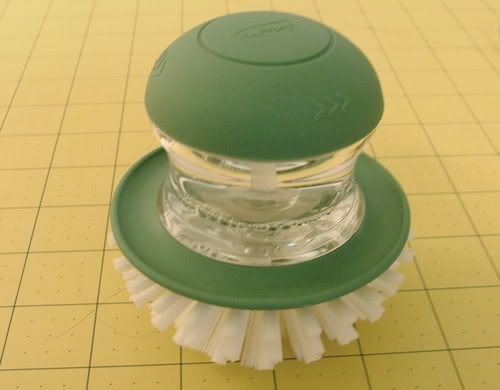 He never counted on a space age scrub brush.
NOTE: I think I picked this up at Target. It has a small reservoir on the bottom that hold cleaning liquid. Unfortunately, you still have to do the scrubbing!
MORE NOTES: You think I'm kidding about the reality show thing? My neighbor just called to ask my why the Other Mother was walking down the driveway with a Chihuahua and a butcher knife.

UPDATE: OK, first of all, Mary gets 50 points for sending me to the dictionary.
The rest of the story is that one of the pups got out while she was weeding. Yes, she weeds with an old butcher knife. The weeds don't stand a chance! She retrieved the dog and tottered along up the driveway. The concern is that she would fall. What would we tell the rescue squad?

I don't know. I'm off to find out though.