Not literally, because I don't have any hash to sling. But I am going to show you a little trick I learned from a short-order cook.
You can't help but learn something if you spend as much time as I've spent at road side cafes and hash-slinging spots. You know the kind of places where the cooks work in the open, just behind the counter and stools.
The Farmer loves his eggs over easy, but I was never able to make them without breaking one or both of the yolks. That resulted in a messy looking lump of cooked egg white mixed with cooked and uncooked yolk. Certainly not the presentation that Martha would approve of. At some point I was using the technique of cooking the eggs in tons of bacon grease and splashing the grease over the top of the egg in an attempt to get it perfect.
One time we're in this place south of the Mason-Dixon line, where they turn out platters of hash browns as big your head. The Farmer ordered those hash browns along with two eggs over easy. When the waitress brought our food to the table I saw two perfectly cooked eggs cozying up to the potatoes.
That was it. I realized it was possible to cook a perfect egg over easy, I just wasn't understanding the science behind the task. I asked the waitress if I could speak to the cook.
"Is there something wrong?" she asked.
"Oh no, I'm just looking to obtain the exclusive rights to the egg cooking secret", I answered.
The cook was in a good mood and shared his method.
First you get the pan ready by heating on medium high heat until a drop of water skitters across the pan. You will note that I've pulled out the pan that I use to
slowly poison my family.
If you haven't cooked bacon first, you're going to need to add a little butter.
Crack the eggs into the pan.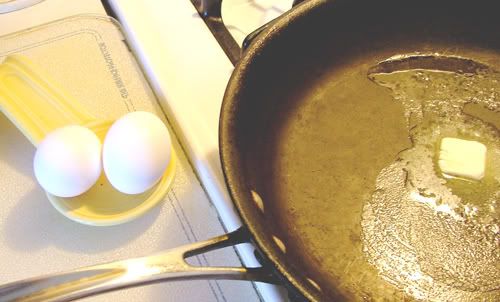 Continue to cook until the whites are done from the bottom.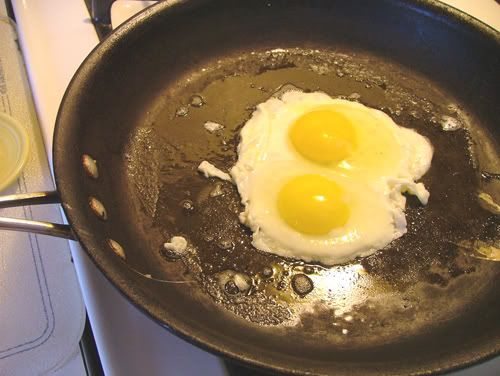 Now....... here's the secret.
Grab two to three ice cubes and a lid that will provide a tight seal.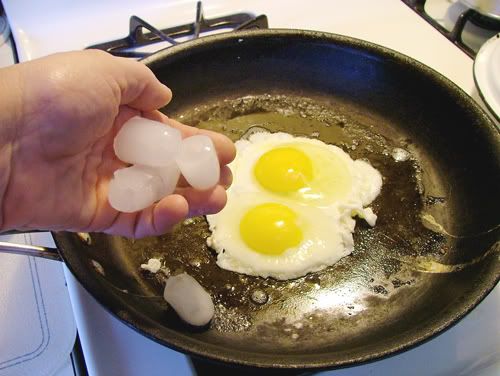 Put the ice cubes in the pan and cover quickly.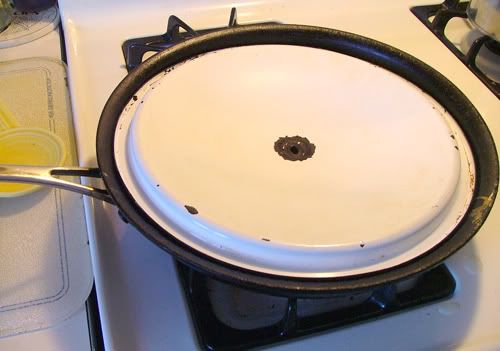 You'll hear the ice cubes start to melt and they create steam. The steam from the melting ice cubes is what cooks the top of the egg. Continue cooking for 2-3 minutes. At this point you can remove the lid and see if they're cooked to your liking. If not, put the lid back on and cook some more.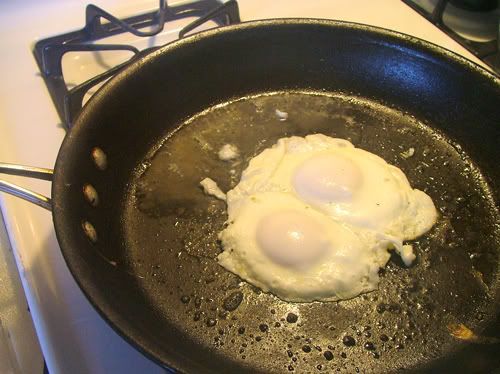 You don't need to touch the spatula until you are remove the eggs to the plate.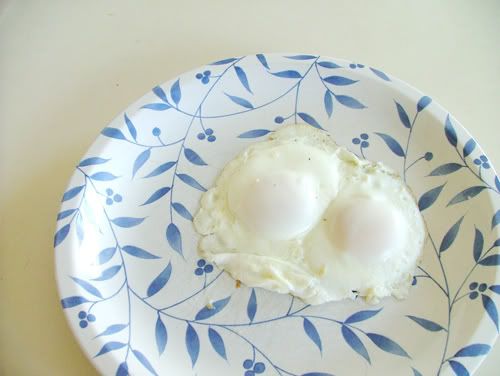 Now I'm stuck. The Farmer has already gone to work and I don't eat fried eggs. Anybody want to help me out?