Once a month a group of my over-50 friends gets together for some fun. We go out to dinner, on a short road trip or some other activity. This month we got together for a movie night at our neighbors house. The movie choice? The Big Chill.
Back in the day this was a favorite of mine and I listen to the soundtrack all the time. I was interested to see if the movie held up over time. I suppose that some will say that it did not, but viewed through the lens of having been there, done that, it still strikes a chord.
What I wasn't prepared for was the way it would make me feel and the emotions it would stir.
My group of Big Chill friends were a half dozen young adults (late 20's) who gathered around the universe of my friend Susie T. She was just one of those people who had an energy that pulled people towards her. Our group was young and a mixture of guys and girls. None of us dated each other, we shared something more like a close sibling relationship, caring and being protective of each other, just having fun.
The movie brought me back to a time when we were young and hopeful, our whole lives before us. It was an interesting time to be alive and young. It was also just on the other side of great upheaval in our country.
Woe to the person who started dating one of us. They were forced to run the gauntlet of the group, having to endure our "tests" and hopefully gaining our approval.
This was before kids and heavy responsibilities. We'd gather at Mickey's house for the weekend, cooking chili and eating Triscuits, staying our pajamas all weekend, telling secrets and figuring out our lives.
If Susie was the female anchor of the group, her counterpart was a guy name Bill Wendell, who was known only as "Wendell". He was a big bear of a man with a soft heart and a protective spirit. We were like our own little universe , planets spinning around these two close friends.
After a few years wedding bells started to break up that old gang of mine. Wendell's corporate law career took him to the east coast. Mickey and his girlfriend Kathy wed and Susie set the date for her wedding to college sweetheart.
And then, everything changed. In an instant our group was devastated, thrust into the realities of adulthood and life.
Wendell lost his job in a downsizing just before Susie's wedding and he'd informed her he wouldn't be able to make the trip back to Illinois. On the eve of her wedding he and his fiance were in a horrific crash, killed instantly by a drunk driver.
Since his father lived in Florida, it took time for the news to filter down to us. Thankfully we sat unaware as Susie and David took their vows. We could not know that our lives had been changed forever.
One of my favorites, ever. From the Soundtrack of the Big Chill.
We we young.
Here's Procol Harum now.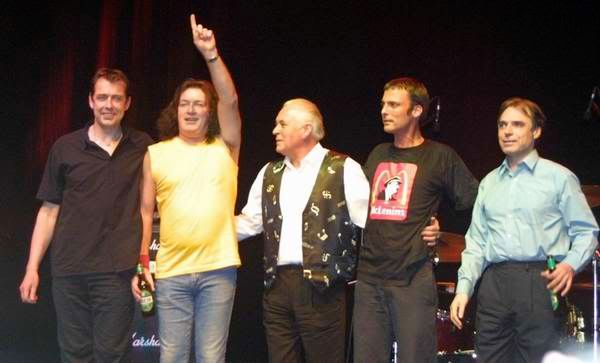 Yes, we're older. What happened to all those years?
I would say that all this could send me into a mid-life crisis, but hey...... who do you know that lives to be 124?