Admit it. You've always wanted to be able to say, "I'm with the band".
Well, get in the car. Let's go. We're going to a concert and we've got backstage passes!
The Farmer and I live in a very tiny community with only 750 residents. We don't have a post office, stores, gas station. Nothing! We don't have culture either.
But no matter because just 12 miles from here is a bigger town that has free concerts on Thursday evenings in the summertime. That's where we go to get our culture fix.
Did you guess that we were going to see my Official Blog Band perform? They're called Tin Horse and you can read about how we found each other.....
HERE.
The last time I saw the band, I promised them pie. You know me, I'm all about the pie. Sorry, I don't have a picture of the Sawdust Pie but here's the Sour Cream Apple Pie.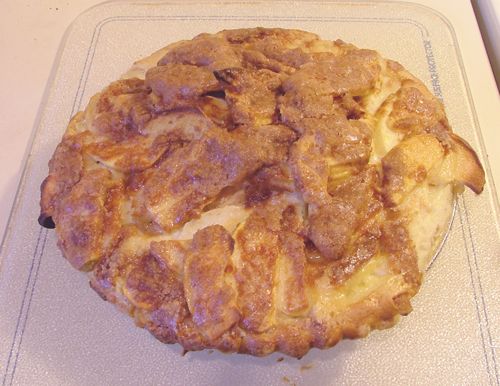 Oh my goodness, this pie is awesome. Make one yourself. Alicia's got
THE RECIPE.
We're going to meet up with the band before the show.
The bus is parked on a side street.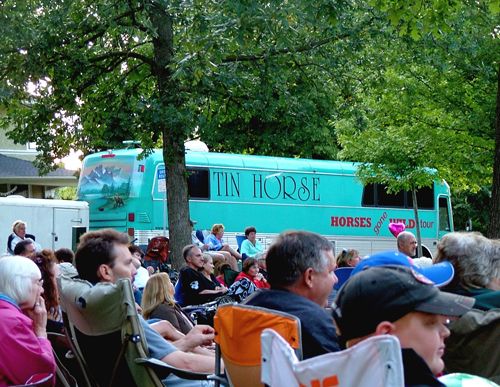 A big turquoise bus is hard to miss. In fact, it's the reason we first met up. It once belonged to Shania Twain and before that, Willie Nelson.
We're early and the girls are doing a sound check.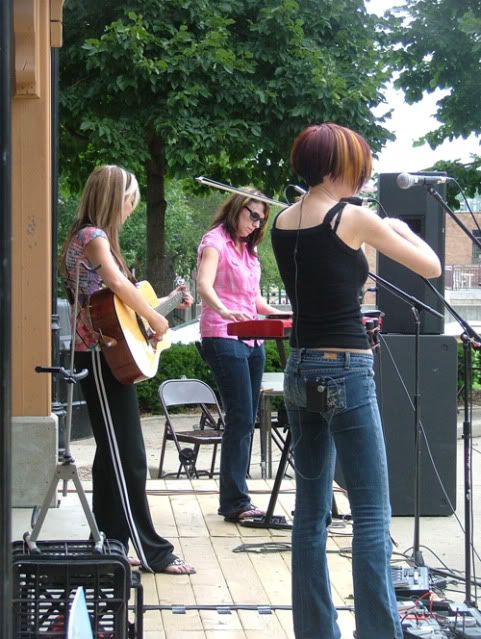 Our backstage pass gets us on the bus where we deliver the pies. Everybody is happy to see dessert walk in the door.
Here's Christina and I goofing around. She's one of the band's support crew members and she's also a tattoo artist. If you look closely at her hands they read, "farm girl". She was raised on a 1,500 acre farm in South Dakota. Doesn't she have the greatest smile?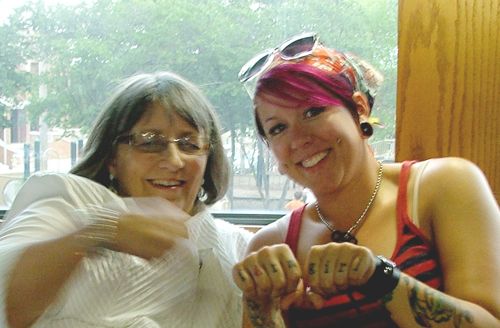 The band needs to get dressed for the show. Let's go meet up with another important support person. Here's Andy. He does everything. He drives the bus, he repairs the bus, he sets up equipment, runs the sound board, sells CD's, takes photos. I wonder if he cooks?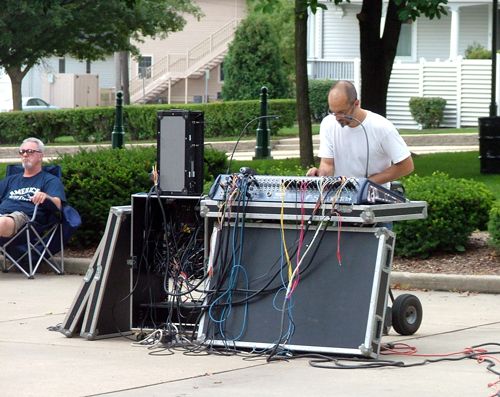 Look closely. Andra is having a good hair day.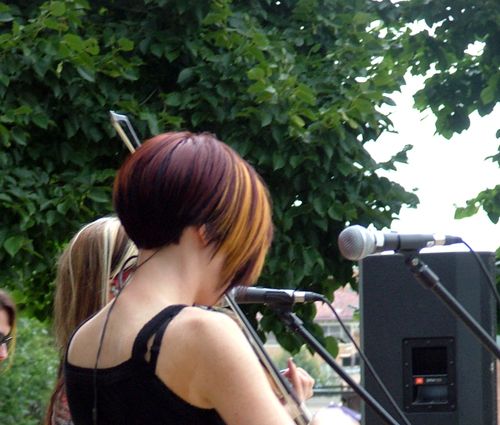 Andra
always
has a good hair day.
The crowd starts to gather. We're surrounded by our neighbors. I think all 750 people are here.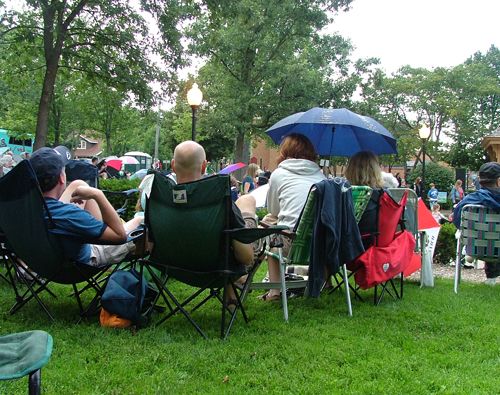 Let's meet the band members. Here's Andra again. She plays fiddle.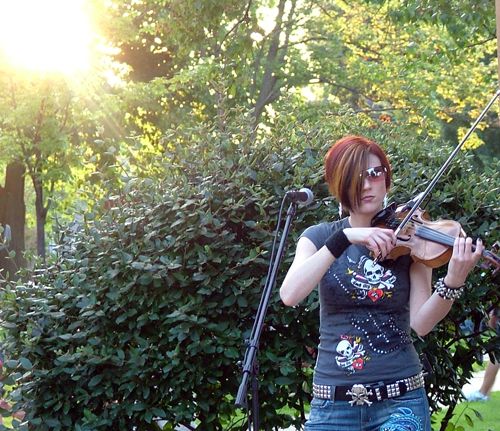 Francis is on the left. He plays bass guitar. Antje is on electric guitar.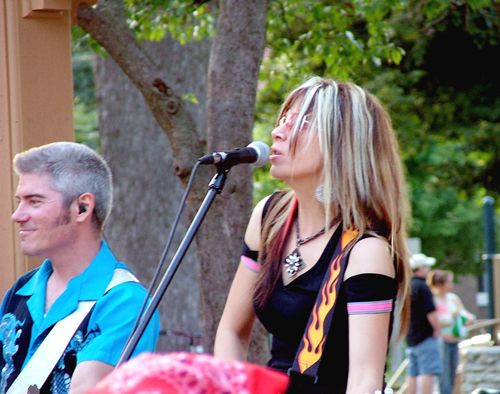 Antje, Jay on electric guitar and Liz on keyboards. This girl can sing!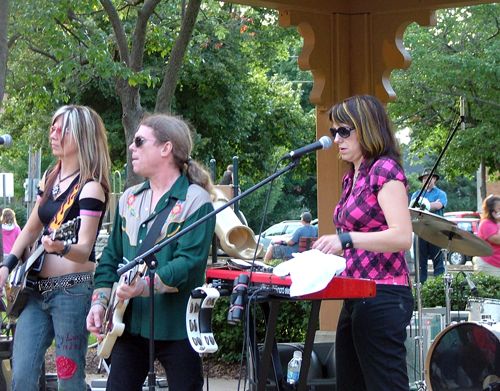 There's Paulie. He's hiding in back on the drums.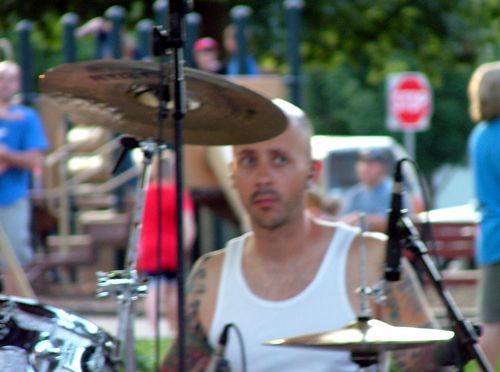 They're rocking.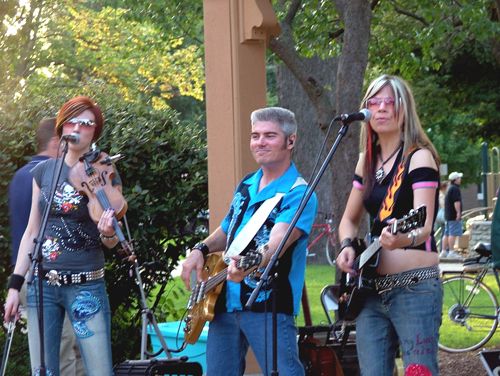 The crowd is loving it.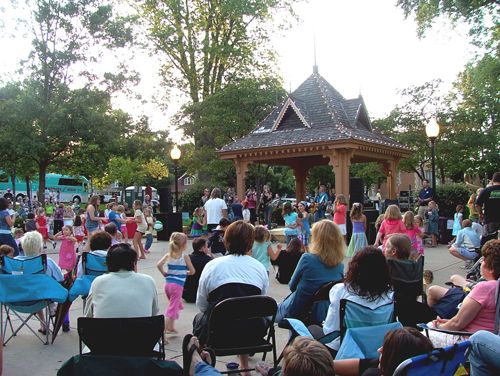 This band is high energy and they get everyone involved. Regardless of how tired they are after a performance, they make sure to meet and greet their fans.
Look..... who's that with the ladies?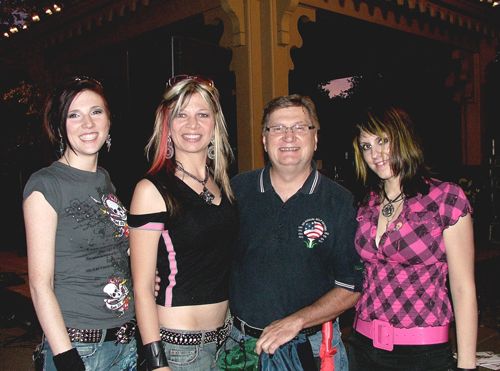 It's the farmer!!! He's looking WAY too happy to be hanging out with the band. Watch your hand honey, she's hot and you're gonna get burned.
Thanks for coming along to meet up with the Official Blog Band, Tin Horse.
Visit their website -
TIN HORSE BAND
Read their diary -
TIN HORSE DIARY
Christina took pictures of the pies and I'm hoping that the band will assure you that I know my way around a pie.
I'm attempting to upload a video of their rendition of Copperhead Road but I'm not having much luck. Perhaps later today.
Here's a video from their website. Watch Andra burn up that fiddle.
They will be touring northern Illinois, Wisconsin and Iowa this summer.
TIN HORSE TOUR SCHEDULE
Heidi - ALERT!!! They're going to be playing at the Lake Arbutus resort in Neilsville, Wisconsin tomorrow night!!! (July 25th). Get there girl. Tell them I sent you. I'm serious.
Readers in Iowa - they'll be in Riverside on August 21-22, and Burlington in October.
- - - - - - - - - - - - - - - - - - - - - - - - - - - - - - - - - - - - - - - - - - - - - - - - - - - - - - - -
I'M WITH THE BAND - FIELD TRIP GIVEAWAY
Today's field trip giveaway is for a backstage pass. Have you always wanted to have one? Now's your chance.
The band gave me a new pass and I've got last year's to give away. You'll be all official looking. You can tell everyone......
I'M WITH THE BAND!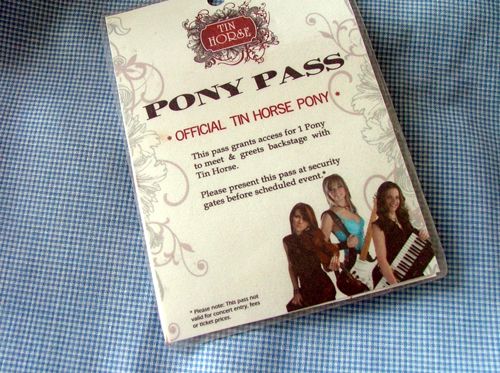 You know the drill...... leave a comment.