Yesterday I spent a good part of the day at the DMV. It was boring. I crocheted dishcloths while waiting. One man commented, "You'll finish an entire sweater before this line goes down."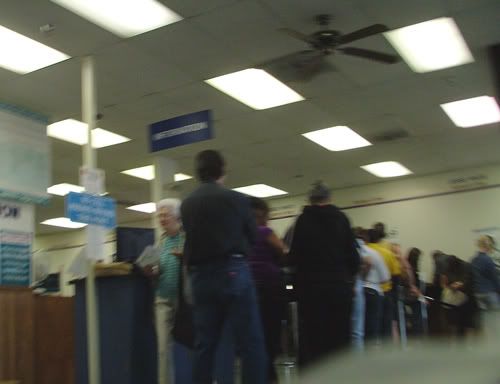 I'm going to ramble here and I trust you can connect the dots.
I consider myself a warrior on certain subjects; removing the mental health stigma and my new favorite battle, taking personal responsibility.
As we age our bodies and our minds change. This is the reality of living longer. The attitude that sheer will can (and should) push through anything is a dangerous fallacy. We all have limitations and we must acknowledge and respect those limitations.
Perhaps it's easier for me because I was hit with a major stumbling block at age 40 and another at the age of 50. I was forced to face limitations head on, acknowledge and respect them and learn to adjust my life accordingly. We must be respectful and prepared for the aging process otherwise we will find ourselves in a very unhappy place.
All the time I hear people saying, "Oh how sad, they'll lose their independence."
YES, they will
. That's the price you pay for living a long time. Do you think for one moment that my father (dead at 65) wouldn't give up some independence for the chance to see his grandchildren grow up?
Will you need to make plans for when you cannot be as independent as you are today? Yes, you will.
Our friend Judy is the perfect example of someone who is fierce with the truth. At 85 her eyesight was failing and she voluntarily sold her truck and handed in her driver's license. She made arrangements, including a signed agreement, with some friends who would take her shopping and to doctor's appointments for a prearranged fee. She quickly made whatever mental adjustments needed to be made and she's happy as ever. She's one of those people who refuses to let the realities of her situation define her or affect her happiness.
Judy is an example of what we should strive for. If you don't take responsibility for your life and your situation, you will force your children to make decisions you should be making for yourself. At that point I will say, "Shame on you". Do not put your children in that position. It will cause them much pain.
Back to the DMV......... if you've been reading this blog long enough you'll know that I often review public bathrooms. Someone once asked, "Who carries a camera into the bathroom?" The answer - ME. I carry at least one camera with me everywhere. It's a habit I picked up when publishing my photoblog.
I made a trip to the bathroom before leaving the DMV. It was marginally clean and depressingly bland. Look what was under the sink.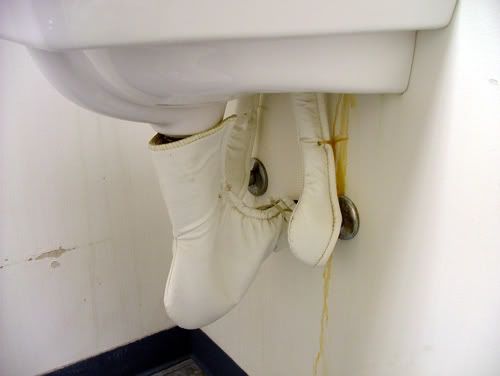 What the heck is that? The only thing I could think of was a plumbing *jock strap*. Perhaps it's a contraption to absorb moisture on the pipe but seriously, who's going to take those off and launder them? EWWWWWWWW. That's a Dirty Jobs episode for sure.