Do you read
Cote de Texas?
Houston designer Joni Webb puts together some wonderful photo essays discussing the elements of design. Her guest room, featured in
this post,
is so inviting it makes me want to drive 15 hours for a chance to be her guest.
I'll admit to being a slave to design at points in my life. My poor family experienced a living room painted in test strips of color, for almost a year because I couldn't make a decision.
Perhaps it was my decorating angst that sent my daughter into design school. We paid for 6 years of college so that she could earn her master's degree in design and project management. She now works for a prestigious group of engineers and architects, designing hospitals and other large commercial projects. I'm tell you all this for a reason. It will be revealed as this tale progresses.
Joni posts some wonderful pictures of kitchens that are to die for, and inviting family rooms. Although high-end interiors are not something that everyone can afford, we can all use them as inspiration and do our best to use some elements in our own homes.
She has decided to count down the
Top Ten Design Elements.
The first on her list is linen; linen slipcovers, linen window treatment, linen bedcovers. Linen, linen, linen.
I've decided to play along with Joni and list the Top Ten Design Elements of a Budget-Challenged, Multi-Generational Rural Household, in other words, what not to do.
My first design element is an accessory. PLASTIC FRUIT. (Yes, capital letters, I'm shouting).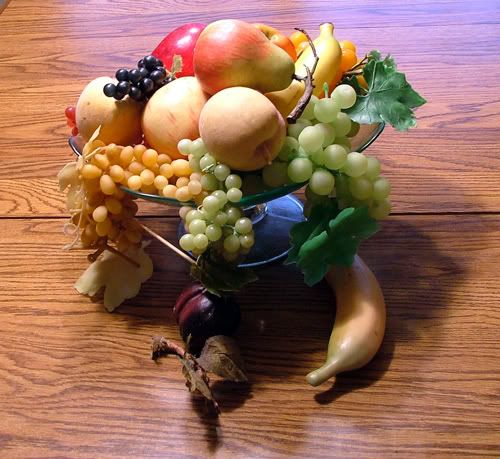 It looks kind of pretty in this picture. Trust me, it's not.
I know, it's horrible. Believe me it's not my choice. This is the problem you incur when living in a multi-generational household. Plastic fruit and scary dolls (more about that another time). For years I'd return home from a hard day at work and the first thing I'd see when walking into my home was plastic fruit. It was demoralizing but it drove home the point of how important it is to have a home that is beautiful and comforting.
Rubber leaves.
This is an embarrassingly bad design element. It's in-your-face bad. I won't lie, I've dreamed about terrible plastic fruit accidents. One dream involved a grease fire which burned the fruit, creating a noxious cloud of gas. Another dream had the fruit accidently falling into the garbage disposal. The only problem was, we don't have a garbage disposal.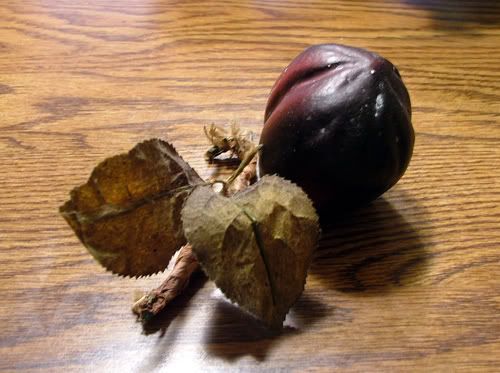 A hard styrofoam plum, quickly shriveling to become a styrofoam prune.
In order to maintain my sanity, I've made peace with the fruit. I refuse to let the ugly fruit bring me down. I became a glass half full of fruit accepting energy.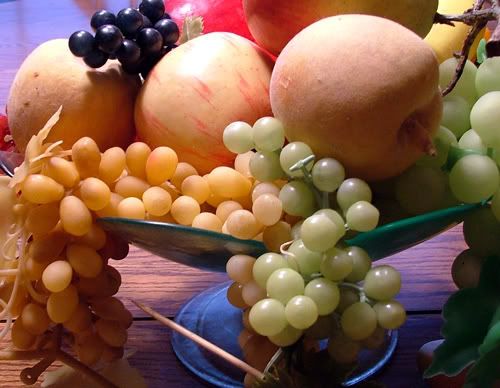 Dented fake peach - an abomination.

And now, the rest of the story. My uber-educated design-school-graduate daughter loves the fruit! Actually, all the grandchildren are arguing over who gets the fruit when and if grandma leaves this mortal realm.
They're fighting over plastic fruit. Who would have thought? I guess there are good memories in that fruit. When they were kids they'd pull off a plastic grape and stick on their tongue. Admit it, you've done that!
All is not lost though. My daughter and I have already discussed painting and decorating my sewing room (her former bedroom). We settled on a calm blue (morning fog) on the walls, black accents (picture frames, pillow trim) and linen drapes.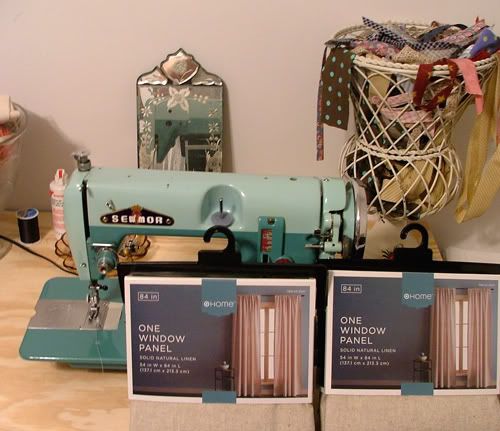 See Joni? I've already purchased some linen panels at Target. I guess there's still hope. I'm trying.