It's 1:30 a.m. and I'm knee deep in apron body parts. My little in-home studio seems to be closing in on me. I'm sure the fabric is breeding at night when I'm not looking. My plan was to stay up and see if I could catch the homespun canoodling with the polyester.
My plan is to get enough put together to make a decent showing at some upcoming holiday craft fairs. My years at the newspaper taught me to set goals and to keep on track. Unfortunately all these daily sewing/stitching/crocheting goals have caused my blogging to take a beating.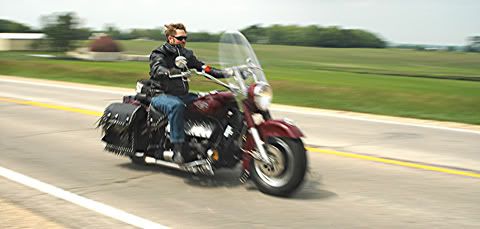 I'd love to go for a ride on this V-12 and clear my mind.
Not long ago I was at a party attempting to explain blogging to someone. It's hard to believe that there are still people out there who have never heard of a blog, but there are.
In a nutshell I told her that I cook, photograph, share recipes, write stories, plan trips, interview people, share craft ideas and make friends. Halfway through the explanation she stopped me and said, "So.....blogging is your job?"
That stopped me in my tracks. Well, yes, I guess she was right. Blogging is my job, a job that doesn't pay!!
All the time I sat at the newspaper, it FELT like a job. It was work. But blogging has never FELT like work because I'm in control of the content and the pace. Blogging has always been fun to me and I hope you're having some fun also.
Currently I'm suffering from a lack of inspiration in my writing, but there are a couple of things coming up that will probably kick start me again.
The most interesting thing I'm going to be doing is working on an archaeological dig at a local historical site. You're invited along. We'll also be returning to the Heritage Gardens for their Autumn Pioneer Festival.
So, stayed tuned. Wit, wisdom and wild fun is sure to follow.