A trip to Belize.
But when that's not possible, I like to cure cabin fever by traveling along on other people's adventures.
This is a habit that was developed when the kids were very young and I as a stay-at-home mom. I would revel in the adventures of Jacques Cousteau and Jane Goodall. The newest incarnation, such as Survivorman, just don't quite live up to the standard set by those earlier scientists. Perhaps because their adventures actually had a mission.
Last Sunday, weary from a Saturday of pushing grout and cleaning up the nasty white glaze, I escaped to the local library to see if I could find something to read, preferably someone's adventures put to paper.
I tucked a list of want-to-reads in my pocket but I swear my library has none of them. In desparation I decided to cruise the stacks, hoping that something would catch my eye.
Bingo! Within two minutes I was standing before a shelf that contained cabin fever gold. There was a bunch to choose from but I settled on three, speeding home with my bounty.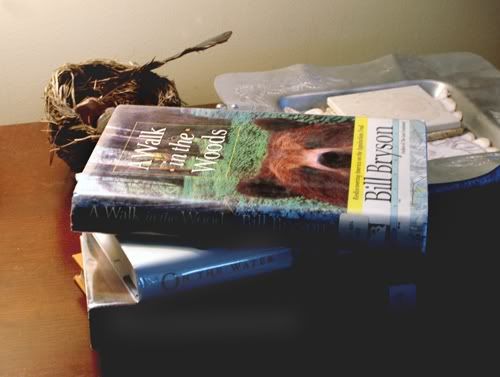 The Farmer settled in for an overdose of American pasttime. I don't need to say the word, do I? Leaving him safely ensconsed on the La-Z-Boy, wrapped in his Snuggie with two Chihuahua's to help keep him warm, I retired to my bed, plumping up the buckwheat hull pillows for a long read.
There are four books in the above photo. The one on the bottom is Robert Louis Stevenson's, "Treasure Island". I just couldn't get into it. There's a lot of archaic language that made it feel like I was trudging through sand. So, I ditched it. You've just got to know when to cut your losses.
I dug into the first book and I'm totally worn out, tired to the bone. In the past three days I managed to hike the Appalacian Trail, from Georgia to northern Maine with Bill Bryson.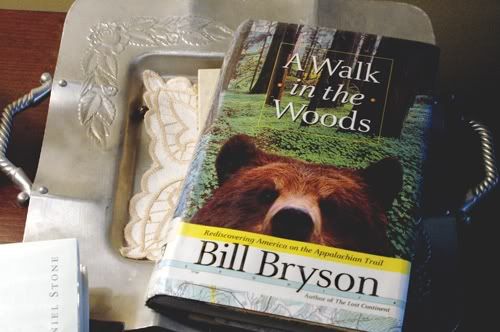 It was an interesting hike (and read) but I'm bushed. I briefly entertained the thought of putting on my winter boots and going for a hike on the nearby trail that was created from the bed of a now-defunct railroad.
Briefly. I walked down to the mailbox in the biting wind and thought better about the idea. You've got to love Bryson though. He manages to find humor in just about any endeavor and this is no exception.
Tonight I'm leaving in a rowboat for a tour around the country. I think we're going to travel along the coastline but I'm not quite sure.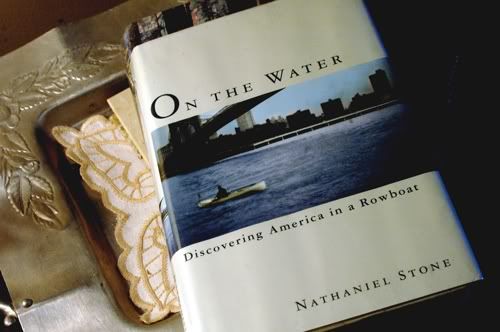 This book will have a long way to go to compete with William Least Heat-Moon's, "River Horse", which was the best real-life adventure book I've ever read.
When I get tired of rowing I'll leave for the Sahara desert. "Skeletons of the Zahara" chronicles the tale of sailors who were shipwrecked off the coast of Africa, captured and forced to walk across the Sahara.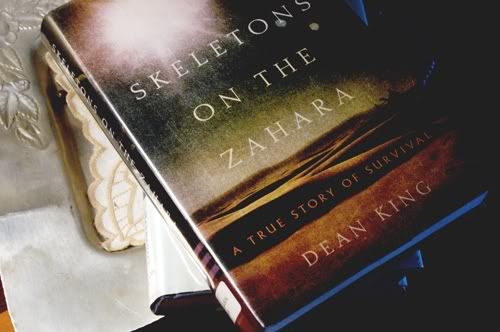 There's one good thing...... at least it will be warm.
The Farmer and I have had plenty of real-life adventures but sometimes it's better to let someone else to the work, such as walking for almost 900 miles. Thanks Bill. It was a great trip.
NOTE:
Thanks also to loyal reader Barb, who knowing of the impending cabin fever sent me a terrific book written by her father.