This morning I rose early to drive my son to the airport for his flight to Fort Lauderdale. He'll spend a week with a friend, soaking up the sun and salt water.
Can I blame him?
No.
Do I wish I was going somewhere too? Maybe here.
Belize on a bad day.
Yes.
On the drive home from the airport I spotted a scene that was similar to this.
Isn't that just lovely? It's like something out of a Christmas card.
The old farmstead included a traditional two-story farmhouse, a large dairy barn, several smaller barns, a oval corn crib similar to this;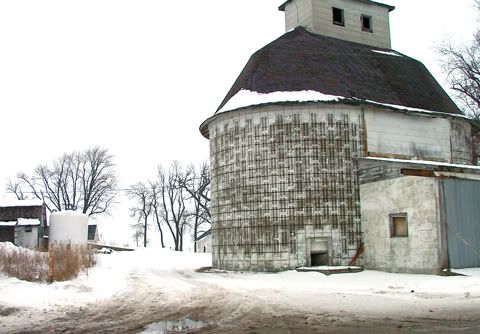 and a chicken coop and a milking shed
All the buildings were gathered together and enclosed by a grove of old trees. It was if the family and the buildings joined together to make a stand against the elements and provide security in the vast expanses of farm land.
The scene gave me a feeling of inner peace and security. It seemed like a good, solid place to call home. There was a problem. The only reason I noticed this farmstead is because it was enclrcled by a tollroad interchange and a large housing development.
It's a lifestyle that involves a lot of hard, physical work and responsibility. But just the sight of the farmstead as you reach the top of the rise is enough for me.