The perfect firestorm of Karmic Kraziness has descended upon the American midwest.
I have no idea what is going on in the grand scheme of things, but it seems my entire group of friends and my family have been dumped on by the cosmic garbage dump. I'm seriously afraid to talk to anyone for fear of discovering yet another negative scenario playing itself out.
An extended family member has suffered terrible calamites (personal and medical) in the past week, the extent of which are somewhat unbelievable. Let's just say last Friday he lost his job, Saturday an emergency situation arose in which it was determined he needed quadruple bypass surgery and today, one week later he's fighting for his life. If you pray, can you pray?
Having devoured the three real-life adventure books, I'm on another journey. This time with Elizabeth Gilbert.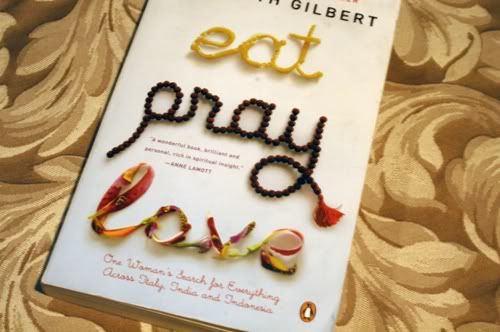 "
Eat, Pray, Love", by Elizabeth Gilbert, 89 cents at Goodwill.
It's no secret that I've got the "Eat" subject covered. In the book "On the Water" the author paddles his way around the eastern half of the continent fueled by nothing more than peanut butter and crackers. It must be a guy thing because I could not imagine paddling a hundred miles without the reward of Linguini Carbonara at the end of the day.
Elizabeth has it right.
Eat.
Eat wonderful food and take pleasure in it's comforting powers. Be a naysayer to those who urge you to abstain from butter and gelato in an effort to promote health. Mental heath and soulful health require that occasionally you immerse yourself in a large plate of chicken and dumplings.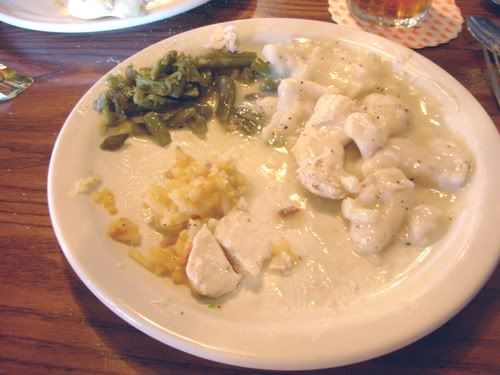 When I called my mom yesterday morning it was obvious the recent events have left her rocky. The elderly are fragile in way that I'm beginning to understand all too well. She's in a senior building with hundreds of apartments. Death stalkss the halls at night and coffee hour mostly brings more bad news. Although she was not particularly close to this extended family member, his youthful age (53) and the painful circumstances shatter the thin shell she's constructed.
She was contemplating a trip to the hospital to sit with his family members.
"No, no!" I said.
"I'm coming out there. We're going to go to lunch and eat chicken and dumplings."
"And biscuits with real butter and honey. We'll share a small dish of fried apples."
She agreed, with little reluctance in her voice. I think she was happy to relieve herself of a self-imposed obligation that would only shatter her further.
"And then we will pray," I continued.
"Not for a whole and undamaged body to be restored because that night not be an option. We'll pray that everyone who loves him will be given the strength to handle whatever comes next and he will be given strength to face his challenges."
After lunch we returned to her 14th floor apartment. I mentally swept the hallway of those deathly spirits and we sat in silence, looking out over the monotonous winter landscape,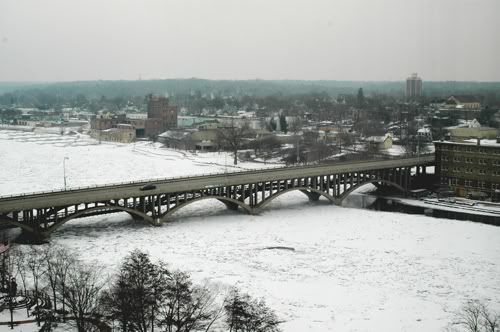 ...... and thought about love. A daughter's love for her father, now lying in a hospital bed, a mother's love for her daughter who is facing the loss of her father in his whole and untouched self, the love of a grandmother who feels for both of them.
Eat.
Pray.
Love.