Yes, you read that right. Bacon candy. That's what I served with sweet potato pancakes at the
Monday Morning Staff Meeting.
I thought it would be a good pairing. What did you think?
Normally I serve Bacon Candy as an appetizer but this time it was for breakfast. Bacon is the new darling in the world of chefs. You can find bacon in all kinds of recipes. A local chef has it on the menu as Chicken Fried Bacon. The bacon is dipped in batter and deep fried. It's absolutely delicious and different.
There's only one business in our little community and that's Pete's Hot Dog place, out on the main highway. He serves a pork bomb called the Pork Producers Sandwich, which is a gut busting combination of boneless pork chop, ham and bacon, topped with cheese on a bun. Overload.
In nearby Chicago they held a
Bacon Fest.
Remember, Illinois is a big pork producer and when I was a kid Orien Samuelson would read the commodities numbers on WGN radio very early in the morning, ticking off rates for corn, soybeans and pork bellies.
When my stepsister arrived in the U.S. from Australia to do a six month walkabout after finishing medical school, she vowed to eat bacon for every meal. She was raised in the U.S. until the age of 10 at which time my stepfather had accepted a job down under. She fondly remembered the bacon of her childhood and assured me that there's nothing like it in Oz.
So, that's what she did. She ate bacon at every meal and every opportunity. She at bacon with pancakes, bacon sandwiches for lunch and for dinner we got creative and added bacon to salads or carbonara. I'm pretty sure she tried to smuggle bacon on the plane.
Here's how to make bacon candy!
BACON CANDY
10 slices of regular bacon (not thick sliced)
1/3 cup of brown sugar
Sprinkle brown sugar over the bacon and press down firmly so the sugar sticks to the bacon. Place on a wire rack over a foil lined baking sheet. Bake in a 350 degree oven for 15-20 minutes until crispy. Let bacon cool and harden. (I didn't have a wire rack so I just baked them on a foil lined pan and it worked fine, just drain on paper towel after baking).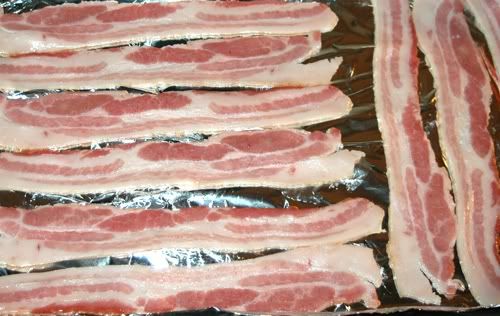 Arrange bacon.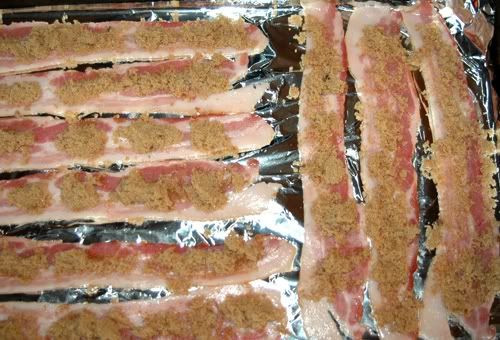 Press in the brown sugar.
Enjoy!
Do you love bacon?