Yesterday neighbor Lynn called.
"I loved the story you did on our bus trip to Shipshewana," she said. "We all looked so cute."
Yes!!! They did look cute. And we did have a good time, after the monsoon passed by.
But.....what??? The neighbors are reading my blog??? I know that neighbor Betty reads also but what this means is that the party's over. If the neighbors are reading then I must behave myself.
Darn.
No more posting my photoshop facelift self portraits.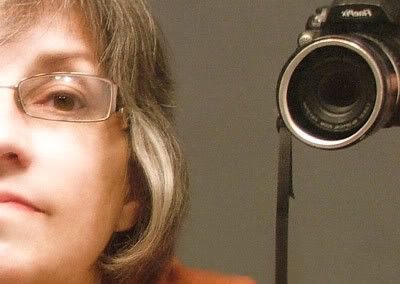 They can call me out and say, "You don't look like that."
No, I don't. Truth is I look old and tired. But, in my defense, that's not how I feel inside. I don't feel old and tired, I feel joyful and young. The photoshop facelift face more accurately reflects what's going on inside,
Which brings me to the subject of anonymity in the blogosphere. I don't believe it's a good thing to purposely mislead people but there is a place for allowing people to create their own reality. You'll understand what I mean when you go back and read about my friend Dicken.
BLUE PAINT AND MOONLIGHT
I was reading some blog entries of my friend
Jesse White Crow
in which he was telling a story about one of his pen pals that he'd made through the internet while on his trek across America. I recognized something in his words that I'd seen before and knew what he couldn't have known.... that his pen pal friend who'd regaled him with tales of adventures was probably bedridden. Later, he was stunned to learn of her death and that yes, she was very, very ill when she was taking her flights of fancy, if only in her head.
So yes, the anonymity can allow us to alter the harsh realities of our life. Is it untruthful? Maybe. But it's kind.