My problem seems to be that, like my habit of reading more than one book at a time, I also start more than one project at a time. Please tell me I'm not the only one who has this terrible habit. What results is chaos. We're living in chaos right now.
The neighbor painted the house for us but my son and I decided we'd do the deck. That project is almost done, just one more coat on the upright posts, then I can put everything back on the deck and get it out of our backyard.
When my daughter was home a few weeks ago she made a true comment while on the phone to a friend.
"It looks like the Adams Family lives here, what with the overgrown gardens and all the stuff in the back yard."
Sigh.
While the deck project was in progress I was also working on my sewing room. I thought I'd share a few photos with you. A full report will be forthcoming when it's finished..... IF it gets finished.
IKEA has a wonderful bookcase of 25 cubicle spaces, but it's $200 and I decided to go another route. I got two black bookcases on sale at Target for $26 each and a small one for $19.
They're perfect for the purpose except that they were heck-on-wheels to put together. The directions said "no electric drill". I have blisters on my hand from tightening all those screws by hand.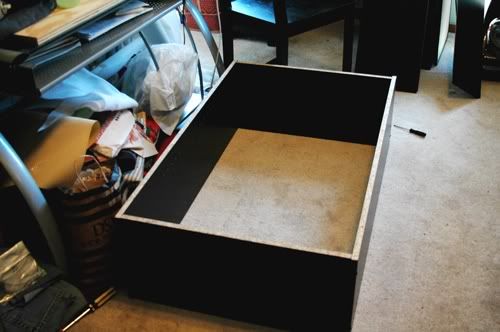 Bookcase in progress amongst the chaos.
Two of the bookcases finally assembled. Note the yellow vacuum cleaner on the right hand side. We have several expensive vacuums that just don't seem to work. This very inexpensive machine works like crazy!
The shorter bookcase snugs up to the others. A third tall one was not possible due to the light switch. Besides I can use the top surface to hold my large jars of buttons.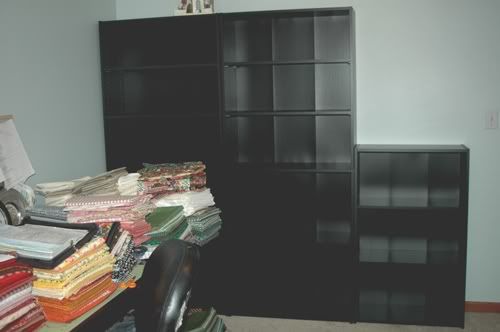 This is just a bit of my fabric, waiting to be organized on the shelves.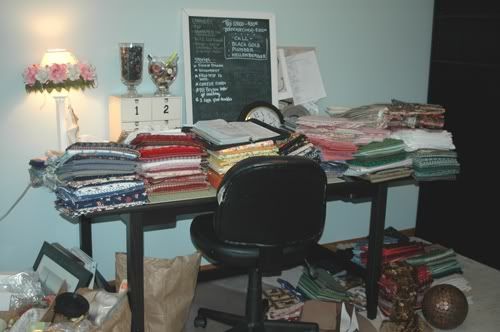 Making progress. I LOVE the wall color. It's an Olympic color called Morning Fog. It's beautiful in any light.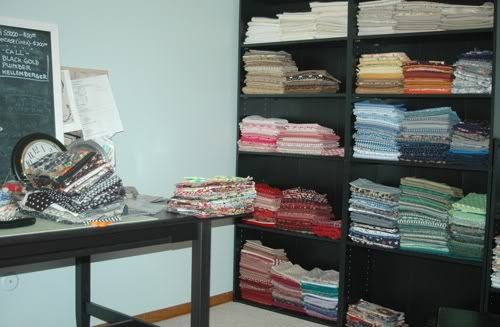 Getting somewhere.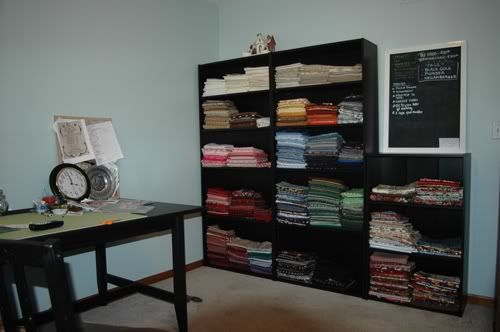 Folks, this is just part of the fabric. I have another whole bookcase hidden in an alcove. It holds all the large yardage pieces.
So, if you EVER hear me say I'm going out to buy fabric, you have my permission to cut a switch and invite me to join you behind the tool shed where you can beat the living sense back into me.