Yes, I drove 462.41 miles each way to go grocery shopping. No, I don't live quite that far in the middle of nowhere, it's just that any trip south of the Mason-Dixon line can be viewed as a grocery shopping opportunity.\
You must understand there are things that just aren't available up north. You can occasionally find a Moon Pie or Nehi but the more important basics just never make it into my local food store.
First up are the grits.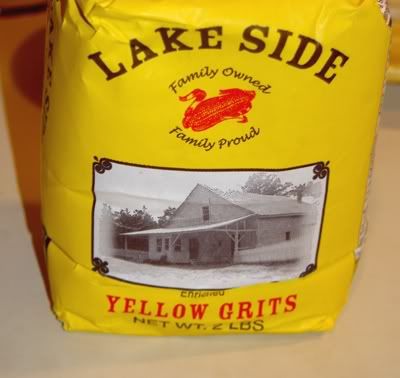 Don't like grits? I can pretty much guarantee that you just haven't had them cooked right, or you tried those instant grits. These yellow grits are delicious. We've already busted open the bag and cooked up a mess of them. They should be served with fresh buttermilk biscuits.
Next there's country ham.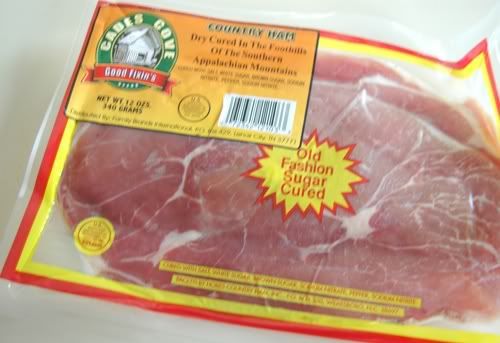 This is nothing like your Easter ham or that ham steak that you slap on the grill. This is dry cured, salty, flavorful and should be served on fresh buttermilk biscuits.
The piece de resistance of meat products for us is Mayo's Country Sausage. I just about jumped outta my skin when my cousin opened his refrigerator and a saw the distinctive roll sitting one one of the shelves. That meant it was still available. The last time south I couldn't find it in the store.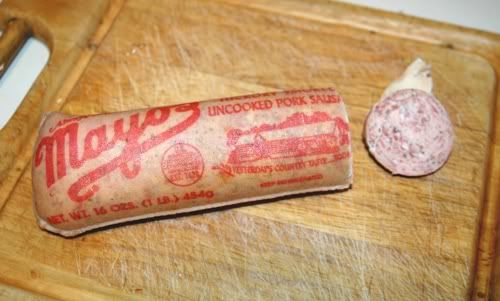 This sausage is packed in a cloth bag.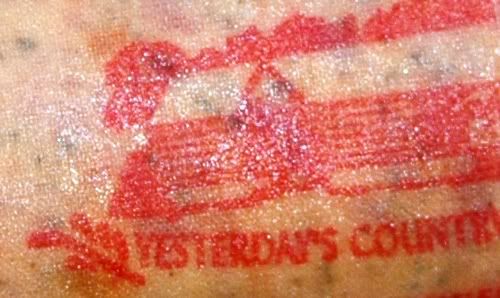 The original packaging was a fabric that was rougher and more homespun looking. The cloth packaging is then wrapped in a plastic outer covering. I suppose this is for health department reasons but I don't mind as long as I can still get my Mayo's. Fry it up and serve it on fresh buttermilk biscuits. Do you see a pattern emerging here?
And finally, the jewel of the south..... southern mayonnaise. Blue Plate is my favorite. My friend Marie in Atlanta got me started on this obsession.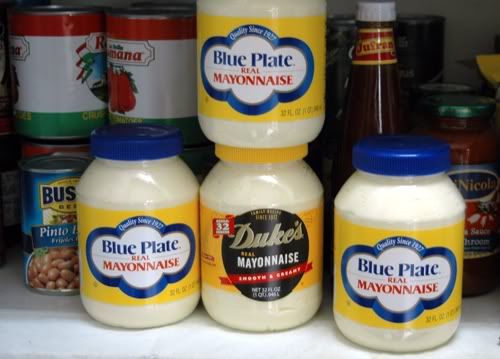 Southern mayonnaise is lighter and perfect for deviled eggs and potato salad. Love it.
Someone mentioned that Duke's was another favorite. So I bought a jar of Duke's also.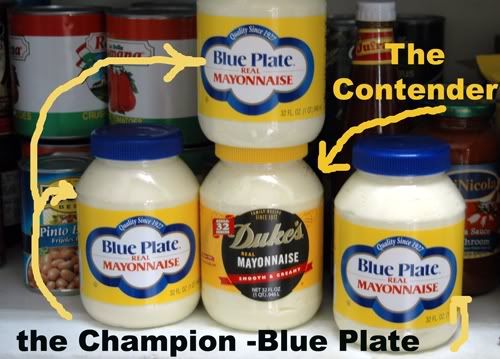 Im going to close the pantry door and let them duke it out.
Surprisingly there were no grocery stores on the side of town where our hotel was located. A drive to the other side was out of our way as we left town so we just trusted that there would be a store along our route.
Just as we approached the entrance to The Trace (the highway leading up the Land Between the Lakes) we saw a sign ahead and started cheering.
We were going to shop at the PIG....Piggly Wiggly, a mecca of southern food shopping.
Unbelievably, as I was checking out with all my loot the young checker said to me, "Y'all should try Hellman's, it's really good."
THE HELL YOU SAY!!!
I just drove 462.41 miles to get this mayo and I've got to drive another 462.41 to get it home!