Recently my sister helped plan and present a program at the
Boone County Conservation District
called "A Day in the Life of a Pioneer Wife". It was a tremendous success and the participants came away with a glimpse into the chores and activities of a pioneer woman, circa 1850.
Some of the activities included dying yarn with indigo and other natural plants. They also sew together small quilt squares. It was a chance to go back in time.
At the end of the day one of the participants approached my sister and said, "Thank you so much. I forgot how much fun it is to create something with your hands."
She's right. It is fun and rewarding. In this world of the manufactured, we've lost sight of the beauty of handmade. Have you visited
ETSY
? It's filled with really talented people. Some of them, like me, have lost their jobs and have decided to use their talents to create home-based businesses. It's a chance to try and create your own success.
I am thankful for the talents God has given me and for two women who encouraged and nurtured all things artistic - my mom and my grandmother. I was taught to do something creative every day. On my last day on earth they'll probably have to pry a crochet hook or sewing needle out of my hands!
I've been sewing and crocheting up a storm to restock my Etsy shop and in preparation for an upcoming craft fair that my sister and I will participate in. But I decided to take time out of those tasks to create something for myself. Yeah baby... no shoemakers kids without shoes in this house!
My brain was stuck on having a nice large tote bag to carry with me on the plane when I fly to Arkansas next month. In my dreams it is filled to the brim with yarn, hooks and projects galore. I can get alot done on a plane ride, you should watch that hook fly!
I saw this tote bag in a newspaper ad.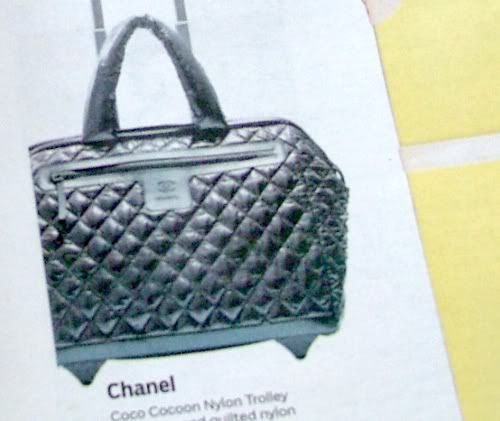 I love the quilted design and this tote has wheels and a handle, neither of which is actually necessary for my needs. It's a Chanel Coco Coccoon Nylon Trolley. Don't you love cool names? Someone got paid big bucks to come up with that one. But, it's a Chanel and the ad says, "Price Upon Request".
Seriously.
This isn't an Italian sport car, it's a tote bag. But the old saying is, if you have to ask you can't afford it.
And so, I decided to create my own tote bag using some tapestry style decorator fabric in lucious fall colors. I bought this fabric on sale and have been hoarding it for a special project. This is a special project!
While in Tennessee I picked
Amy Butler's Sweet Harmony pattern
. It includes pattern and directions for either a handbag or a nice large tote.
Beverly
and I worked as a team and this is what we came up with.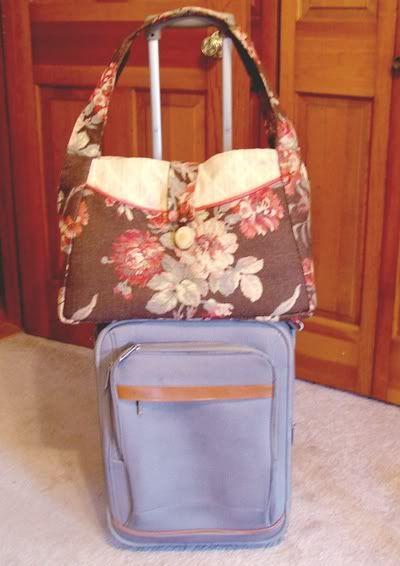 Sweet Harmony Tote
It's perched on top of our stupid
Sahara Sand Luggage.
Haven't heard that story? Click the link and have a laugh on us.
I added the strap to keep the tote from gaping open since it will be overstuffed with yarn and I needed a good excuse to use this vintage button.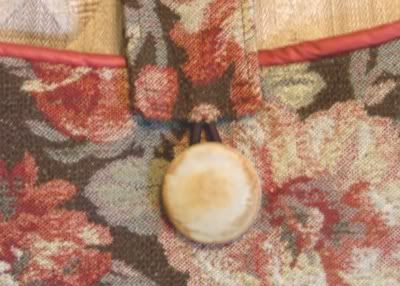 Strap and vintage button.
As often happens I couldn't stop there. With leftover fabric I created this little pouch for lipstick and other stuff. This is from a cool designer called
Keka Lou
. I love her patterns. They're very simple to put together and her directions are wonderful.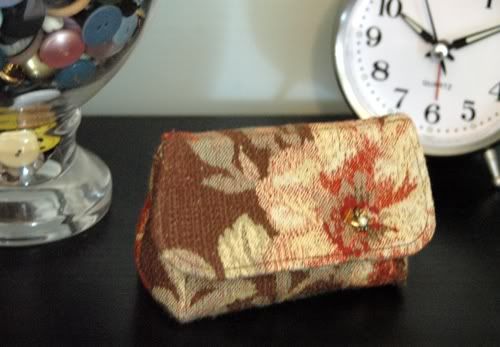 Keyka Lou's Pyramid Pouch
While surfing around I found Skip to My Lou, who posted a free pattern for a luggage tag. Gosh, you've got to love talented people who share stuff for free.
Skip to My Lou's free luggage tag pattern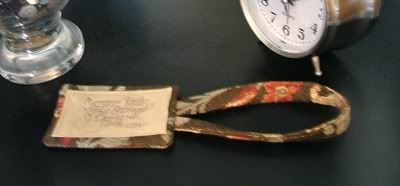 Matching Fabric Luggage Tag.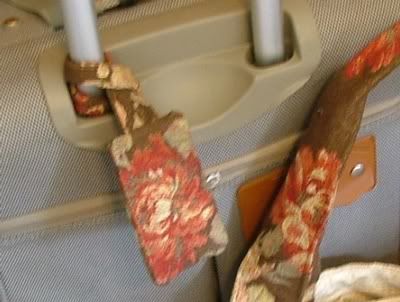 Reverse side of luggage tag.
Not Chanel, but not bad.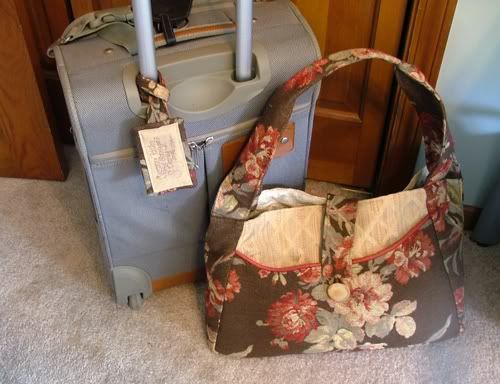 Tote, straining under the pressure of tons of yarn.
Do you sew? Have you always wanted to learn how? Ask someone who knows how. Beg them to teach you. It's so much fun and so rewarding.
- - - - - - - - - - - - - - - - - - - - - - - - - - - - - - - - - - - - - - - - - - - - - - -
Here's what I'm going to do. I'll create a luggage tag just for you. Leave me a comment and let me know you're interested. I'll close the giveaway on Sunday evening at 8 p.m. Central Standard Time and announce the winner at next Monday's staff meeting.