Since I seem to be on a roll talking about the day-to-day cooking dilemma, I'll just continue.
Yesterday several of you expressed shock at the number of meals cooking in the lifetime of a family. Yes, it IS shocking when you do the math and ladies, you must always do the math in these matters. I don't even allow myself to think about the number of laundry loads I've done. It's depressing.
After putting more thought into the subject of dinner, I've come to the conclusion that perhaps it's because I'm in denial. Everyday I deny that the fact that dinner needs to be prepared. That, and the fact that when it comes to dinner I'm woefully unorganized.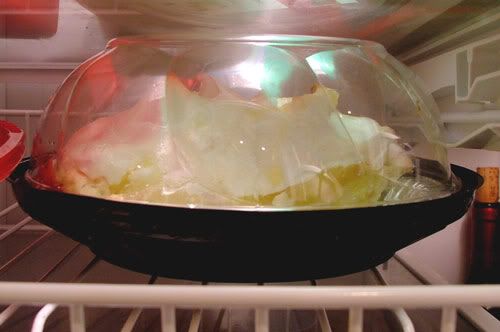 Maybe pie for dinner tonight.
There are some terrific food blogs out there and I've mentioned a few in the past. Although she's not primarly a food blog, Susan from
SCHNITZEL AND THE TROUT
always seems to prepare really interesting and delicious looking meals. She's retired and I know she's done a lifetime of dinners so I wonder what her secret is to keeping it fresh and interesting.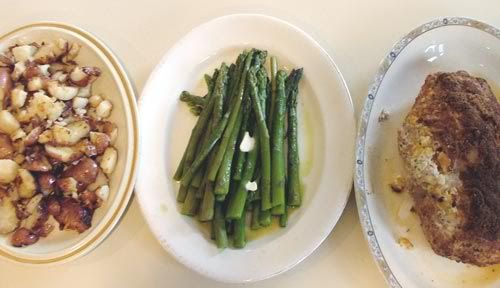 One of my better efforts.
I've mentioned
MENNONITE GIRLS CAN COOK
many times. Wow, those women can cook. And guess what? It's no surprise to me that they've gotten a book deal. That's terrific news. They deserve the deal and I'll be looking forward to what they have put together.
There are two blogs that I've recently been following that give me hope and give me an idea about how to change my attitude concerning cooking.
One is
STONE GABLE
. All I can say is .... my goodness!! Yvonne seems to have put her finger on what I need. A plan!! Each Monday she posts a
weekly menu
. I've never, ever been able to put a meny together and that means my trips to the grocery store are willy-nilly shopping events resulting in willy-nilly type meals. Think confusing mash-ups of food. HA.
I'm going to try and follow one of her weekly menu plans, working the previous week's menu to allow for shopping. Thanks Yvonne!
The other food blog I've been following is
MOMMY'S KITCHEN
. With grown children I'm not so much a "Mommy" anymore but heck, I'd love to be sitting in Mommy's kitchen myself and eating all the wonderful food she prepares.
Tina also publishes menu plans so perhaps between her and Yvonne I can get my act together.
I'm interested if any of you work off a menu plan. Do you buy what's on sale and work the menu around those items. How do you do it?
So.....wish me luck.