Last evening I prepared cheese enchiladas for dinner. I served them with a hastily assembled salad and called it a day. There was no enchilada sauce in the pantry and so I substituted a can of chili. It was actually very good and there was not even a spoonful left after the family had their way with it.
The Farmer commented, "That was a nice simple meal, easy to put together."
Whoa.... I shot him a look that could burn through paper. Yeah, he of never-having-ever-put-a-pan-of-enchiladas-together.
"Well, it seems like it would be an easy meal," he stammered.
I laughed. "Sorry, honey. An easy meal refers to a TV dinner."
After 40 something years of worrying about what's for dinner, I can confess that mostly I don't care. Again, let do the math. (I love doing the math in these situations).
On average I cook dinner 6 days a week. Sometimes I even cook on vacation - now that's crazy!
Anyway, 6 days a week x
52 weeks x
40 years
equals ------ HOLY COW, that's 12,480 meals.
No wonder I'm out of ideas and could care less.
I shouldn't complain though because when my aunt made dinner she started with chopping the wood for her cast iron cookstove. Yikes! She could fry a mean pan of chicken though. Oh yeah, she butchered the chicken also.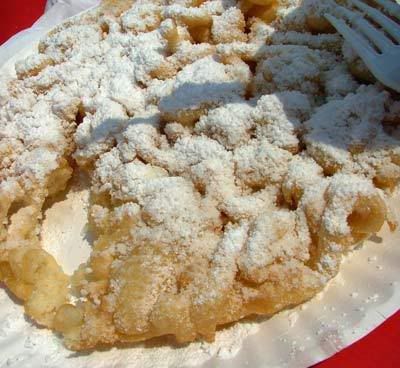 My idea of what's for dinner - funnel cakes!
Have you noticed that the younger men cook? All of my nephews cook.
As for me, forget a underwear model with six-pack abs. Just give me a man that can cook!
P.S. Sandy, my loyal reader from South Carolina was having trouble posting a comment yesterday. She reminded me about the house on The Waltons TV show. Now that's a house that you could get comfy in. Screen doors slamming and the sound of the old treadle sewing machine in the parlor. Thanks Sandy.