It's finally happened. I've ceased to be amazed by the internet. Instead I've crossed a line and now I'm amazed when I can't find something on the internet.
Do you remember dreading a trip to the library to do hours and hours of research? I do miss the big wooden card catalog files though.
So what's with the title, Movie Houses? No, I'm not referring to movie theaters, but the house that are featured in movies. The houses that the characters live in.
I was one of those kids with a vivid imagination. If I imagined I was riding a Palomino pony then for heavens sake I WAS riding a Palomino!
Very early on I became fascinated with the houses featured in movies. I could picture myself sleeping in Gidget's bedroom or having dinner with Atticus, Scout and Jem in their kitchen.
There were the huge architectural concoctions such as the scary hilltop house in Psycho. I patterned one of my gingerbread houses after that one.
One of my favorite movie houses (and movies for that matter) was the one featured in Mr. Hobbs Takes a Vacation. That house should have gotten billing as a character because it's quirky personality and plumbing made it an important element in the movie.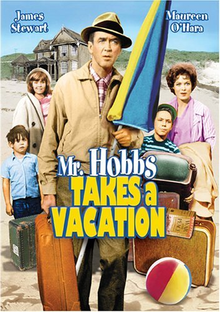 I dreamed about living in a large traditional home like the one featured in Home Alone. That house is in the Chicago area, not far from here. The farmhouse in the movies Signs seems familiar and comforting to me because it's typical midwestern style.
The beautiful and strange house in the movie Lake House was also located nearby. Unbelievably it was built solely for the filming and demolished when shooting was over. What???
The interiors from Something's Got to Give have been plastered everywhere on the internet and has spawned thousands and thousands of kitchen remodels.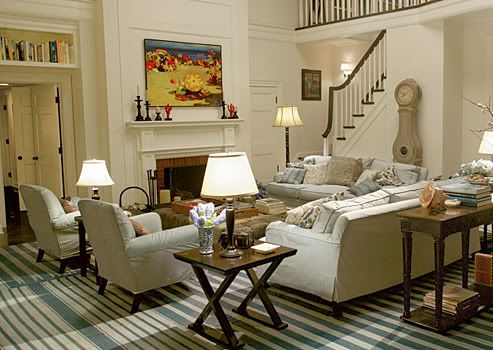 Something's Got to Give - Living Room
It's a beautiful shingled beach house.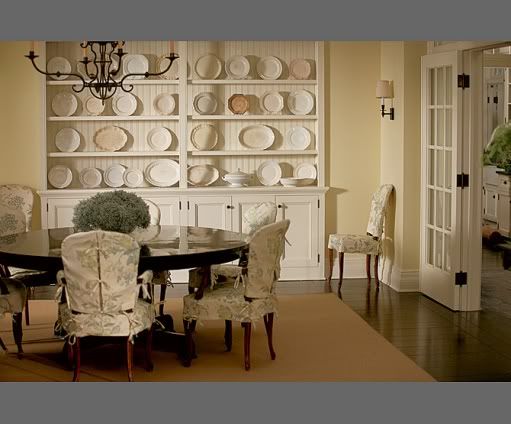 Something's Got to Give - Dining Room
Who wouldn't want to live in such a place?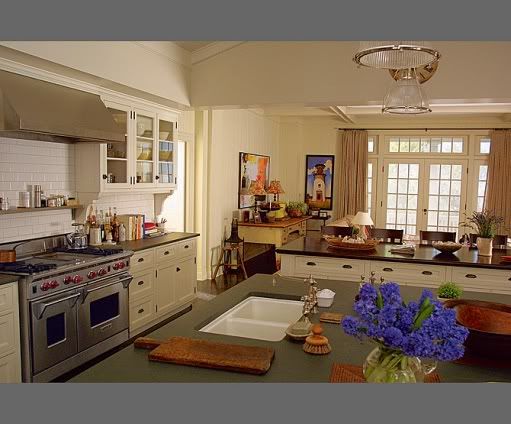 Something's Got to Give - Kitchen-that-has-spawned-a-thousand-remodels
Strangely enough, I would not.
I can't picture myself actually living and feeling truly at home in any of those places. The house that grabbed my heart, the house that made me feel I could walk in the front door and truly feel at home was the little house that Julia Roberts rented in the movie Sleeping With the Enemy.
It's what I know and what I dreamed about as a child. A small house in a small town. Cozy and unpretentious. Central hallway, kitchen in the back, apple tree in the yard, cozy bedroom upstairs and a porch. Who could ask for more?
And here's the amazing thing. I can't find one picture of the house on the internet. How can that be possible?
I've added the movie to my Netflix queue so I can visit that house again and see if it's all I remember it to be. And since it's not available to view instantly on my computer, I'll spend the morning watching one movie that is available....
Mr. Hobbs Takes a Vacation.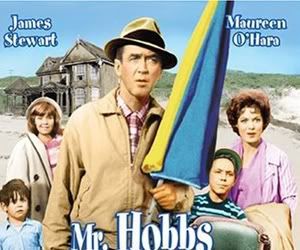 If you're looking to waste an hour or two, here's a site that features lots of movie houses.
HOOKED ON HOUSES
How about you? Is there a movie house that you love?