Yes, it's come to this. I have so little inspiration in my brain that I'm now posting reviews about beverages I have recently tasted.
How does it come to this? What is the basis of this lack of subject matter? Hmmmmm, let's see. This is post number 892 on this blog. You read that right. My photoblog has 757 posts and there have been some minor sub-blogs that I never really had the energy for. Let's say that was another 25 posts or so.
Let's do the math. Gosh, you know how I love to do the math.
892 + 757 + 25 = 1,674 posts!!!
That's why I can think of what else to say. I could start repeating myself, that comes naturally lately.
Anyway, I thought I'd share some thoughts about some beverages I've had in the last month or so. And no, no one is paying me to review anything. YET. I'm waiting patiently though.
#1 - STRAWBERRY SHAKE FROM MC DONALD'S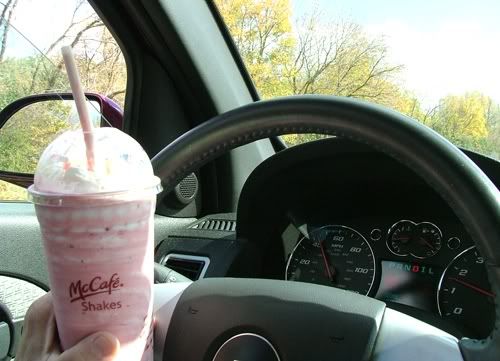 It looks pretty, doesn't it? I was out running errands one day and suddenly had the urge for a strawberry shake. It hit me like a lightning bolt from the blue. A McDonald's was nearby and I pulled in the drive through lane. I cannot remember whether this is a small, medium or large. I can just tell you that it was TOO MUCH, whatever size it was.
I did see bits of strawberry suspended in the mix but it was very sweet and my thought was that they used some kind of strawberry syrup, or frozen strawberries heavily laden with sugar syrup that had been blended. I have no idea what that white stuff is swirled in the mix. Perhaps it's regular vanilla shake that's been blended with the strawberry stuff. It was sweet and a bit odd tasting.
It was very apparent to me about 1/4 of the way through this shake that I would not be able to finish it. In fact, I started to turn a little green at the thought.
This is NOT the strawberry shake of my dreams.
#2 - GINGERBREAD COOKIE MARTINI
I've rarely met a martini that I didn't love, except for a dirty martini that was so salty I almost gagged. My favorite was a martini that included Hypnotiq. It was a diaphanous blue drink that was wonderful.
Oh, back to the Gingerbread Cookie Martini. The Farmer took me to our favorite hangout, the Outback restaurant in South Elgin. I ordered my normal Tanqueray and tonic but was fascinated by the photo of the Gingerbread Cookie Martini. It had crumbled cookies on the rim of the glass and was topped with a gingerbread cookie. The drink includes vodka, Baileys, Kahlua, Monin gingerbread syrup and cream. I am not a huge gingerbread fan so I definitely didn't want to order one to find that I couldn't finish it. Luckily, my friend ordered one and I got to taste hers.
It was good. It had a slight aftertaste, probably the gingerbread syrup. It made me think that the syrup was chemically flavored, but maybe I'm wrong. It would make a good shooter or shot but an entire martini glass of this stuff would be TOO MUCH.
- - - - - - - - - - - - - - - - - - - - - - - - - - - - - - - - - - - - - - - - - - - - -
#3 - PUMPKIN LATTE FROM STARBUCK'S
I'm probably the only person on the planet that does not like Starbucks, maybe not. Their coffee tastes burnt, bitter and besides I don't like to learn a new language just to order a cup of coffee.
My sister is a Chai lover and one day I was along for the ride when she stopped in a Starbucks for her daily tea run. She insisted that I order the Pumpkin Latte.
Oh. Good. Gosh.
It was fantastic and I would walk over broken glass for a Starbuck's Pumpkin Latte.
- - - - - - - - - - - - - - - - - - - - - - - - - - - - - - - - - - - - - - - - - - - - -
#4 - CHOCOLATE CAKE SHAKE FROM PORTILLO'S
Anybody who has spent any time in the Chicagoland area will know the name Portillo's. It's a fast food restaurant that serves Italian beef, sausage, salads and such.
Their signature drink is called the Chocolate Cake Shake. If I was having a rough day at the newspaper I'd go order a chocolate cake shake and bury my sorrows in it's goodness. It's crazy rich but wonderful.
They take a chocolate shake and throw a whole slice of their famous chocolate cake into the mixer, whirl it all up and BAM... you've got a sweet dream. It's rich, so you might want to share it with someone. YUM.
This is another walk-across-broken-glass beverage.
- - - - - - - - - - - - - - - - - - - - - - - - - - - - - - - - - - - - - - - - - - - - -
#5 - PEPPERMINT HOT CHOCOLATE - FROM MC DONALD'S
It sounded like a delicious treat for the holiday season. On my way out to run errands I ordered a peppermint hot chocolate from McDonald's and being very cautious after the strawberry shake incident, I ordered the smallest size.
It's a good thing because I wasn't wild about it. That's unusual because I absolutely love hot chocolate. As with some of the other drinks this had an odd aftertaste. The peppermint flavot just tasted strange. Perhaps it would have been better if it was just mint and not peppermint, a hot chocolate version of a Ande's mint. Yeah, that would be good.
Regardless, I slogged through the steaming cup and decided one was enough. It's not something that I'd order again and I certainly wouldn't walk across even rose petals for this drink.
That's my beverage review!
How about you? Do you have any favorite beverages? Have you tried any of the ones I've mentioned?