I don't mind December so much around here because mostly it's snow and that means it's relatively warm. The key word is relative.
However, January is my least favorite month because that's when the howling bitter cold makes it's entrance. And I mean bitter cold.
Yesterday afternoon I was running an errand for the Farmer and noticed that I was getting low on gas. Believe me, you do not want a small amount of gas in your car when the bitter cold hits. Gas line freeze is a real problem. We're still not the coldest part of the country where they have to plug their cars into heater so that their enging block doesn't freeze.
I'm thinking tonight of those living on the Apostle Islands in Lake Superior who drive across the frozen lake in wintertime to get to town on the mainland. Would I EVER feel the ice was thick enough to drive across Superior? NO!!! It's the darkest, deepest and most dangerous body of water I've ever encountered. My sister and I crossed it in a ferry on Thanksgiving weekend one year and were chilled to the bone and not just from the temperature. That lake reeks of danger.
I stopped at the gas station and in the time it took to pump gas I was literally freezing, even though I had warm wool mittens and a scarf around my head. The wind cuts right through any clothing other than snowmobile gear.
The weatherman was promising that the temps were going way, way down and I was wishing for a big pot bellied stove to warm myself.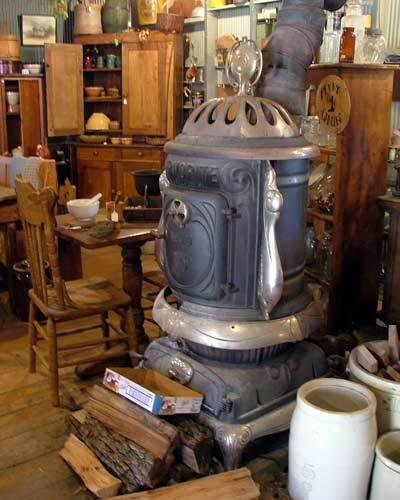 To be honest, they look really cool and the burning wood gets very hot but if you step further than five steps away, you are FREEZING. This is the big pot bellied stove out at Josie's Antiques and it's the only heat in her large outbuilding. There's no way in hell this stove can heat anything larger than a small space.
For the life of me I cannot imagine how the settler's survived and I'm dumbfounded that the Indians could survive at all. I've been in a wigwam and cannot even fathom spending one night in the dead of winter keeping warm.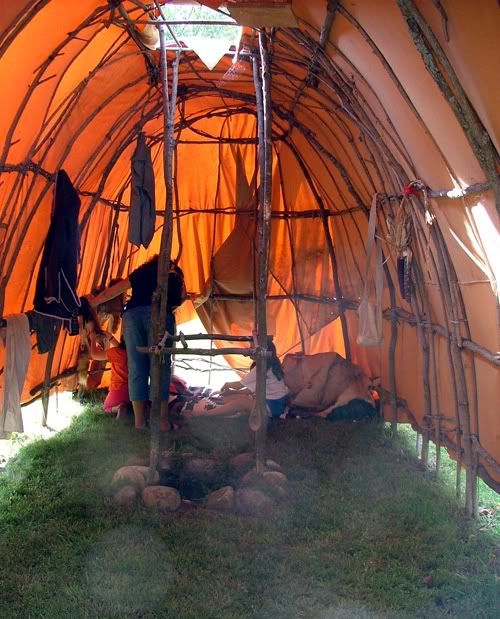 Inside the wigwam at Boone County Heritage Gardens.
I guess there's something to be said for tight spaces and body heat.